Zero Waste Challenge – Business
Waste management for participating businesses in Rosemont
The Zero Waste challenge has been in operation since 2018, helping families in the borough to reduce their waste—and now it's expanding!
The borough of Rosemont–La Petite-Patrie approached Earth Day and asked us to come up with a tailor-made project to support businesses in the borough that wish to adopt an eco-friendly approach and reduce waste at its source. That's how the Zero Waste Challenge – Business Edition was born!
As the project is being rolled out in stages, it will become available in certain areas at different times. Discover the first attested businesses.
SUPPORT THAT ENCOURAGES REDUCING AND RECOVERING
The goal of the challenge is to raise awareness and support participating businesses as they optimize their waste management practices, reduce waste at its source and take eco-friendly actions.
Two levels of support can be provided, depending on the degree of commitment and motivation of the business:
Basic support for all businesses includes:
An audit of the business;
Advice on implementing new collection methods (i.e. recycling, compost, etc.);
Discussion with the person in charge to find out their needs and what improvements they wish to make;
Report providing audit results and recommendations aimed at achieving zero waste by optimizing existing waste collection methods, implementing new waste collection methods and taking eco-friendly actions.
For the first year of the challenge, personalized support is available for a maximum of 70 businesses that wish to receive regular follow-ups from Earth Day. This includes:
Basic support;
Analysis of existing measures, setting of zero waste objectives and identification of new eco-friendly actions;
Assistance weighing waste generated by the business;
Training for employees on sorting waste;
Assistance with and processing of the request for certification;
Action/Reduction®certification and communication materials.
COMMITMENTS AND EVALUATION CRITERIA
Businesses that are receiving personalized support will be issued the Action/Reduction® certification by Earth Day Canada once they have met the following 5 criteria:
Signed the charter of commitments;
Set up new collection methods, such as collecting recyclable materials and/or compostable materials, as long as these collection programs are available in the borough;
Appointed a person or committee to make sure that the actions taken by the business are going smoothly;
Made sure that collection equipment is properly identified and positioned to make it easier for employees and/or clients to sort waste;
Implemented zero waste and/or eco-friendly actions from those listed below.
The certification is valid for 2 years and may be renewed if the business continues to meet the criteria.
ECO-FRIENDLY ACTIONS
To qualify for the Action/Reduction® certification, businesses must implement as least 3 of the 20 suggested actions.
The eco-friendly actions are divided into 3 categories (Reduce, Reuse and Recycle/Recover) and have been assigned a rating according to the level of difficulty of implementing the measure. Those with the highest level of difficulty have been assigned a rating of 3 stars.
REDUCE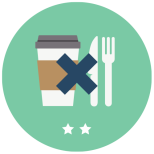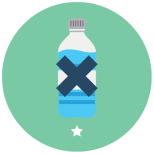 Ban single-use water bottles (smaller than 1L)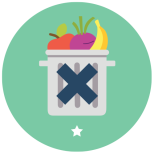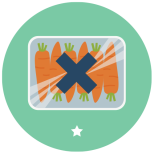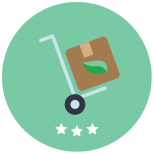 Choose suppliers that offer eco-friendly alternatives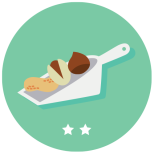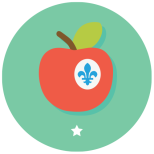 Offer sustainable products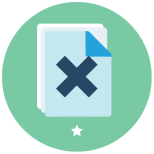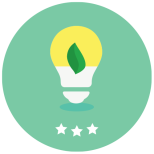 Reduce energy consumption
REUSE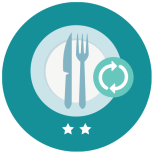 Provide dishes and reusable containers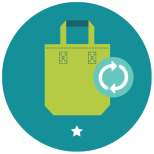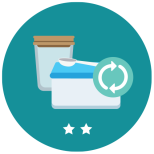 Encourage the use of reusable containers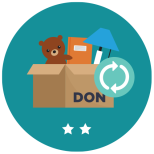 Make donations to organizations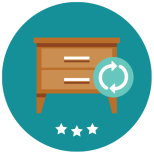 Promote the use of second-hand or borrowed products
RECOVER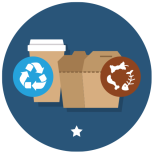 Choose recyclable or compostable containers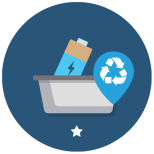 Become a Call2Recycle drop-off point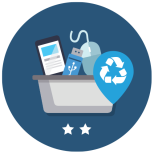 Become an Electrobac drop-off point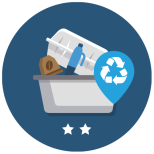 Become a drop-off point for other types of waste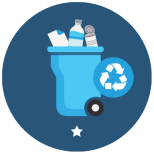 Start using the collection program for recyclable materials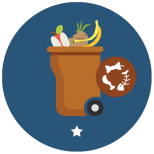 Start using the collection program for food waste