Partners
Earth Day Canada works with corporate partners, donors and grantors nationwide across a wide variety of industries. We recognize the importance of all types of businesses in creating a sustainable future. Our work is grounded in science with a main focus on awareness and impact. Every supporter aids us in our mission to help people, communities and businesses reduce their environmental footprint.
"Earth Day Canada partners commit to supporting Earth Day Canada in compliance with its charter while also driving impact within their own organization. Their staff teams actively participate in programs that decrease their own environmental footprint and help position themselves as a leader in one or more aspects of sustainability.
To learn more about becoming an Earth Day Canada Supporter, please contact our Development Team at partnerships@earthday.ca.
Lead Partner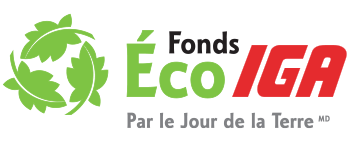 The Fonds Éco IGA, created in 2008 by IGA grocery stores IGA in Quebec, drives sustainable development in Quebec communities. It provides financing for concrete, sustainable projects that reflect local realities and that aim to protect, conserve and respect the environment. Our work with IGA stores includes a Zero Waste Festival, Educational workshops for the staff team, and our Action/Reduction certification program to help stores reduce waste at the source.
Learn more
Corporate Partners