Blog & News
Plantation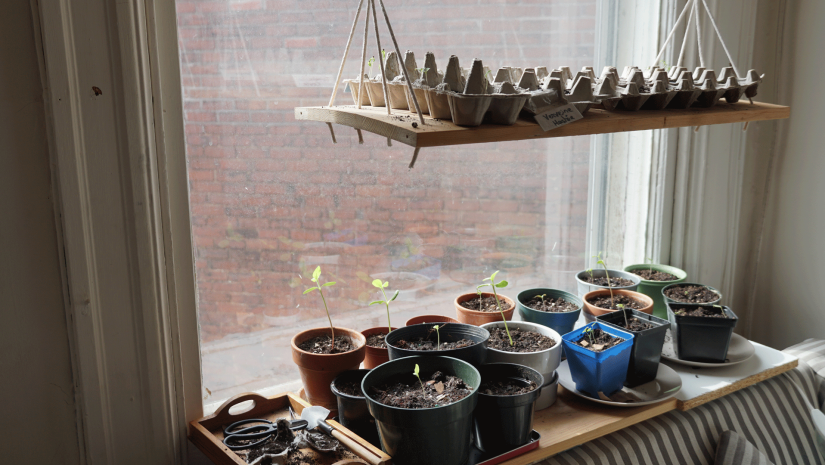 Planning your garden is a wonderful activity to do in the spring when you're missing nature. So why not take advantage of a few weeks at home to plant seedlings? That's where it all starts!
Spring is here and I'm already dreaming of a vegetable garden on my balcony where I can watch beautiful tomatoes grow big and red. My goal is to create a garden by reusing materials I already have at home as much as possible. With a little research on the internet, a dip into my recycling bin, and an order at a garden centre that offers organic and local choices — I'm ready to start my first vegetable garden! I decided on what to plant based on taste: radishes, salads, green onions, three kinds of tomatoes, and zucchini.
Here I will share some simple tips (as well as my mistakes) that I learnt from my first shot at planting. If I had to summarize this article in three words, it would be: go for it!
#1 Easy to find pots
To avoid buying seedling pots, I used all of the egg cartons that I had been stockpiling. It is also possible to use newspaper to make origami pots, and a friend of mine even planted her seeds in eggshells! Just like the biodegradable pots found in most garden centres, these techniques allow you to plant the seedlings directly into the ground with their containers. All you have to do is remember to break the pots and eggshells so that the roots don't have any trouble getting through.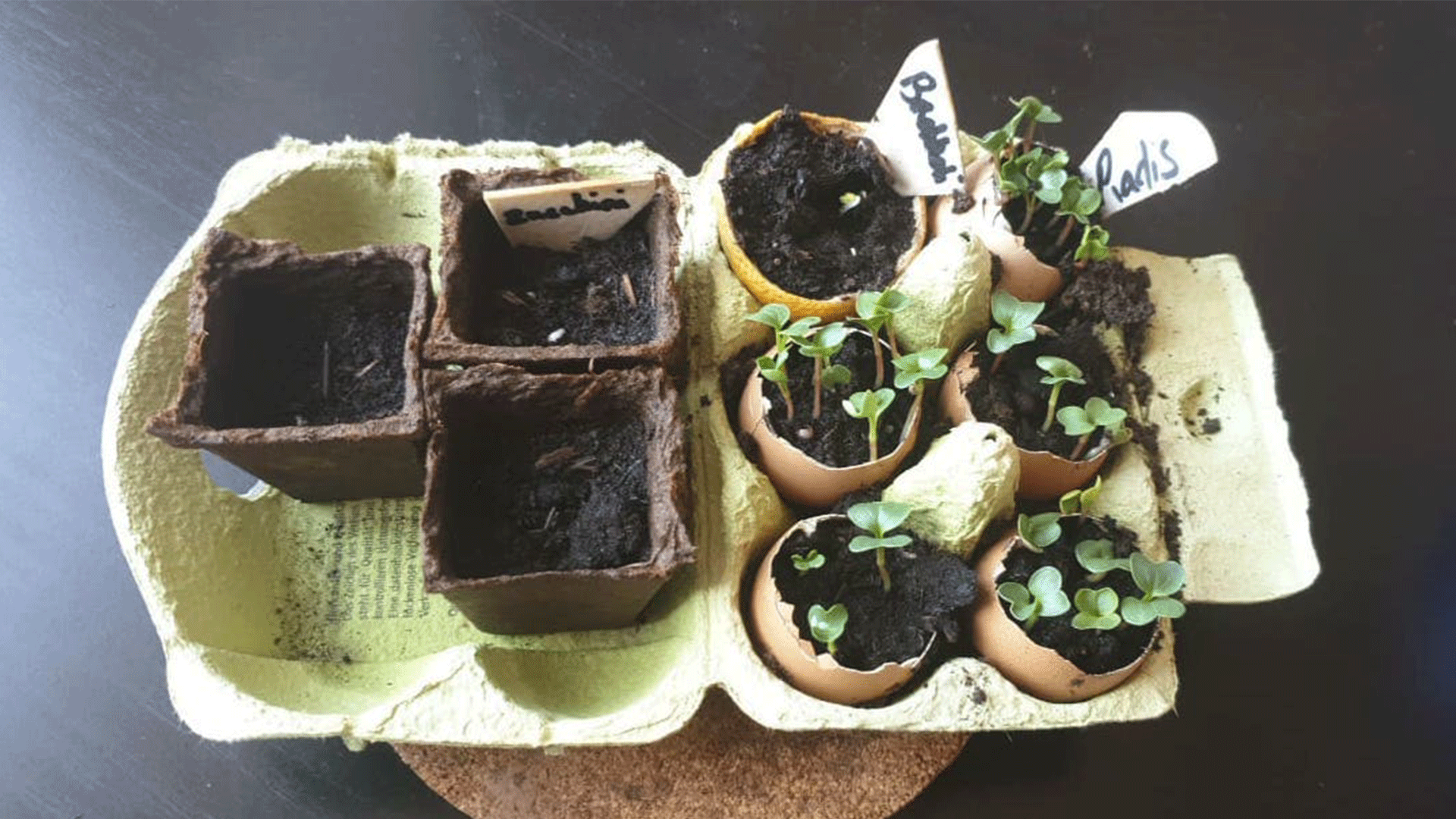 #2 Provide potting soil for seedlings
If you are just starting out, you should buy organic potting soil. This kind of soil is lighter and allows the seedlings to get off to a good start. It can be found in all garden centres, although it is also possible to make it yourself with equal parts of soil, compost, and peat.
Organic potting soil will be useful again when transplanting the seedlings into larger pots. You can do this once the second leaf (or pair of leaves) of your plant has grown!
#3 Understand the pictograms
Each seed packet is a mine of information regarding how, when, and where to plant. Also, you can usually get more of an explanation by visiting the grower's website.
This way, we can figure out the best cultivation method for each kind of seed. Seeds need to be planted at a certain depth. For example, lettuce is planted at the surface, while zucchini seeds need to go 2–3 cm deep. Some seeds, such as radishes or carrots, can be planted directly into a window box or pot to save the extra step of transplanting.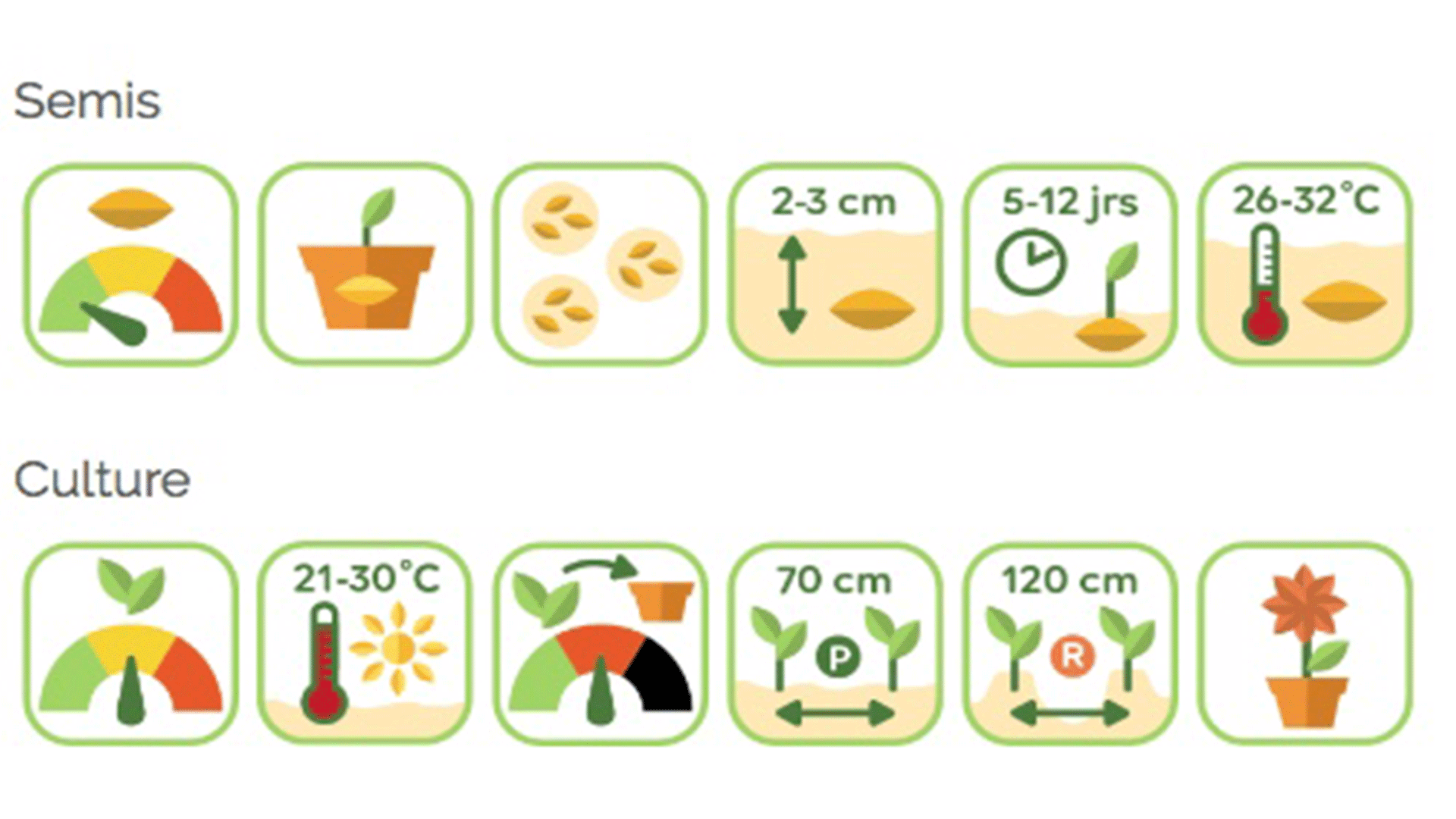 #4 Look for light and warmth
Once planted, our seeds need to get a maximum of sunlight, so it's best to make a place for them near the windows. A good way to ensure the best use of space is to play with vertical space. What I did was put seedlings above the fridge that opens onto a window, and I mounted a shelf under another sunny window.
Regarding warmth, there are several options. Seedling kits are generally sold with a plastic cover which will create a greenhouse effect and keep a constant heat. Sushi boxes or other take-away food, once washed, will also do the trick! I made this discovery after my first seedlings workshop, and I will be repeating this method with a lid.
Another option is to place the zucchini seedlings between a curtain and the sunny window, using a small thermometer to make sure it stays above 25 degrees Celsius. With the heater installed just below, I turned it up on cold days, and the plants grew perfectly.
The tomatoes were on top of the fridge and were cold, so it was harder for them to grow. Luckily, some survived and joined the zucchini. .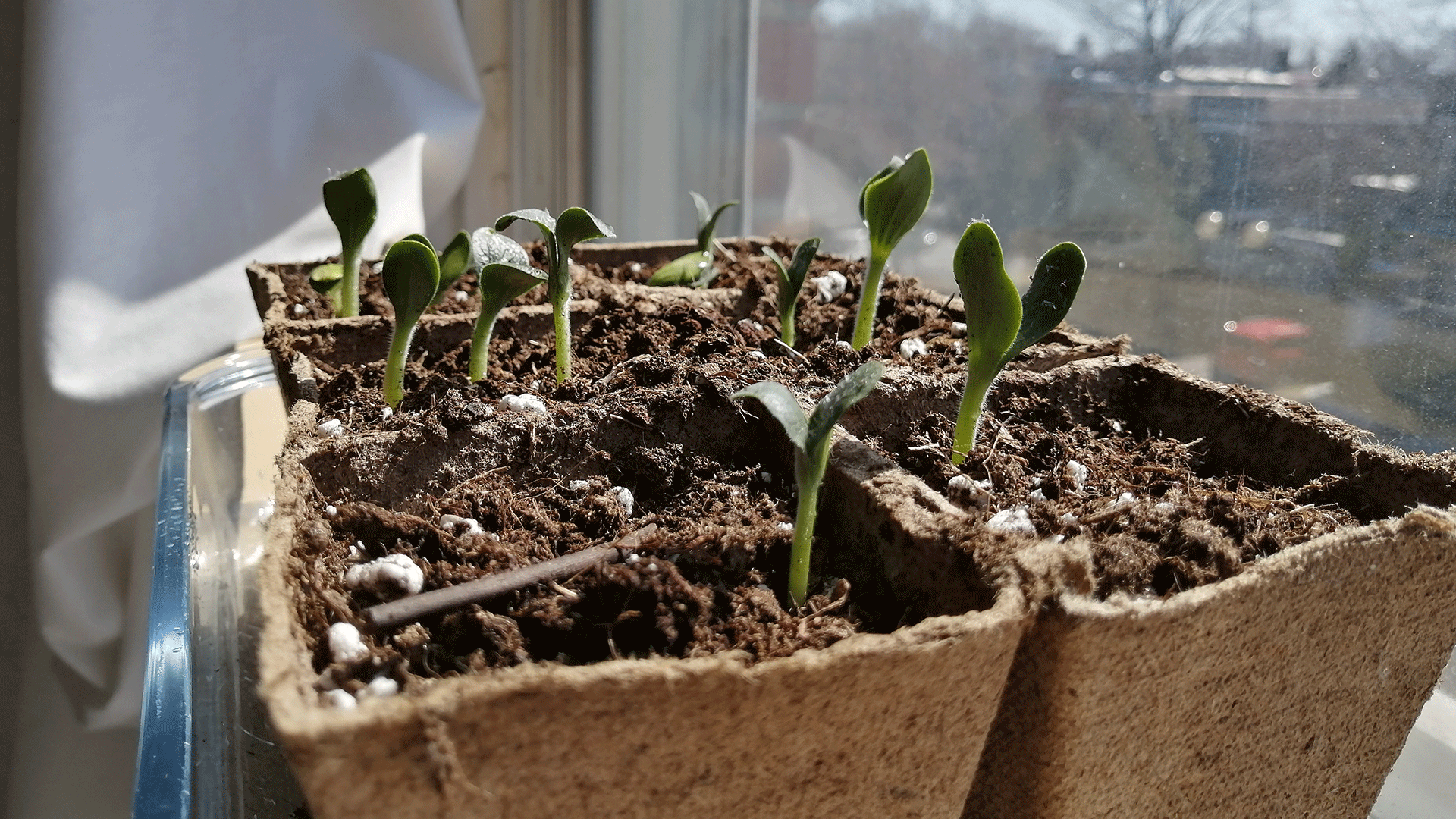 #5 Water gently and keep the soil moist
Good watering is essential for the development of the seeds. Too much water could make them rot, and not enough would prevent them from sprouting. To avoid putting too much, I use a water sprayer or a small perforated bottle. This also prevents disturbing the seeds. The potting soil must never dry out, so water regularly and make sure that the soil stays moist.
#6 Joining a gardeners' self-help group
It's a good time to join Facebook groups with experienced people who will answer your questions. You'll get lots of good advice and new ideas. And if you have extra seedlings, you can give them away or exchange them with other people. There are groups for that too..
In just a few days, you will see small green shoots on your window sills. It is guaranteed to amaze you!
Some links
---
Related posts :
---