Blog & News
Food fight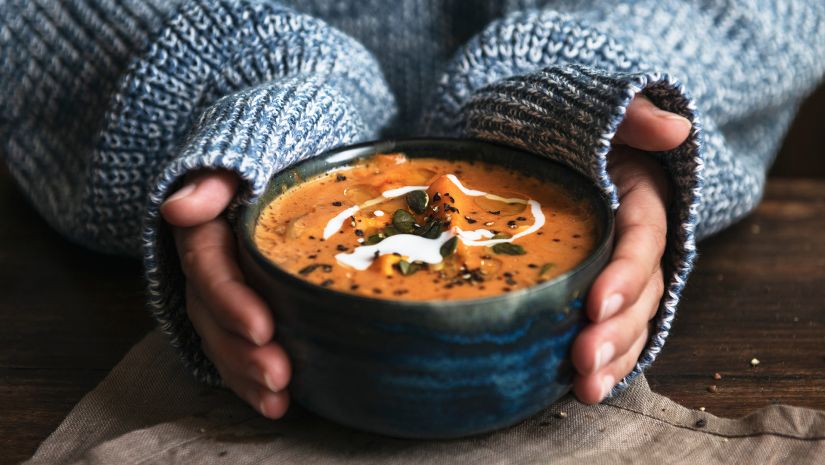 Homemade soups are to adults what hot chocolate is to children who come in from playing outside in the winter: comfort from cold in its purest form. And what could be better than making a steaming hot pot of soup on a stormy day, without even having to set foot outside? To do this, I have two basic recipes that you can modify according to your mood… and what's left in your fridge!
Grandma's Secret
There's nothing better than my grandma's soup: the broth is so tasty and the smell so comforting! One day, after I'd had seconds, I asked her what it was about her soups that gave them that little taste of "going back" that I couldn't find anywhere else. She then confided to me, in a near whisper, that she always adds a marrow bone to her broth. This was the simple secret to the best broth in the world. Since this revelation, I still have some of these bones in my freezer. So no matter what vegetables are left in my fridge, pantry or freezer, I have what I need to make a decent soup!
The Broth
My grandma often used a cooked chicken carcass, along with its marrow bone, to make her broth. She covered everything with water, then with whatever herbs, spices and vegetables she had on hand. Following this advice, I always have a bag of vegetable peelings in the freezer, as well as a bag of bones. In the latter, I collect poultry bones, but also beef and meats of all kinds. When I want to make a broth, I combine the two bags in a pot (vegetables + bones), cover with water and add the herbs (fresh, dried, frozen) that I have on hand. After a minimum of 30 minutes on a slow simmer, I strain it into a bowl and am ready to make this broth into a soup, or freeze it for later use.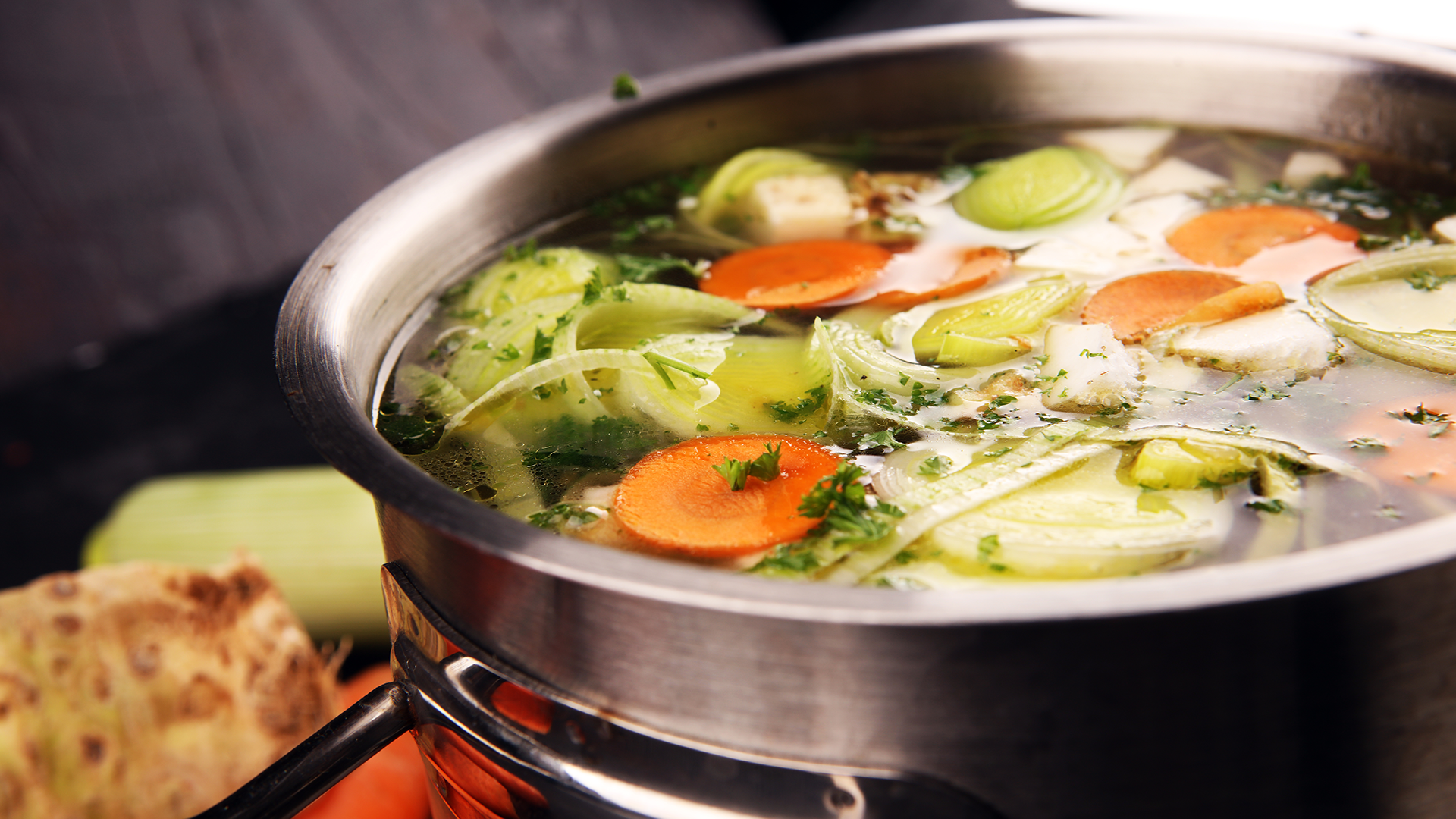 The Soup
When I don't feel like leaving the house, I combine fresh and frozen vegetables that I have at home. I use about 3 cups of vegetables for 4 cups of broth. For a soup meal, I add ½ cup of starch, and ½ cup of legumes or meat. Here are some examples:
• Frozen vegetables: peas, corn, edamame, leftover bag of prepared vegetables
• Fresh vegetables: carrots, broccoli, parsnips, tomatoes, zucchini, cabbage, etc.
• As desired: garlic, leek, white or red onion, French shallot, green onion
• Starch: potatoes, rice, pasta, quinoa, etc.
• Legumes: chickpeas, lentils, beans, etc.
• Meat: turkey, chicken, beef, pork, etc.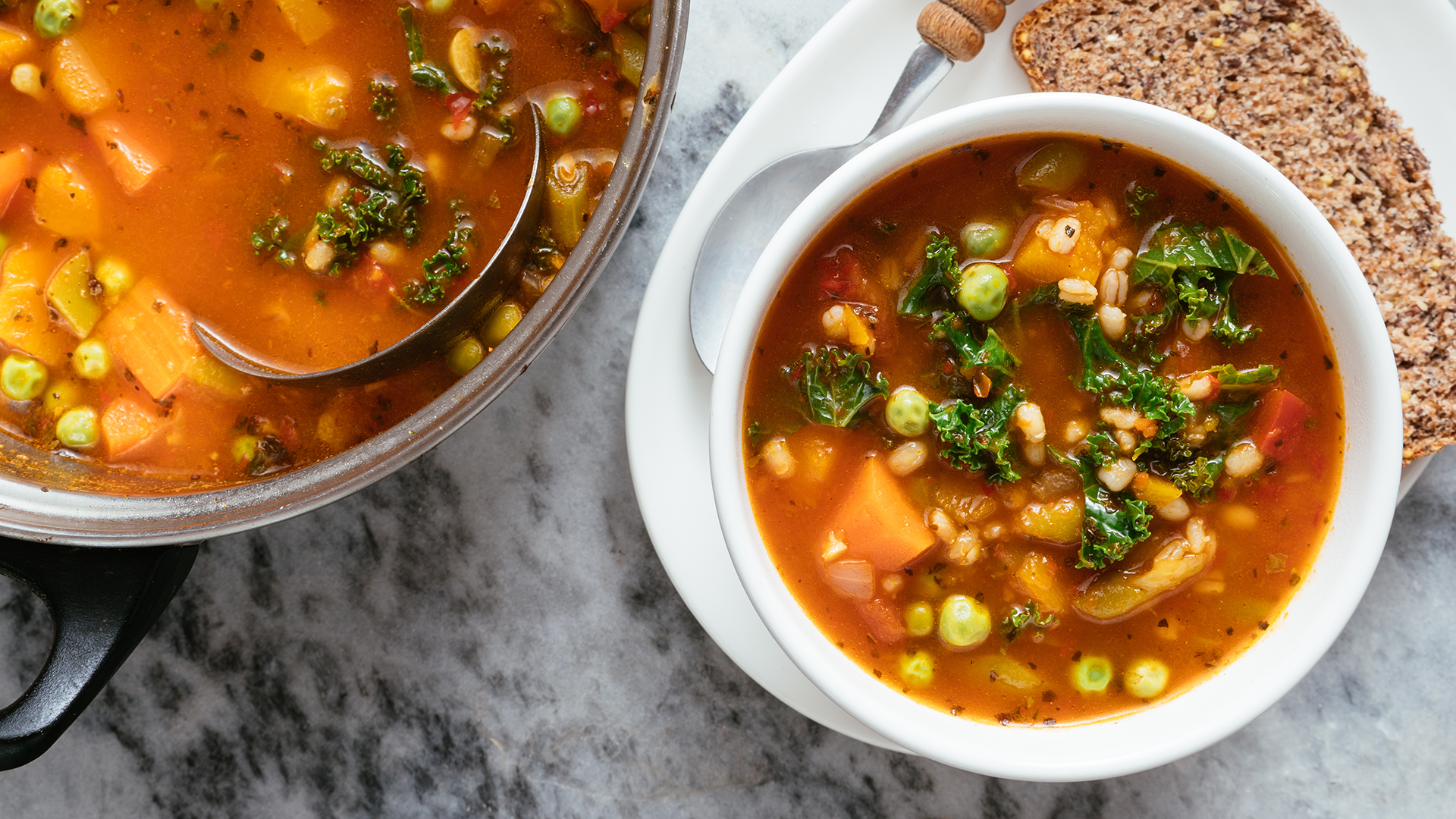 I take this opportunity to add the following unloved ones to my leftovers recipes: leek greens, celery leaves, broccoli stalks and cauliflower. This template allows you to jazz up your soups to your heart's content, while following simple proportions.
Cream of…
What I love about soup is that it allows me to hide all sorts of foods that are starting to look ugly. I like making a green soup, using broccoli, asparagus, or cauliflower, to which I add damaged lettuce or spinach leaves, as well as radish or carrot tops. When I have some on hand, I add a vegetable or animal dairy product to make a cream:
• Cream, milk, plain yogurt, sour cream or coconut milk
If your blender is powerful enough, a handful of cashews added during blending can also give a smoother texture to the soup.
Now you're ready to put on your favourite pyjamas and be inspired by these versatile anti-waste soup recipes!
As my granny would say: nothing is lost, nothing is thrown away: everything is cooked!
---
Related posts :
---