Blog & News
Reduction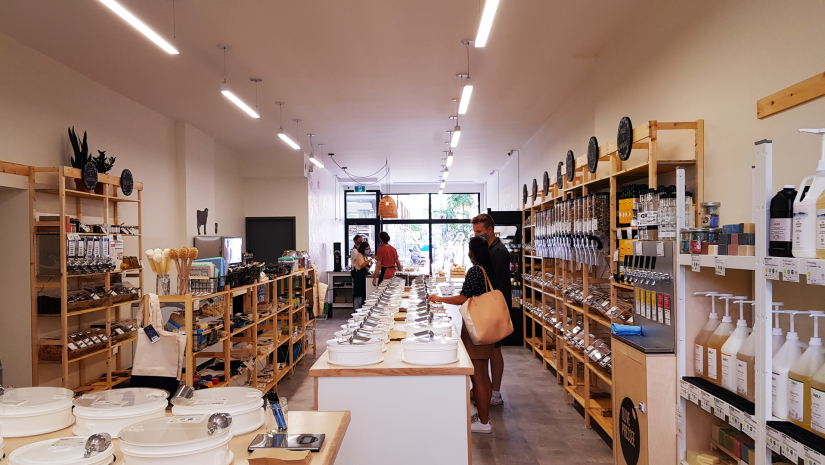 Over the past five years, grocery stores that offer bulk purchasing have grown in numbers in the Canadian food landscape. And that's great news because in 2018, just in Quebec, over 697kg of waste per capita was sent to landfills!
As for recovered materials (put in the recycling bin), 79% of paper and cardboard, and only 18% of plastic are actually recycled. Knowing what ends up happening with plastic in the environment, it only makes sense that we try our best to reduce our consumption of plastic packaging in all its forms.
But that's not the only reason to turn to bulk grocery stores! In fact, these smaller vendors help us improve our ecological footprint in more ways than one.
BUY IN BULK TO ENCOURAGE THE LOCAL ECONOMY
A big challenge for these smaller grocery stores is to find producers who offer the large format of products or limit waste in their production line. It's way easier to build trust and find zero-waste solutions within Canada than it is to negotiate with a foreign company. That's why we often find local products on the shelves of bulk grocery stores, which allows us to encourage our economy!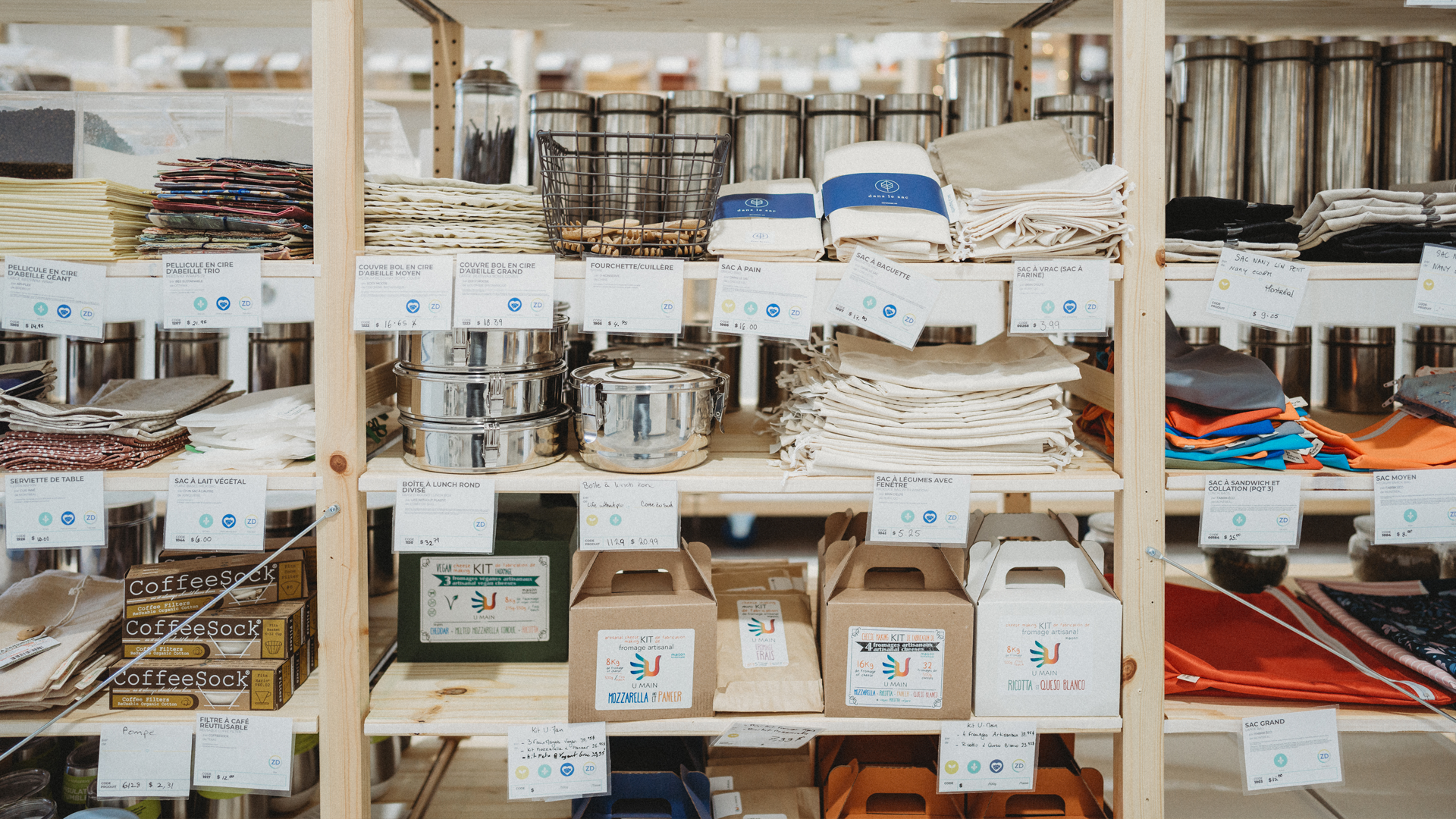 Photo credits: Épicerie LOCO Plateau
…AND EAT MORE ORGANIC FOODS
Another way you can reduce your grocery footprint is to eat organic foods, which have a nice section now in most small bulk grocery stores. Organic farming is free of synthetic fertilizers and pesticides that pollute the soil and waterways (and aren't very good for our health either). By using methods such as crop rotation and symbiotic association, organic farming also promotes maintaining diversified flora and fauna, which is excellent for the health of soil. Plus, in Canada, organic certification ensures the traceability of "field to table" food according to rigorous standards; we can therefore consume organic products with complete peace of mind!
Finally, by buying in bulk grocery stores, we concretely reduce the impact of our grocery cart: we avoid packaging, we reduce the transportation of food, we encourage local businesses, and we promote the health of our soil, our waterways, and our bodies and wildlife.
TIPS AND TRICKS FOR YOUR FIRST GROCERY RUN
The first time I shopped in bulk was to buy peppercorns! I was curious to see how it worked and what was available to me. You don't have to go zero-waste overnight, you can slowly transition while you finish the food left in your pantry. There are some different ways you can carry your groceries. Some experimentation will help you figure out your winning recipe!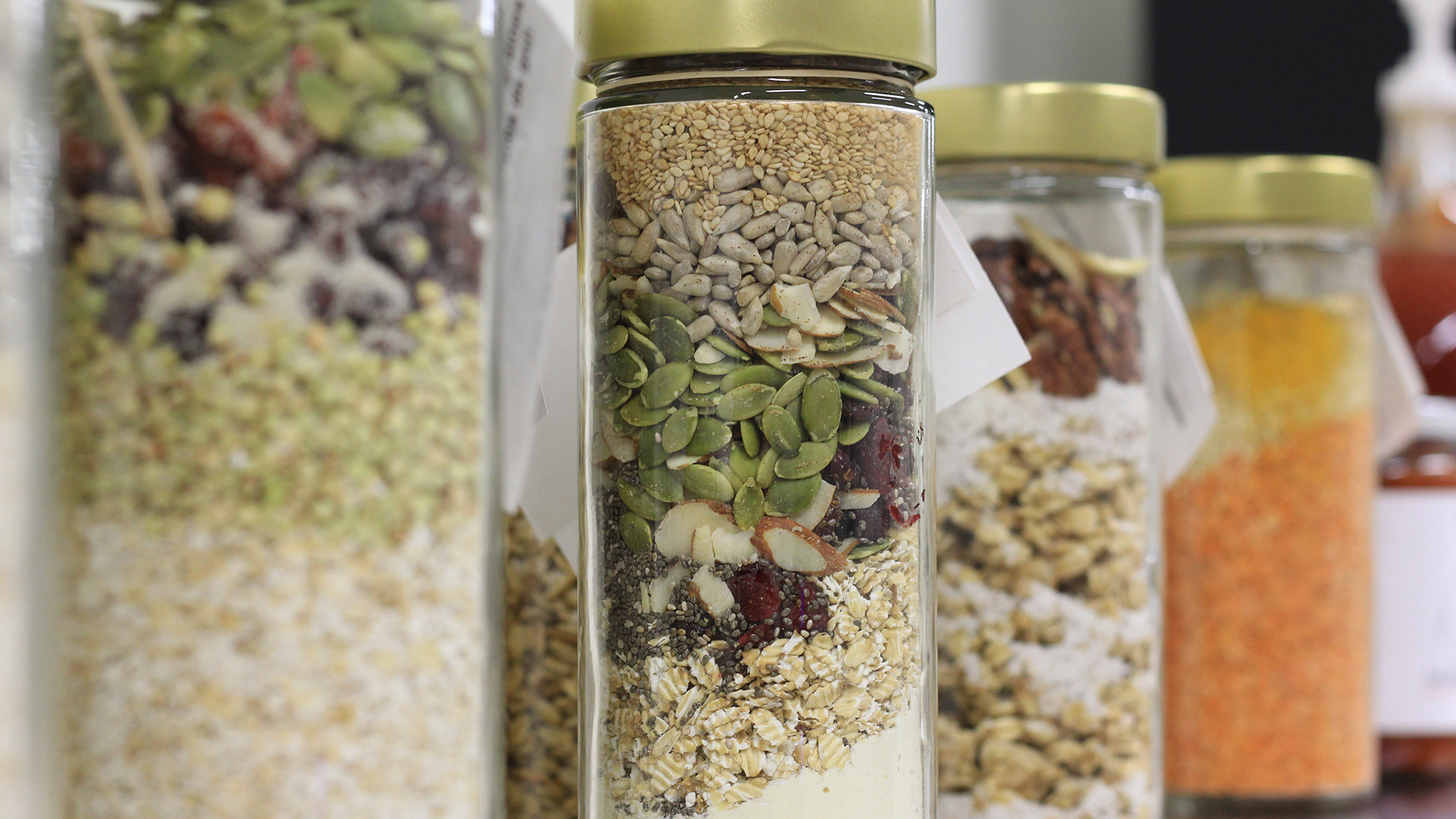 Photo credits: Épicerie LOCO Plateau
BAGS OR JARS: DON'T OVERTHINK IT!
For your initiation, you can go to your local bulk grocery store with minimal preparation, i.e. with your grocery list. There will be returnable jars at your disposal to shop with. Prices may vary, but they usually come in a variety of sizes and you just have to return the container the next time to get your money back. Brown paper bags are also available for food purchases. Another good option to get started is home delivery in returnable containers. One company in Montreal even delivers by bike! 😉
Once you are more accustomed, you have two main options: jars or bags (or a combination of both!)
Throughout the week, make a grocery list. When there are about ten food items, take out the Tupperware, mason jars and all the other glass jars you've collected. Using an erasable or permanent marker, label it underneath with the food it will be used for. In this way, the size of the jar and the desired quantity can be determined in advance. It may seem heavy to carry all those jars so if you're far from a bulk store and on foot, I suggest you use a shopping trolley. Yes, you know exactly which one I mean! Once you arrive, all you have to do is weigh your jars. Tip: label the jars with their respective weights on the bottom and make sure it stays visible.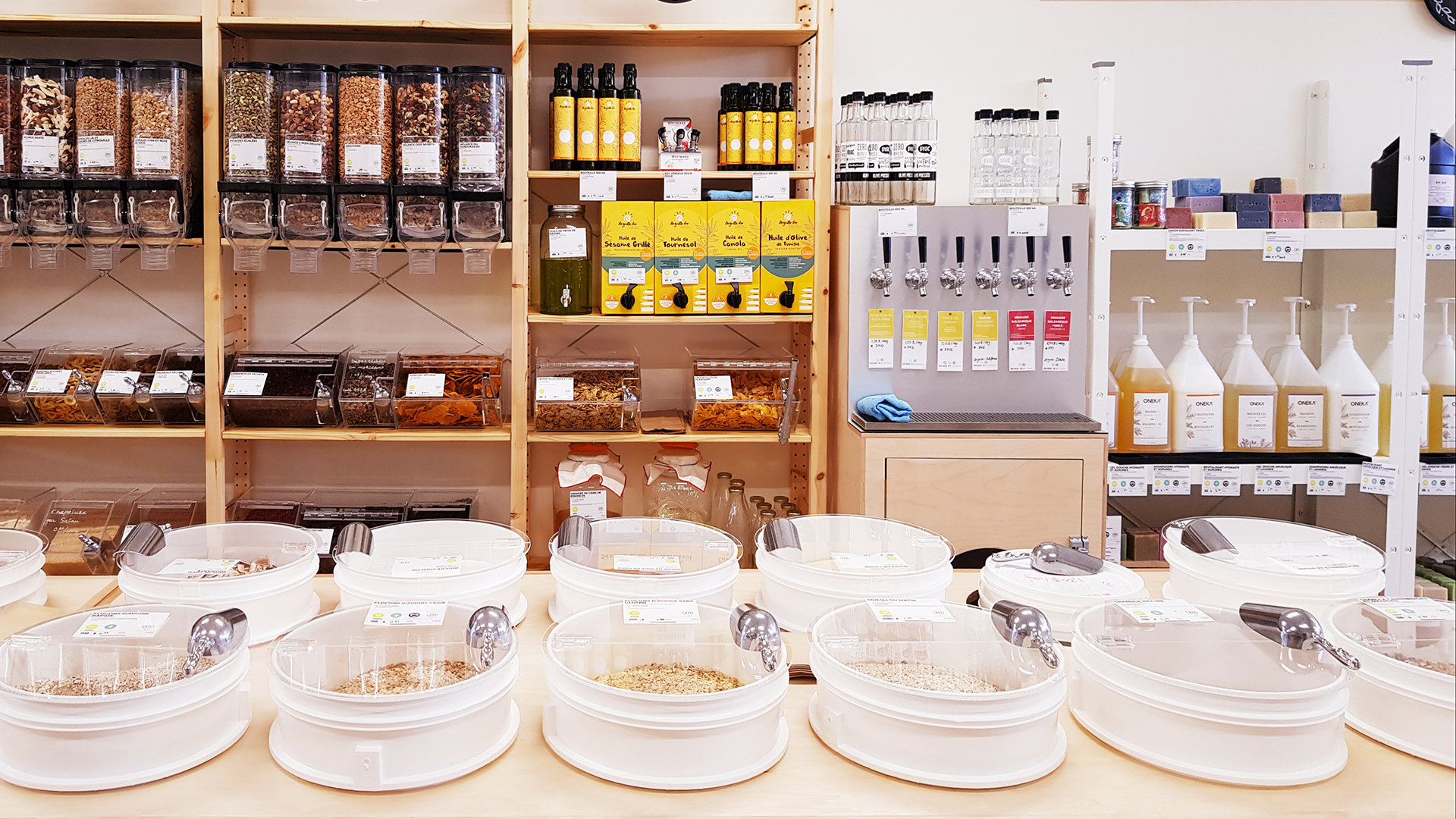 Photo credits: Épicerie LOCO Plateau
If you're more of a bag person, that's fine because they're also accepted at bulk grocery stores! Just like glass containers, you will probably need to weigh them. If you don't want to write directly on your bags, you can either hang little labels on them with their weight, or you can just bring a piece of paper and make yourself a list of the bags and their weight. By the way, there is no need to buy bags specifically for bulk; used resealable bags from frozen fruit or rice will suit the purpose just fine. As for flour or sugar, I like to reuse their original packaging and simply bring an elastic to reseal them after filling. Plus, you always have the option of transferring your purchases into airtight containers once you get home.
BULK AND COVID-19
Since the beginning of the pandemic, businesses have had to adapt to Public Health standards in order to offer safe service to customers and employees. Zero-waste grocery stores are not the exception! Sanitary measures for bulk goods have been drafted to respect the MAPAQ recommendations and to guide bulk distributors through pursuing their operations. They've installed sanitizer stations and cleaning products. Once you've sanitized, some businesses will even fill your jars for you. If you fill your containers yourself, you will have to put aside your shovels to disinfect them between each use!
If you want to know which grocery stores offer bulk foods near you, you can go to this page (or this one if you live in Quebec). We wish you great new discoveries at your first bulk grocery store! You won't be disappointed with the vast choice of products and you will certainly have new favourites!
P.S.: Do not hesitate to ask the employees in-store if you have any questions, they will be delighted to assist you and introduce you to the wonderful world of buying in bulk 🙂
---
Related posts :
---