Blog & News
EcoCharge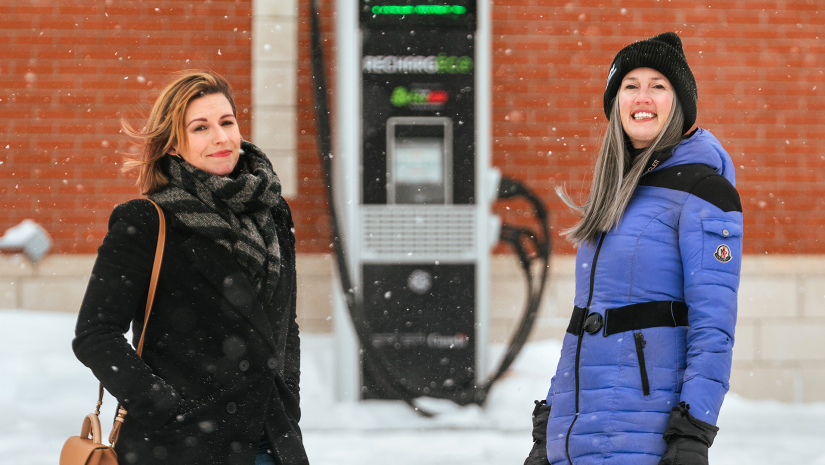 Montreal, February 17, 2022 – Thanks to a $300,000 investment from the Trottier Family Foundation, Earth Day Canada's community bond campaign has reached $1 million, becoming the largest to date in Quebec. The fundraising campaign supports the continuing implementation of the EcoCharge program to install 100 fast-charging stations for electric vehicles at 50 participating IGA stores.
Double the interest donation for zero-emission projects
One of the highlights of the Trottier Family Foundation's investment is that it will donate double the interest earned to zero-emission projects, which represents $20,000 annually over the next five years.
Community bonds
Little known in Quebec, the community bond campaign model not only makes it possible to invest in a project that has a strong social impact on local infrastructures or services; it also generates a financial return for its investors. Individuals and businesses alike may contribute.
The Earth Day Canada bond campaign is open for direct online investments until April 22, 2022.
Quotations
"We are proud to take part in this social project, which is consistent with our mission. Thanks to the interest earned on our investment, the Trottier Family Foundation will create a grant to finance tangible projects that contribute to the reduction of GHGs through zero-emission mobility. We will put out a call for projects every year for five years and invite applicants to propose environmental initiatives for grants of up to $20,000." – Éric St-Pierre, Executive Director, Trottier Family Foundation
"We are grateful for the support of the Trottier Family Foundation. I believe the foundation has always shown great consistency in its support of meaningful projects. Their investment will support the creation of 50 significant, zero-emission and sustainable mobility projects in 50 communities in Quebec and New Brunswick. Well done!" – Pierre Lussier, President, Earth Day Canada
For more information, visit https://earthday.ca/every-day/programs/ecocharge/
-30-
About Earth Day Canada
Earth Day Canada is a charitable organization that helps people and organizations take action to reduce their environmental impact on Earth Day and every day. Since its launch in August 2019, the organization Tous les Jours, initially active in Quebec and the French-speaking world, has become Earth Day Canada/Jour de la Terre and expanded its environmental programs across Canada.
About the Trottier Family Foundation
Created in 2000 by Lorne Trottier and Louise Rousselle Trottier, the Trottier Family Foundation was established to create meaningful and beneficial impact in the world. The foundation supports projects that promote innovative scientific discovery, enhance education, improve patient and health care, protect the environment, and mitigate climate change.
Contact:
Myriam Charconnet
Communications and Marketing Manager, EcoCharge
mcharconnet@jourdelaterre.org
438 233-5173
Related posts :
---