Blog & News
Food fight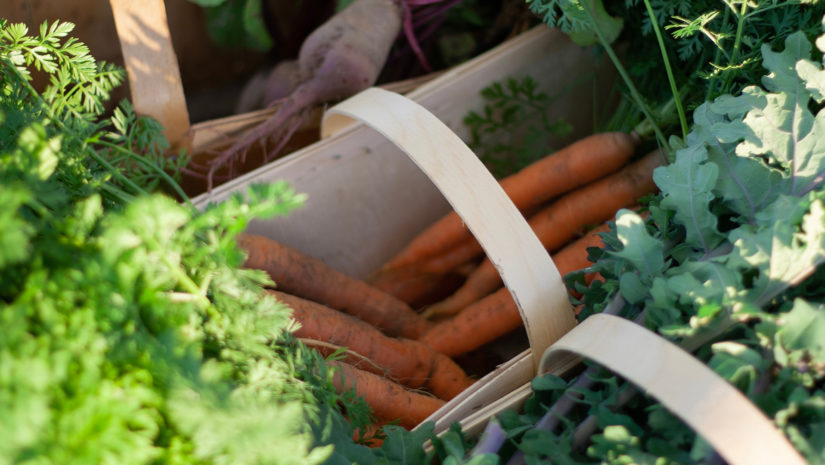 While arid winters freeze the earth for what seems like an eternity, the mild spring and sunny summer that stretch into autumn—coupled with the hard work of our farmers—bring forth a myriad of fruits, vegetables, flowers and plants. This season of abundance, though shorter than elsewhere, has absolutely no reason to envy others; the fruits and vegetables available in grocery stores are only a small part of the diversity offered by our lands.
Our great-grandparents understood the importance of diversity, since in the absence of supermarkets filled with imported products, they had no choice but to eat their own local produce. Their dishes therefore evolved over time, according to the seasonality of the food they ate. What does a meal that follows the seasons look like? Take the green bean, for example: Mariève Savaria, in her book La saison des légumes, tells us that at the beginning of the harvest, towards the end of June, the beans are very tender and crisp. Serve them raw in a salad or simply as a raw vegetable with a dip. As the summer progresses, the bean plant will give us a dry, fibrous vegetable, with nature guaranteeing its reproduction for the following season. As the texture and taste of beans evolve throughout the season, so does the way they're cooked: when they're too tough to enjoy raw, beans can be steamed or sautéed in a little oil. When even steam is no longer enough to tenderize them, they can be boiled or added to an autumn vegetable broth.
**Why, then, are beans always tender and crisp in grocery stores and markets? Because market gardeners are always replanting new shoots in order to harvest the "new" beans.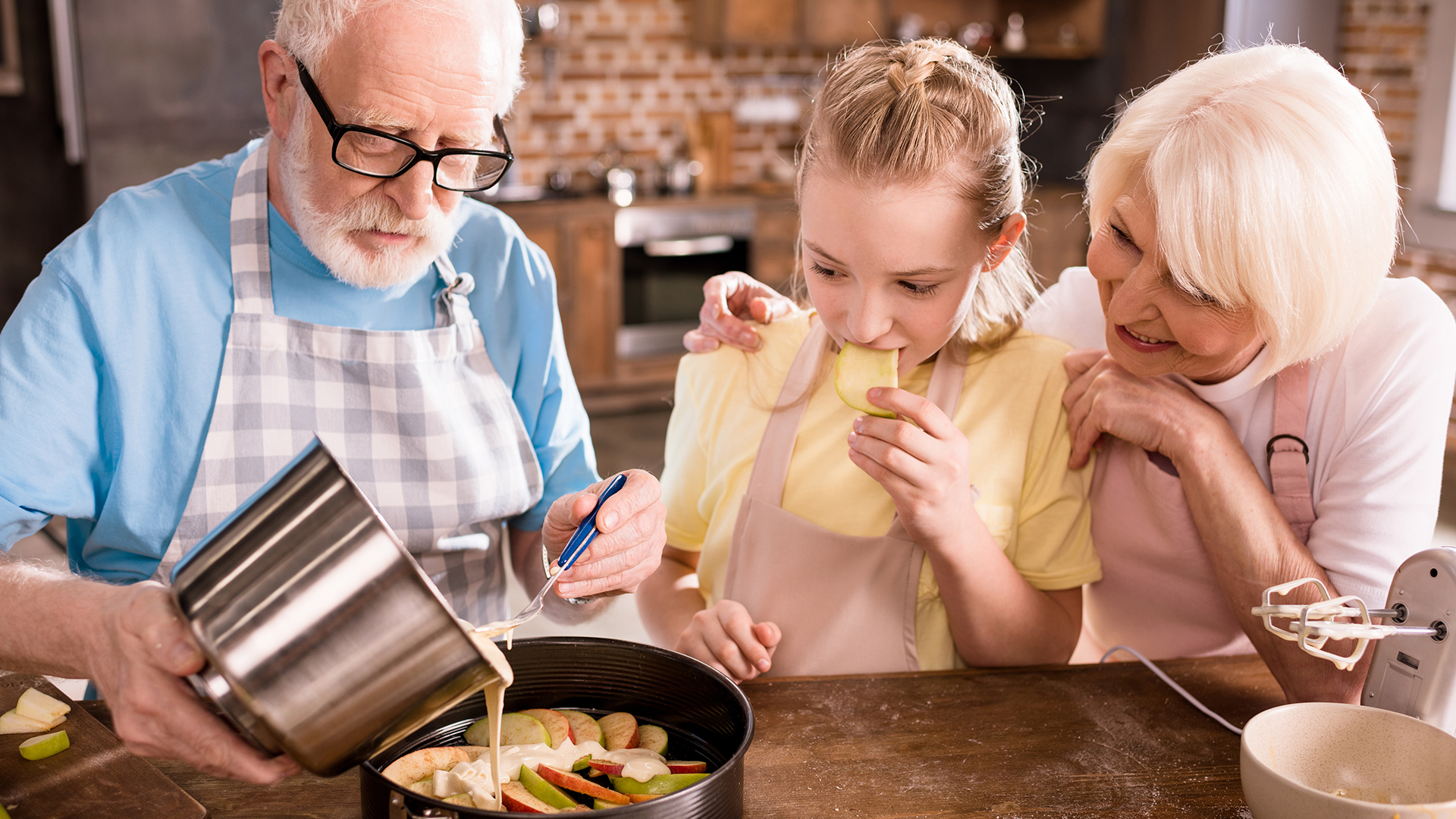 Environmental benefits
A meal that follows the seasons of the local area not only lets you discover new foods and try out new ways of cooking them, but also has a positive impact on the environment! First, eating locally encourages short circuits; food that hasn't travelled thousands of kilometres to reach our kitchens has a much smaller environmental impact, since it doesn't generate as many GHG emissions. What's more, less road travel means less storage and less time spent in energy-intensive refrigerated facilities (Microhabitat).
Short distribution channels mean less food packaging. Since the distances involved are short, there's less risk of damage during transport or storage. Although packaging is said to be recyclable, it currently accounts for over half of all plastic waste generated in Canada, and less than 15% of this is actually recycled (Government of Canada, 2023). It's an excellent reason to choose local, unpackaged foods that come (almost) directly from the place they were grown.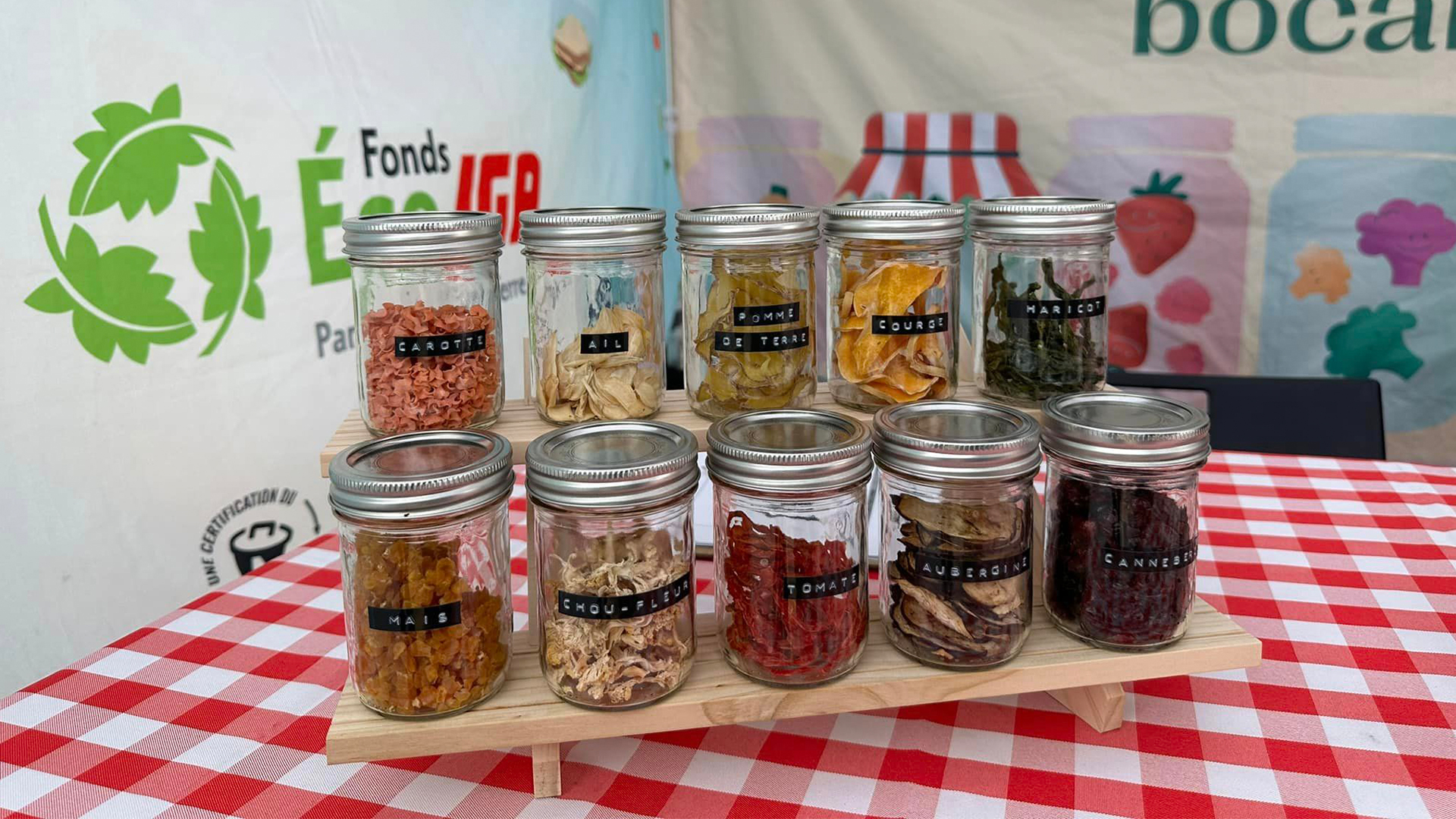 Where to start? Preserving methods
How do you make the shift to a more seasonal way of eating? First of all, local does not always mean less harmful to the environment. For example, a Quebec tomato grown in a greenhouse may have required more energy and resources than one from far away (Mircrohabitat). So, the best way to eat seasonally while reducing your environmental impact is to take advantage of seasonal abundance to preserve fresh produce for later consumption!
Of course, a preserved tomato eaten in the middle of January won't have the same taste or texture as a fresh tomato from August, but you can still use it in lots of dishes (spaghetti sauce, chili, minestrone soup, etc.) without even noticing the difference. Dehydrated mushrooms can easily be rehydrated in a soup or stir-fry, lacto-fermented carrots will add a bit of spice to a wrap, and good frozen local strawberries will warm your heart in a smoothie in the middle of winter.
The Travelling Jar
Up until October 8, The Travelling Jar will introduce you to 4 simple preserving methods: freezing, canning, dehydration and lacto-fermentation. Drop by your local IGA kiosk to talk preserving, get tools and even a taste of some preserved creations 😉
If you missed the kiosk nearest you, all the tools are available on the The Travelling Jar site, so don't hesitate to check it out!
SOURCES:
https://microhabitat.ca/fr/3-raisons-qui-vous-feront-manger-local/
https://www.canada.ca/en/environment-climate-change/services/managing-reducing-waste/reduce-plastic-waste/recycle-content.html
---
Related posts :
---