Blog & News
Reduction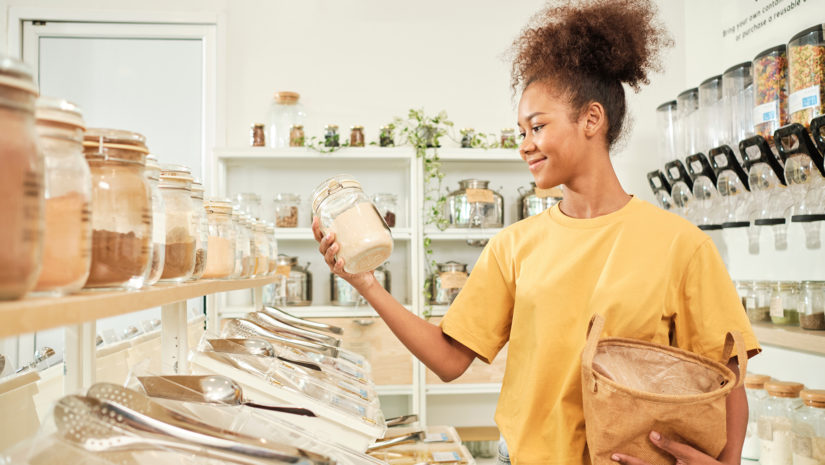 For 3 years now, Earth Day has been supporting food merchants (bakeries, cafés, bars, restaurants, grocery stores) as part of the Zero Waste Challenge – Business launched by the Rosemont-La Petite-Patrie borough. And how is the ecological transition going at our local shops? What are they doing to change? What are their challenges? How can we help them?
Into the shoes of a store owner
To understand all this, we need to step into the shoes of a store owner for a moment. Food businesses are often very small, and the reality and resources available to them are very different from those of larger businesses. Owners are often directly involved in the daily management of the activity on site… and it's not always a cakewalk! Between cultural celebrations, high employee turnover, rising product costs and last-minute emergencies, managers are often very, very busy. As a result, not everyone has the time to stop for a minute and question their practices and think about how to improve them.

Zero Waste Challenge – Business
This is where the Earth Day support system comes in. Indeed, through the various editions of the Zero Waste Challenge – Business, one thing has become very clear: many businesses are eager to reduce their ecological footprint. There's a will! Sometimes, all that's needed is a little push to get things moving—a way.
Support in obtaining the Action/Reduction certificate has helped many businesses embark on the ecological transition at their own pace, by taking meaningful action on their own scale.
For example, by implementing and optimizing organic waste collection, the 34 businesses supported during the 3rd edition saw their waste volume reduced by an average of nearly 35%! What's more, many businesses have tackled the source of their waste generation by choosing suppliers who offer bulk, consignment or better-packaged products, or by reducing food losses. Some have pushed forward with the development of reusables by offering returnable containers to their customers, charging for disposables or offering discounts to customers bringing in their own containers.

Invisible actions
It may not always be visible, but the action taken by businesses is there, and consumers play an important role in ensuring their success. Generally speaking, waste bins accessible to the public have the highest contamination rates. When a recycling or compost bin is too contaminated, its contents go to waste. That's why it's critical to take care of our sorting not only at home, but outdoors too! What's more, the impact of disposable packaging can easily be avoided when customers bring their own containers. It's okay if you don't have the reflex to always bring along your reusable containers, but you should take it one step at a time! Bringing your own cup, or using a returnable cup for takeaway coffees, is a reflex you can develop.
In the end, the ecological transition is not always obvious for small businesses, but it's well underway and constantly evolving. Regulations banning certain single-use items are emerging, as are new returnable packaging systems, more eco-friendly product innovations and platforms to combat food waste continue to reduce losses. It's through citizen collaboration and open-mindedness to new ways of doing things that we finally change things.
---
Related posts :
---