Blog & News
Highlights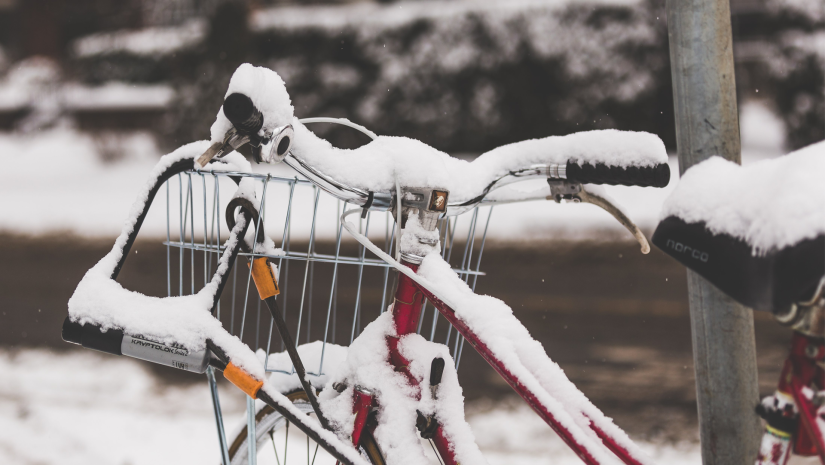 So the winter wind hasn't chilled you to the bone yet and you're still determined to ride your bike for the rest of the season? Okay, let's get started! Now that you know what you're getting into, we'll give you some concrete tips from winter biking pros.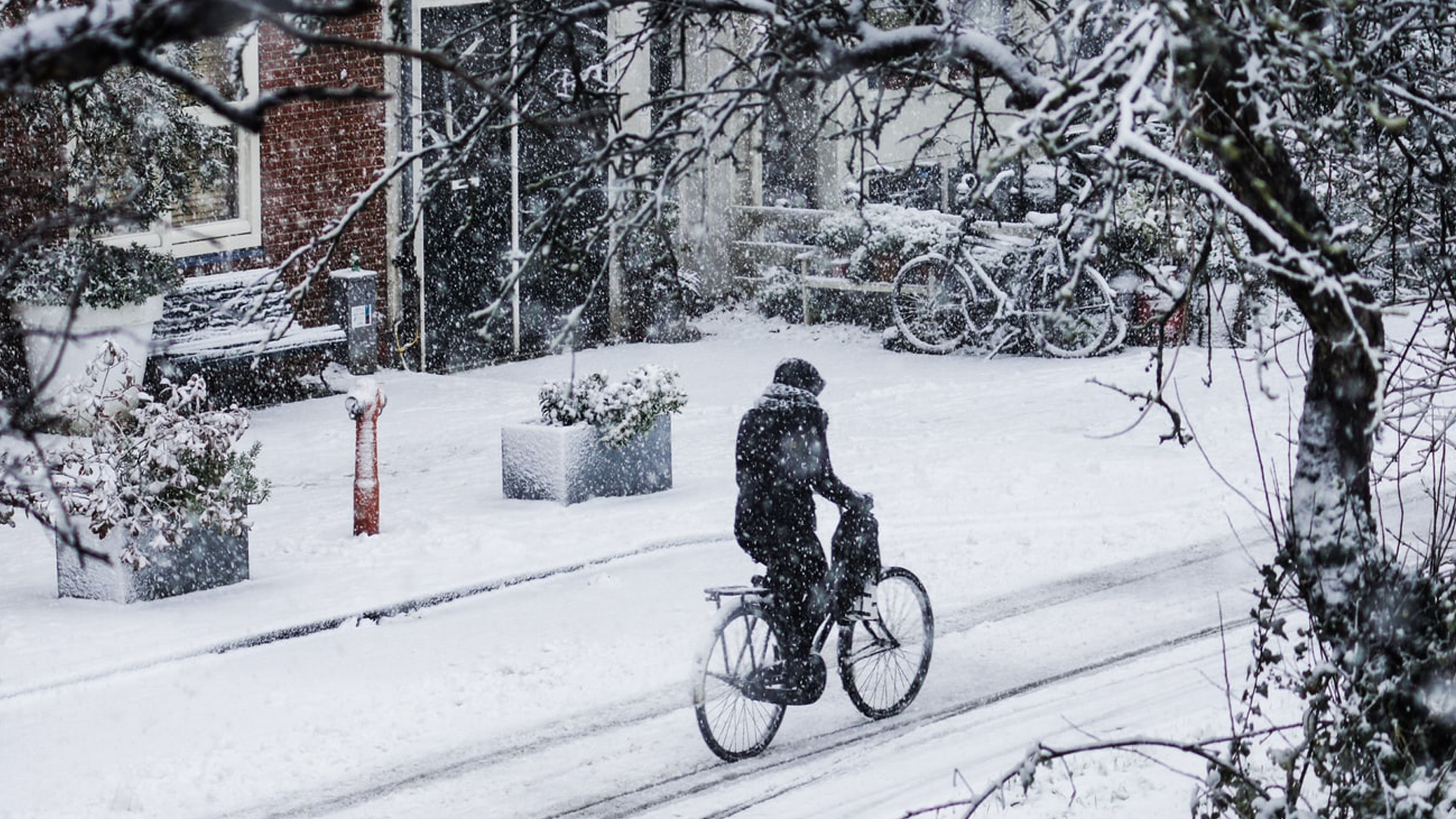 Wearing appropriate clothing and biking carefully are musts if you want to have a great winter biking experience
Clothing/visibility
I often hear people say, "Riding a bike in winter?! You're either too cold or wearing too much clothing and sweaty by the time you get to work." True, but the unpleasant parts of winter biking can mostly be avoided.
The key to choosing what to wear for biking in winter is adaptability: don't dress the same for a 10-minute ride as you would for a 30–45 minute ride. In addition, there's a big difference between a mild winter day at -5C and a frigid day at -30C. That's why it's important to check the weather and the actual (and "feels like") temperature before leaving the house and adapt your clothing based on how resistant you are to cold!
One common error to avoid is overdressing. You might get too hot and start sweating in the first few minutes. In addition, it's well known that humidity can cause you to become cold or get thermal shock. I would recommend dressing so that you're a bit cold when you first start off. You'll warm up quickly as soon as you're active.
(Be careful if you have an electric bike! Since you'll be moving less and going faster, you'd be better off to dress warmer.)
Here are the basics that you can adapt to your needs:
Jacket: waterproof, windproof and breathable, if possible.
Several layers underneath: this can range from a light sweater if it's not that cold to a light sweater + sweatshirt + down jacket if it's freezing!
Your extremities will be most sensitive: you can keep your hands warm with anything from simple wool gloves to big mittens with small gloves underneath. There are even heated gloves if your hands tend to get really cold! Your fingers are the first part of you that gets exposed to the cold as you ride, so don't hesitate to bundle them up!
Legs: pants with tights or leggings underneath, depending on the temperature, or waterproof trousers.
Ears, nose, face: wear a toque underneath your helmet (or ski helmet with inner lining) or even a hood or simple neck warmer.
Eyes: in the event of extreme cold, strong wind or heavy snowfall, a ski mask can come in really handy!
Feet: you'll need comfortable shoes (and maybe even shoe covers) or your winter boots, as long as you can pedal comfortably.
Last, in winter, it's dark more often. That's why you need to make sure you have lights in the front and back to be seen! If you already ride a bike, you should already have lights 😉
Riding tips
One of the keys to riding safely in winter is to adapt your speed and be extra careful. It's a good idea to allow extra time for the trips you used to make in the summer. For example, if it usually takes me 20 minutes to get to work, I'll allow 25 minutes in the winter, so I won't be late and stressed out if the paths are snow-covered or my lock is finicky because of the cold!
While riding, go slowly and anticipate! It takes longer to brake and you can easily slide. It's especially important to take turns more slowly and at a wider angle to avoid skidding sideways. As long as your bike is straight, it's fine, but as soon as it tilts to the side, there's a risk of slipping (on snow, ice or wet roads).
Last, it's worth it to lower your seat slightly so you can put your feet on the ground more easily in case of emergency!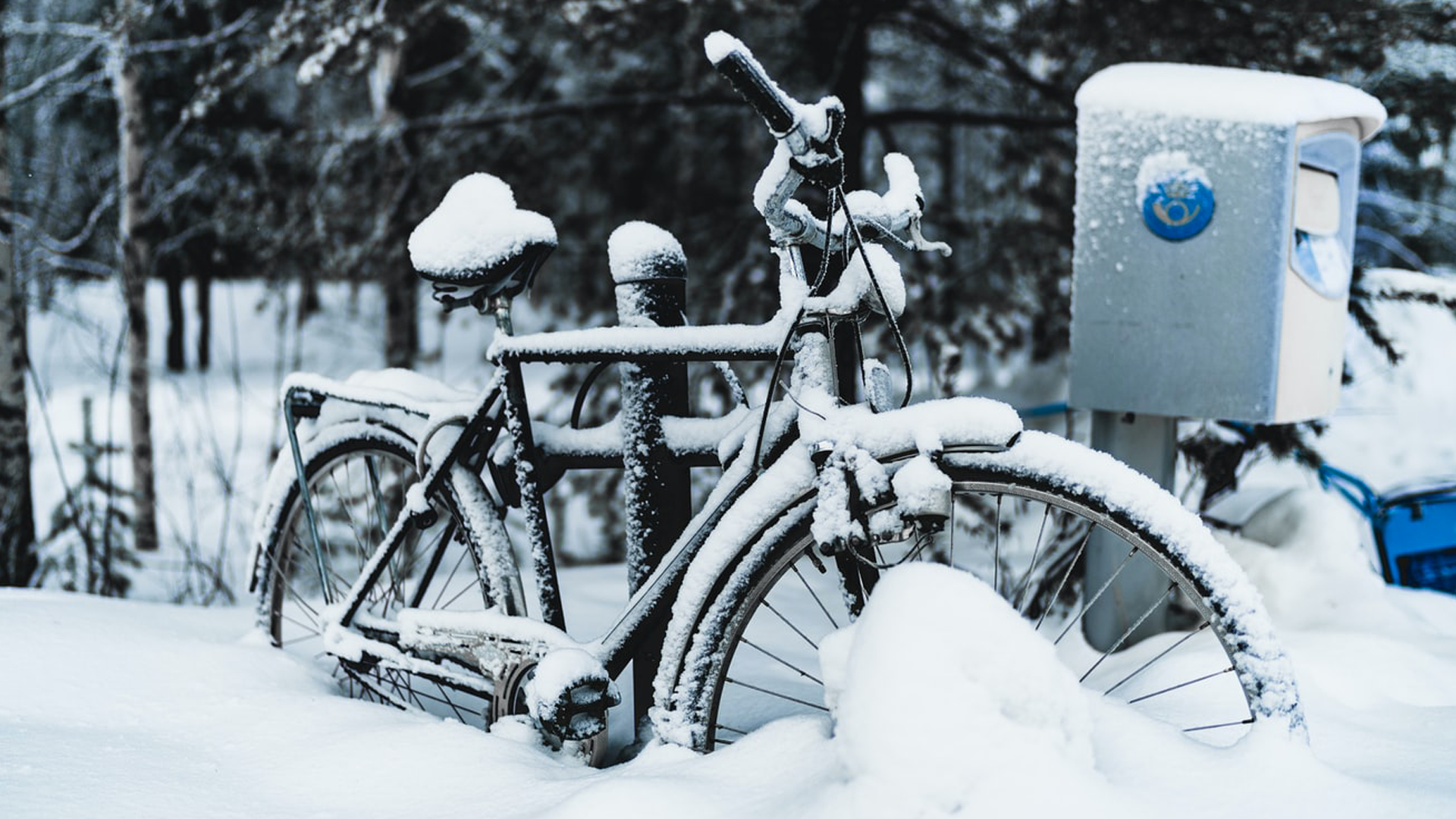 It's best to keep your bike out of the weather during the winter, either indoors or under a bike cover
Maintenance
Our previous article discussed how you don't need a monster bike to ride in winter but some adjustments and preparations are in order.
In mid-fall, around November, it's advisable to tune up your bike and get it ready to face the cold, ice and, above all, the salt.
As with cars, mid-fall is the time to remove summer tires and replace them with winter tires.
To protect your bike from salt and rust while making sure it continues to ride well, you can clean and lubricate the chain and sprockets. You can use a greasier "wet" lubricant for humid conditions and wipe it off after application to avoid picking up dirt too quickly. Since dirt builds up quickly in winter, it's important to clean and re-lubricate your chain often—ideally once a week.
It's also a good time to check your brakes and adjust them or even change them.
If you are able to, bring your bike inside and protect it with a tarp or bike cover when you're not using it. Along with regular lubrication, this will reduce the chances of your bike rusting by protecting it from the full force of bad weather and extreme cold.
Two final tips before you hit the road
1. To increase your bike's grip on snow, ice or slippery surfaces, you can deflate your tires slightly, as long as you don't deflate them below the minimum pressure specified on the tire.
2. To prevent my lock from freezing, I got into the habit of always pointing my lock downwards. That way humidity is less likely to build up on the lock and freeze it!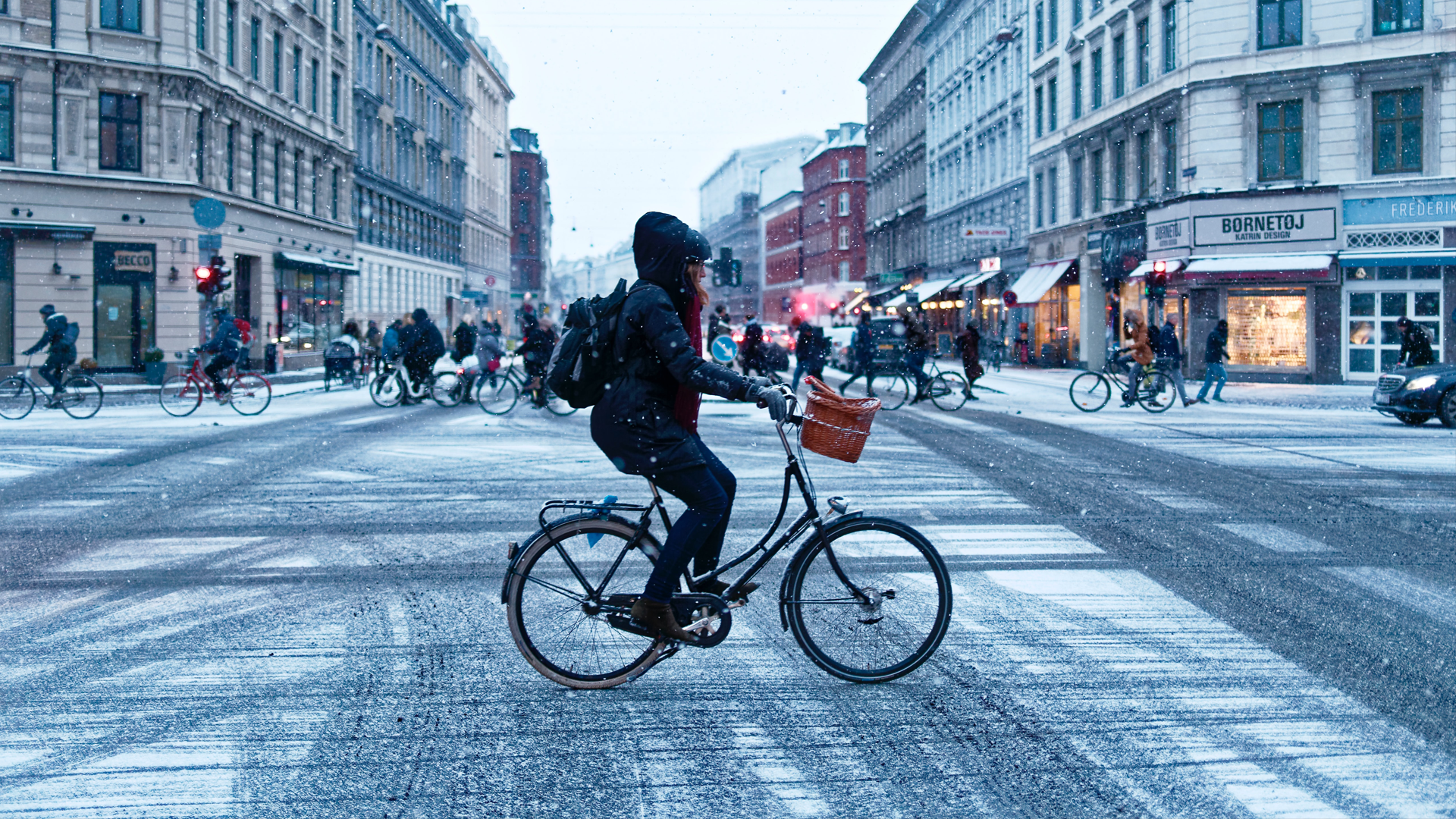 Discover the wonderful freedom of biking during the winter
Welcome to the joyful community of winter cyclists!
I hope you found some useful tips in our four seasons bike guide. A new world is about to open up to you—all you need to do now is take your first ride to discover the joys and satisfaction of active transport in the winter!
Resources:
---
Related posts :
---