Blog & News
Food fight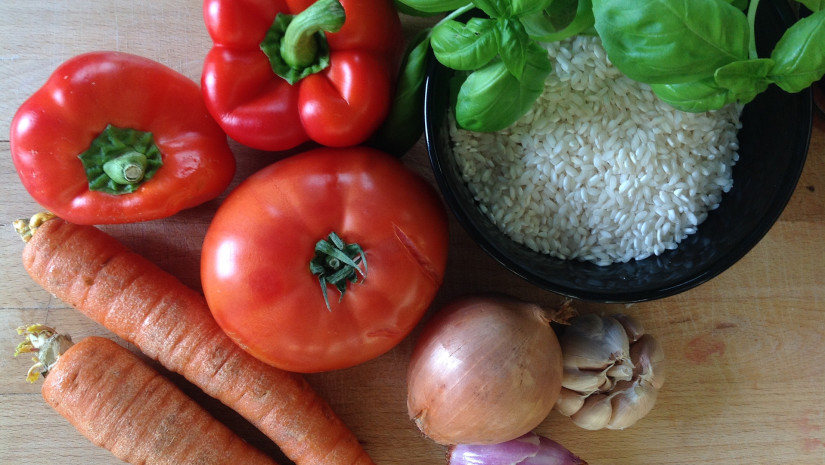 Today I invite you to celebrate the summer with a simple and easy-to-make dish, but which at the same time results in a burst of flavours, colours and sensations: a risotto rosso. Let's gather all those forgotten leftovers and not very good-looking red or orange vegetables we might find on the fridge. Those pieces we left after preparing a salad or pasta, and we no longer know how to use them.
Risottos are distinguished from other rice plates by their smooth and creamy texture, produced by high concentrations of starch, a complex sugar that constitutes the energy reserves of plants1. For thousands of years, grains rich in starch have been the staple food in the world, such as rice, wheat, and corn. These grains result on an essential component of human culture, as much as a primary material to fabricate paper, adhesives and medicinal agents2. Such interesting applications! But for this time, let's focus in the kitchen that nourishes the body and makes our hearts beat with joy.
The secret for preparing a good risotto relies in two factors: using the right kind of rice, and cooking it on a broth, while stirring constantly. These varieties of rice include the arborio, carnaroli, or vialone nano, which are richer in amylopectin, a starch component molecule which under heat and hydration causes the surface of the kernels to become creamy and velvety3. As the heating proceeds, the starch granules keep on absorbing water from the broth and therefore to swell, allowing the rice kernels to break up and the viscosity of the starch to increase.
Ingredients (for four servings):
2 cups carnaroli or arborio rice (if you absolutely want to use a different variety of rice, check this table for advice.)
2 cups various red/orange vegetables (tomatoes, carrots, red or orange bell peppers) cut in small pieces.
1/2 finely chopped onion
1/2 finely chopped shallot
2 garlic cloves, cut into thin slices or minced
1 tablespoon of finely chopped basil
1.5 L (approximately) vegetable broth
Salt and pepper
Paprika
4 tablespoons Olive oil
1 tablespoon butter (optional)
Recipe
For an evenly cooked risotto, it's convenient to use a large skillet rather than a pot.
On a large skillet, cook the vegetables in two tablespoons of oil over medium heat. After 5 minutes, add enough broth to cover the surface of the vegetables, and simmer for 15 minutes or until they become tender. Use the blender to obtain a homogeneous mixture.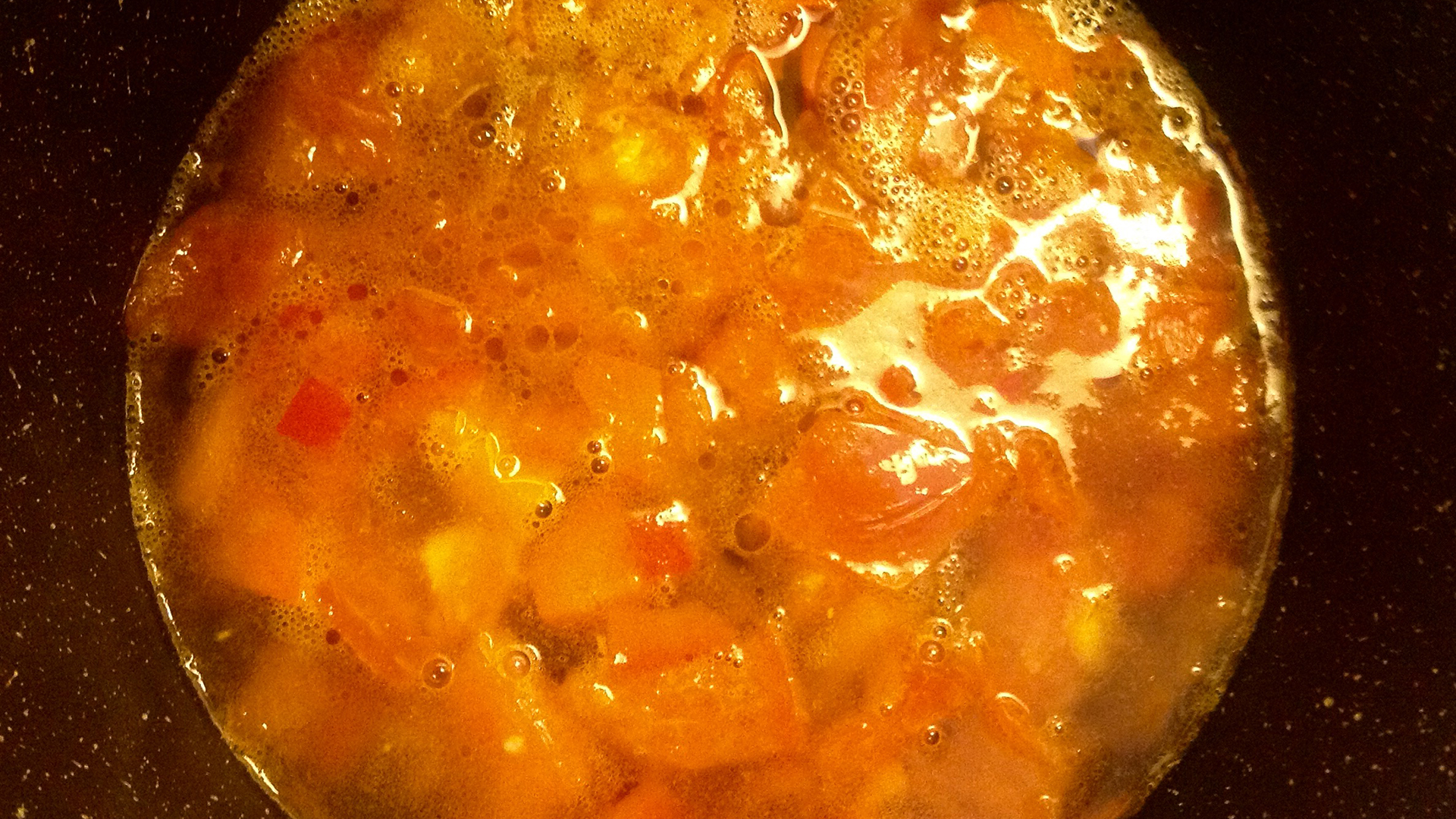 Cook the onion and shallot in 3 tablespoons of oil over low heat, until the onion turns transparent. Then, add the rice and the garlic strips and toss constantly over low heat for 5 minutes.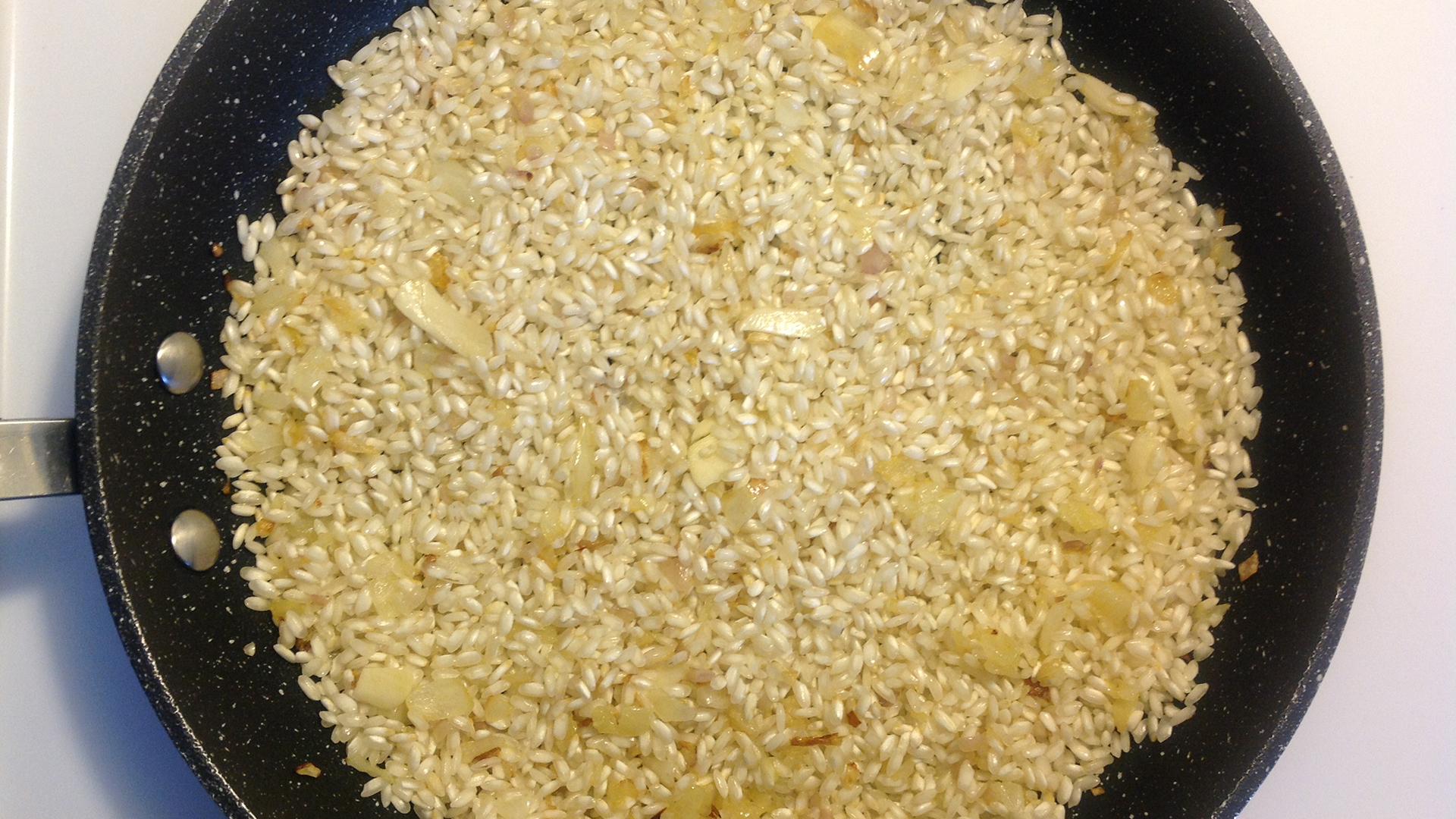 Add the red mixture (if fibrous, it's convenient to strain) and continue to cook over low heat, stirring occasionally, until the liquid is well absorbed and reduced. Season with a pinch of salt, pepper and paprika.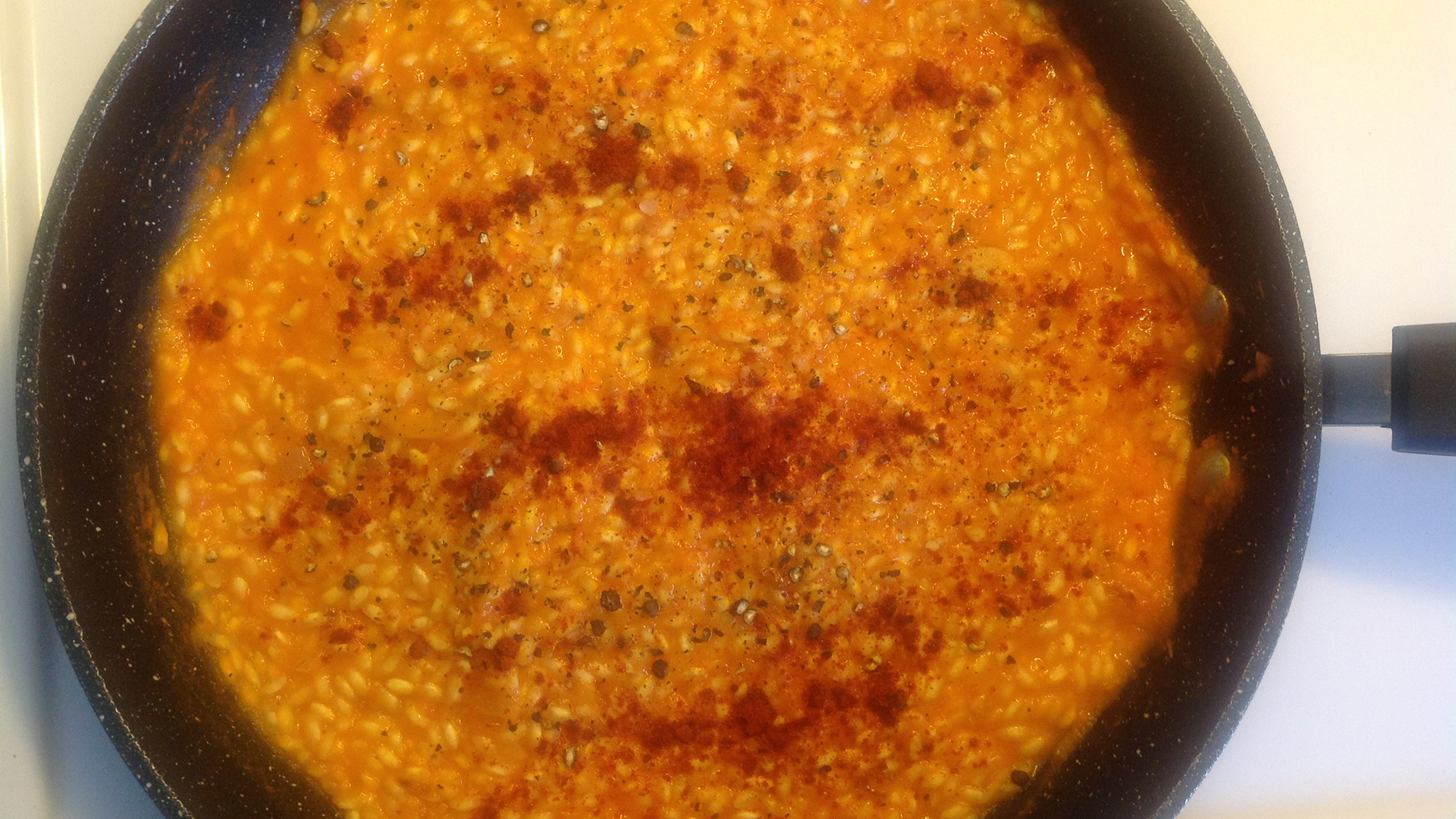 Add enough broth to cover the surface of the rice. Simmer uncover, stirring occasionally. Continue to add broth as it gets absorbed, avoiding the rice to dry out. Add the basil and continue to stir until the grains are tender.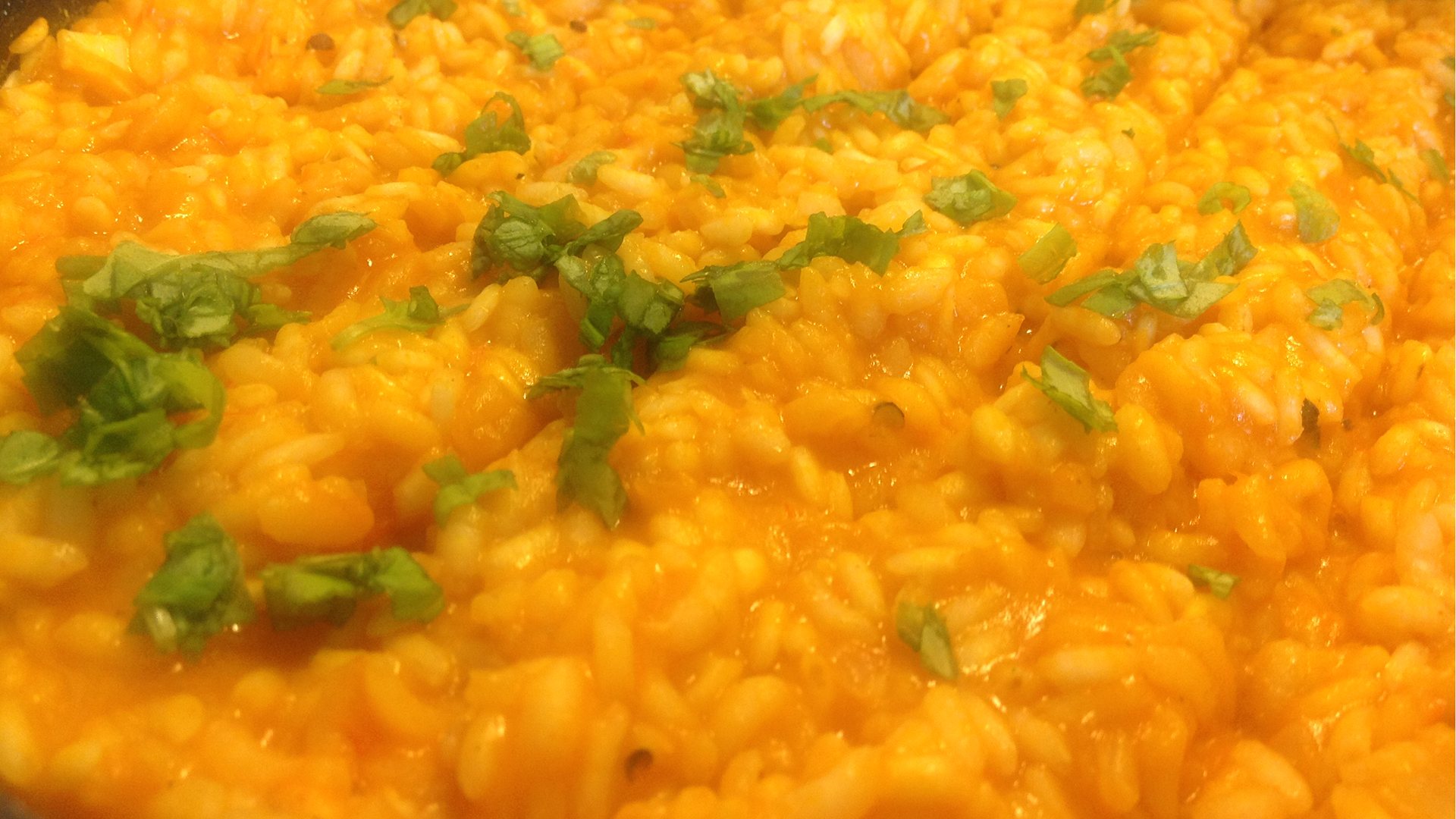 Optional: for a further creamy texture, add a tablespoon of butter and mix evenly. Serve with a few basil leaves as a decoration.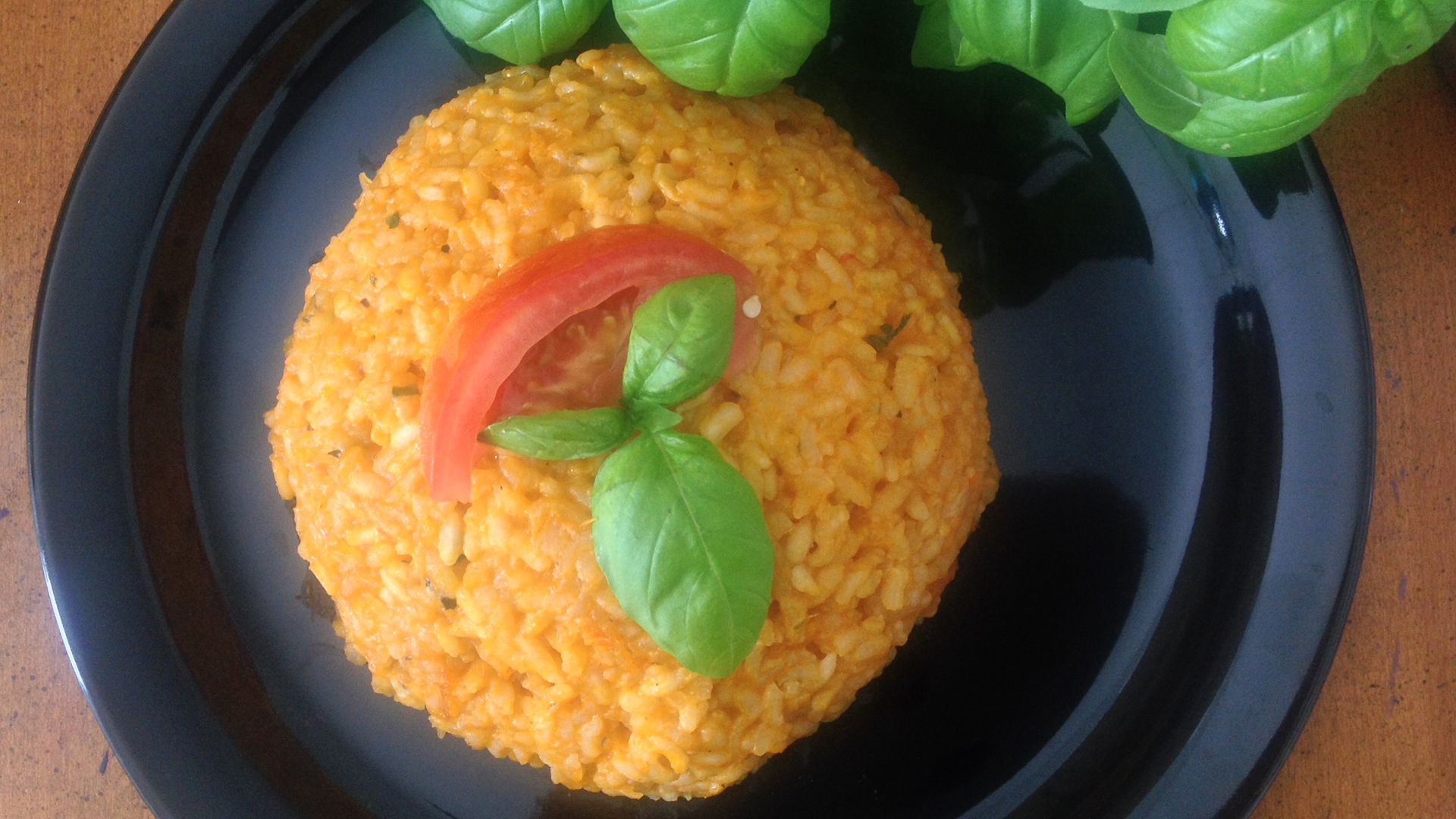 Ready! Let's enjoy the risotto under the summer sunshine, with a nice glass of cold white wine!
References
1. Chemical company of France: Amidon http://www.societechimiquedefrance.fr/amidon.html?lang=fr. Accessed on 07-16-2020 
2. Clifford A. Wright. Mediterranean Riziculture and the Origin of Risotto. http://www.cliffordawright.com/caw/food/entries/display.php/topic_id/29/id/32/ Accessed 07-16-2020 
3. David Joachim, Andrew Schloss, A. Philip Handel. The Science of Good Food: The Ultimate Reference on How Cooking Works. pp. 32-33. Robert Rose Inc. January, 2008. EUA.
---
Related posts :
---