Blog & News
Food fight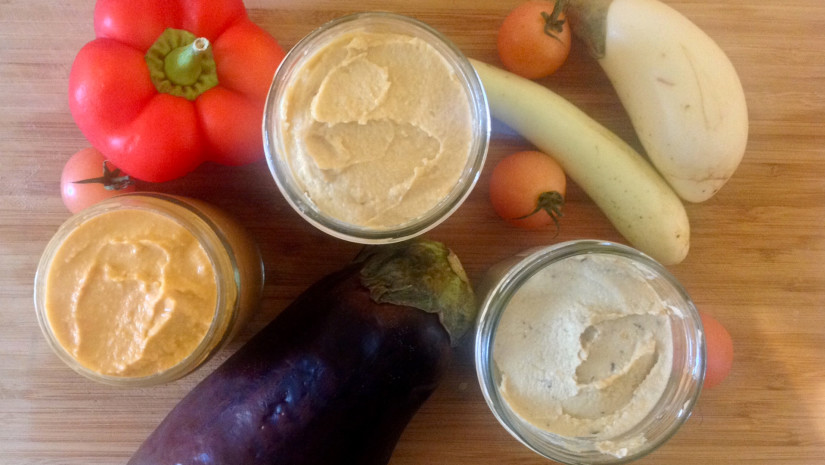 Autumn has arrived, the colours are changing and unavoidably, we stay more at home. This time, we'll prepare delicious spreads and warm onion flat bread to indulge ourselves during these rainy days. The plan is to prepare three types of hummus by collecting pieces of vegetables from the fridge. I've prepared three classics: roasted bell pepper, babaganoush and traditional hummus. But we can use any vegetable or herbs we find on the fridge and mix them with the other ingredients, for example roasted tomatoes, basil and parsley, or some of your favourite hot peppers.
The origin of chickpea agriculture, as well as the earliest hummus recipes, date back to the 13th century in Egypt1. Afterwards, its use spread throughout the Middle East then all over the world. Unlike many foods, the effect of subjecting chickpeas to high temperatures doesn't decompose its nutrients. On the contrary, this process helps to improve the quality of proteins by destroying some non-nutritive components, such as acrylamide (a carcinogen, found in foods rich in starch)2. Chickpeas are very high in fibre, protein and minerals, and are considered to have a low glycemic index, which means that their ability to raise blood sugar levels is low.
If that's not enough, I must add it's quite easy to prepare it!
Ingredients for the bread:
2 cups flour
½ tsp of dry yeast
1 tsp of salt
1 tsp of sugar
¼ cup oil
2/3 cup lukewarm water
½ chopped onion
1 green onion, cut into rings
Ingredients for the hummus
The ingredients are calculated for each spread, if you would like to prepare the three of them, triple the amounts of the basic ingredients.
Basic ingredients
• One cup of chickpeas.
Canned chickpeas are good for this purpose. If you prefer to use dry chickpeas, let them soak in water for 12 hours prior to use. Then boil them in water until they're very tender. In either case, we will also use the juice.
• 2 tsp of lemon
• 2 garlic cloves
• 2 tbsp chickpea juice
• 1/4 cup tahini
• 2 tbsp of olive oil
• Salt and pepper
Additional ingredients
• 1 tsp of paprika
• 1 slice of eggplant
• ¼ to 1/2 red pepper
• Garlic powder
Recipe for bread
In a bowl, combine the flour, baking powder, oil, sugar and salt with the water, mix thoroughly until obtaining a mouldable soft dough. Cover with a plastic film or a wet towel, and let it sit for 40–60 minutes, preferably in a warm environment.
In a frying pan, brown the onions and the green onions. Then mix with the dough.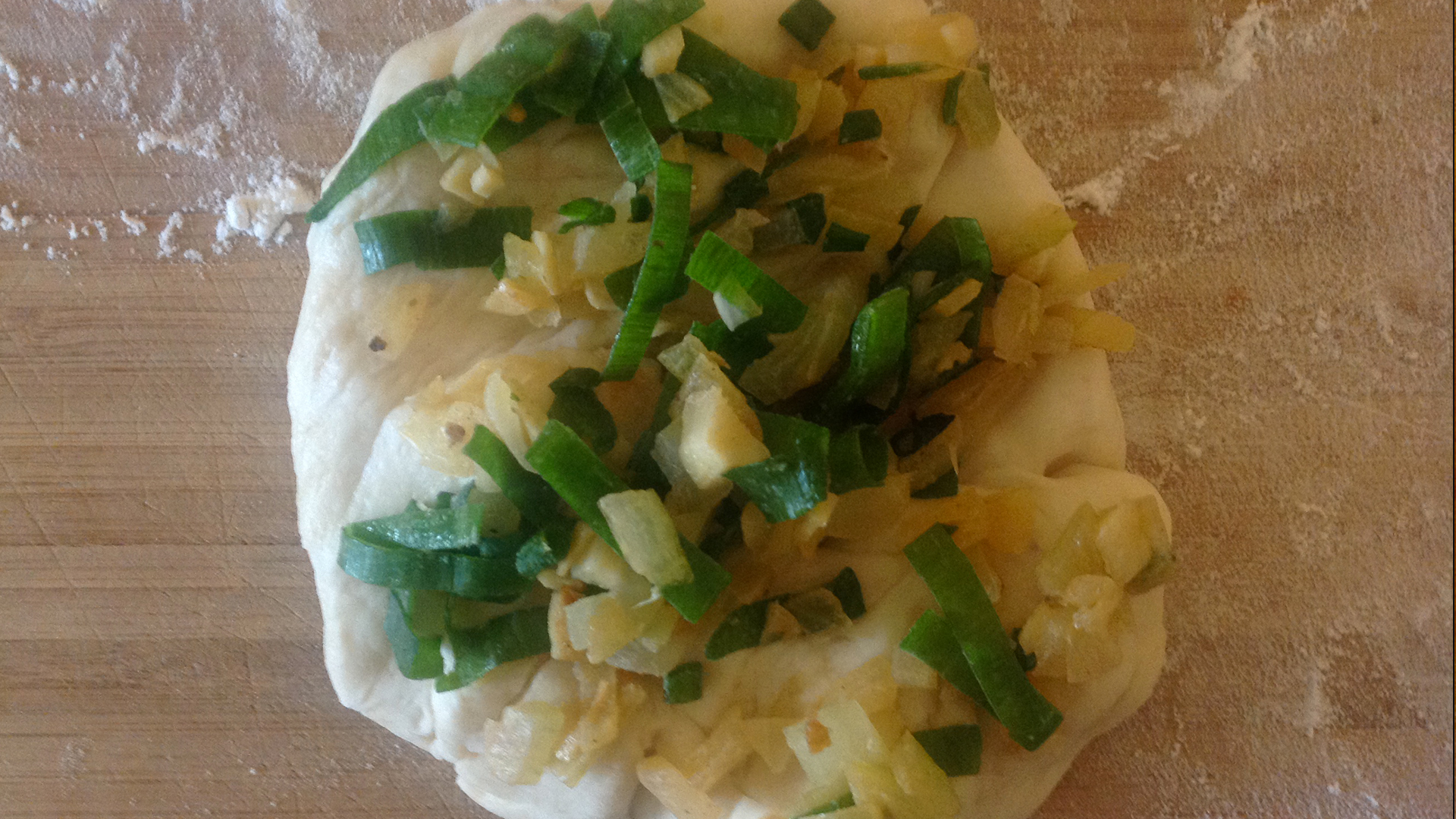 In a floured surface, make a dough roll and cut in slices, then flatten into disks.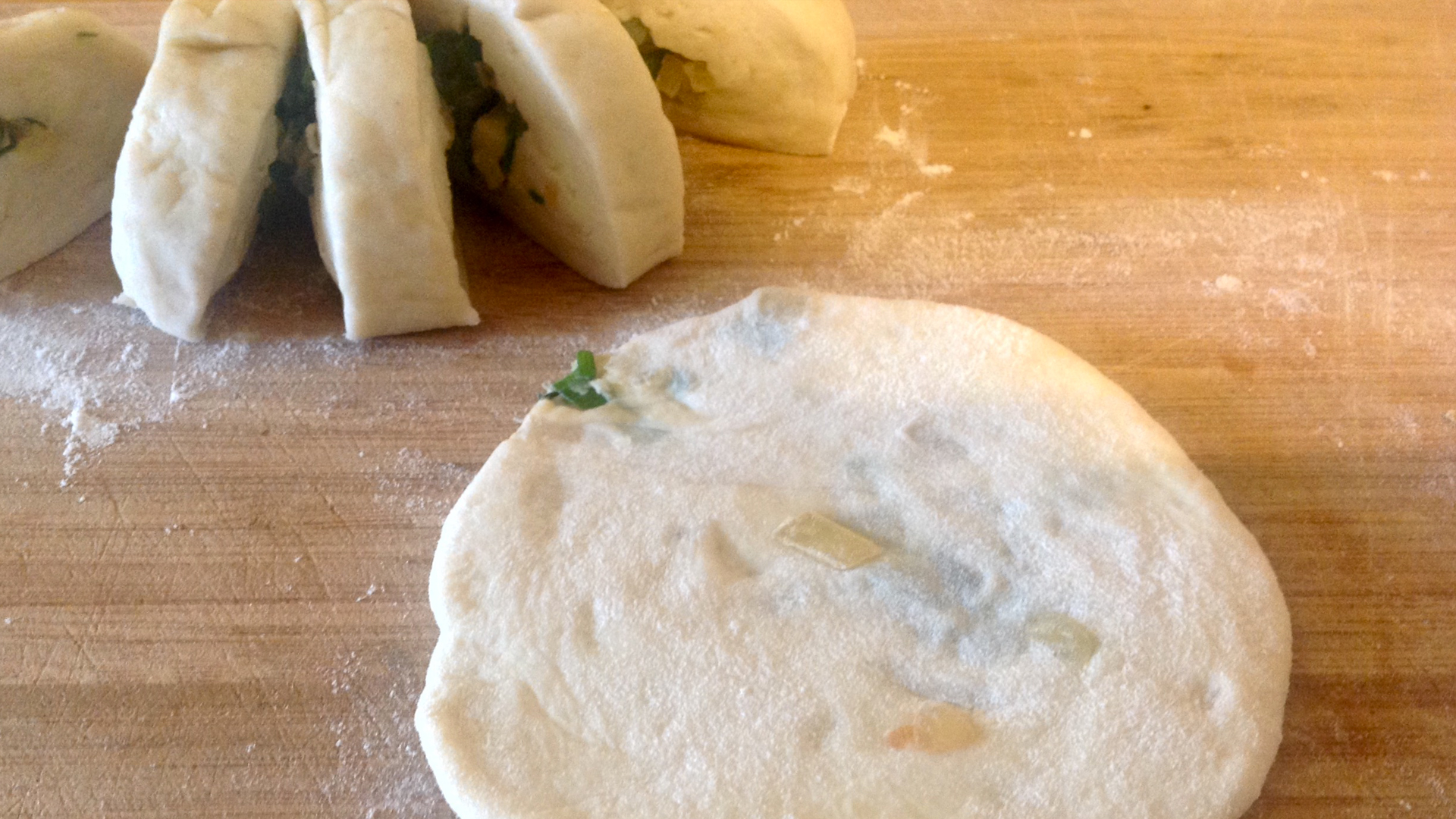 Heat a skillet to medium heat, add some drops of oil and cook the bread on both sides until it puffs or is partially golden.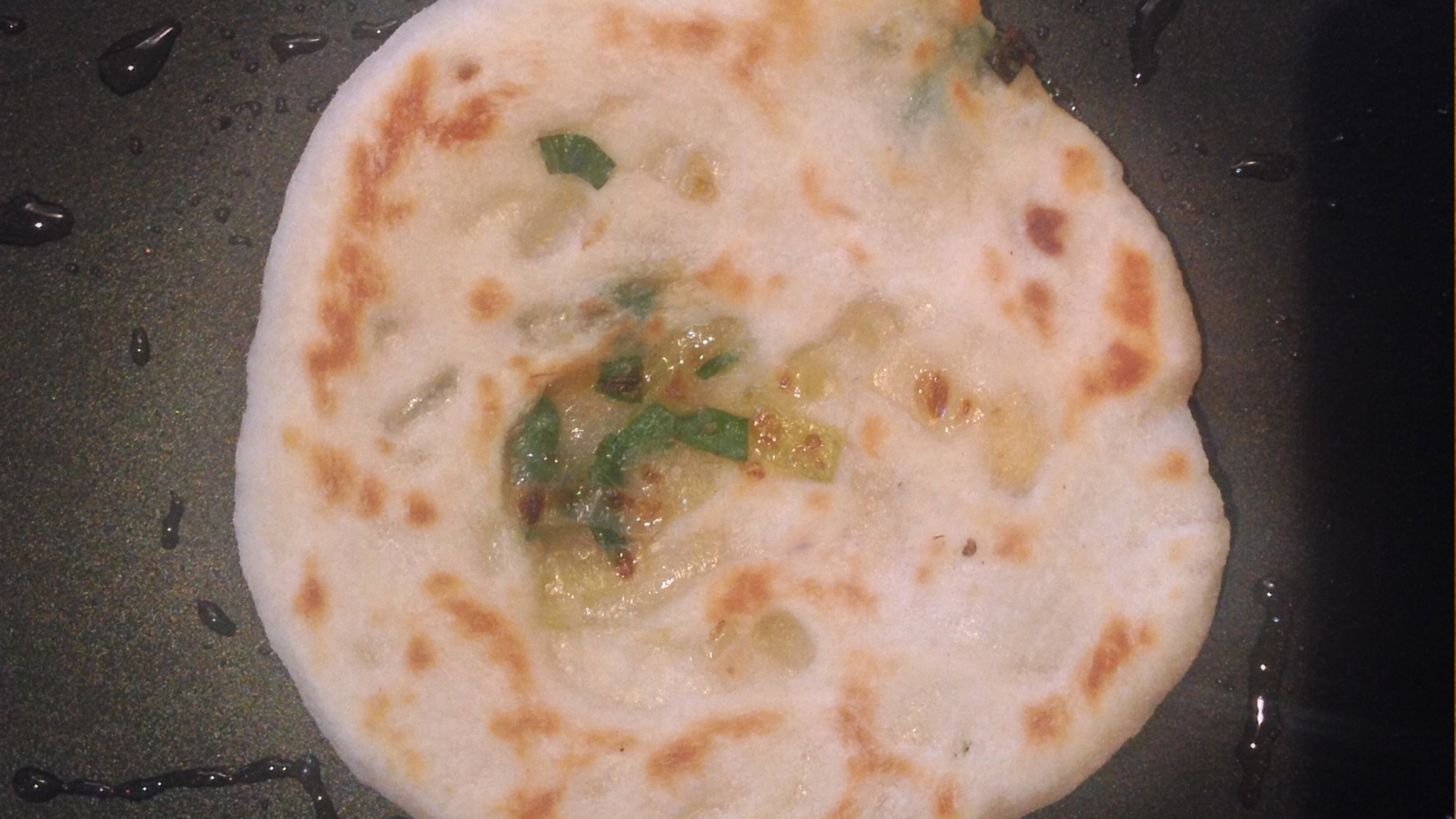 Hummus Recipe
Cover the eggplant, bell pepper and garlic with oil, add a pinch of salt and pepper. Bake the peppers and the eggplant at 180° C for 15 min or until well grilled. Since garlic grills faster, let it bake just for 7–10 min.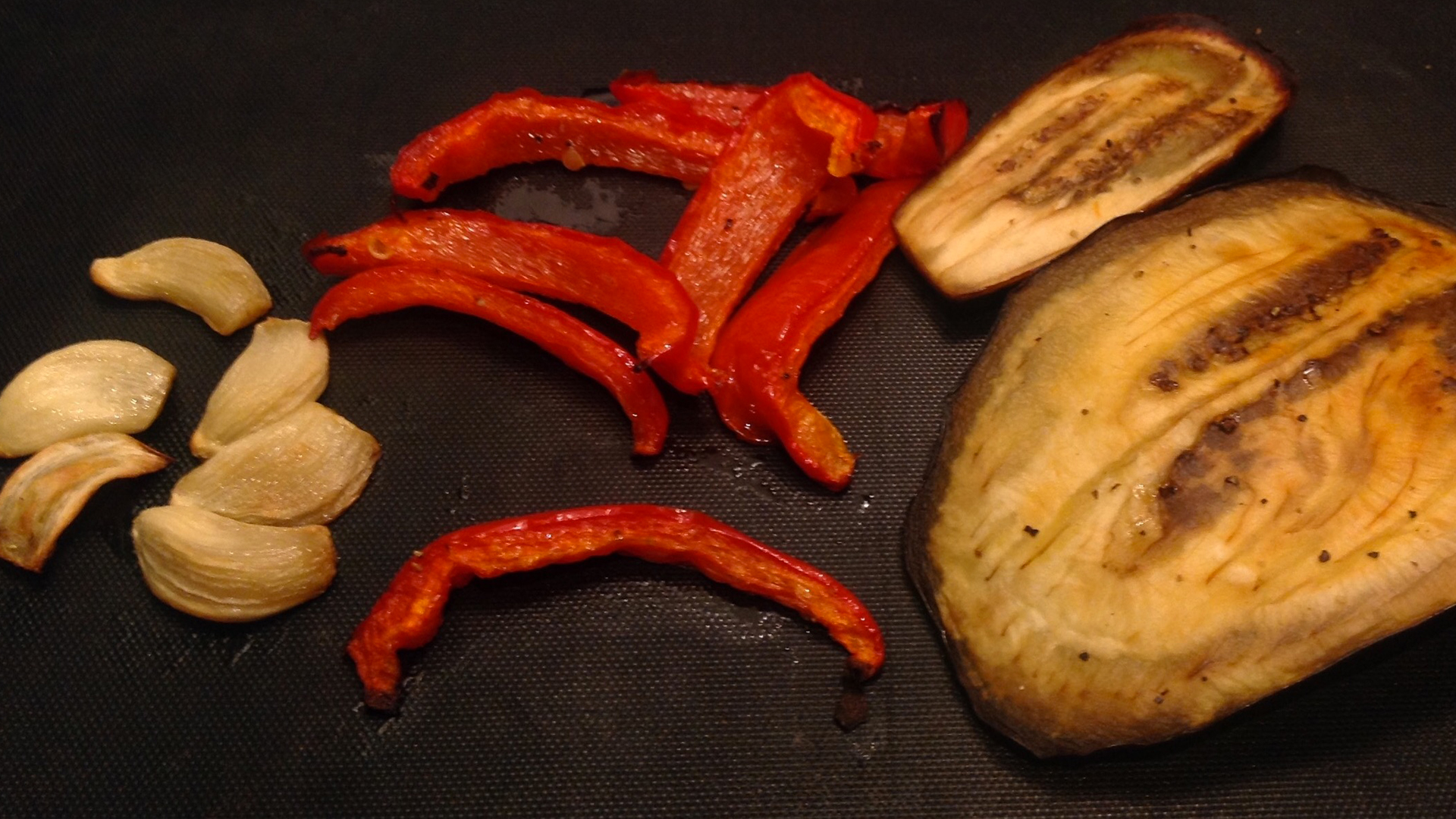 In a blender, add all the basic ingredients, plus the selected additional ingredients: either the roasted peppers, or the eggplants to make babaganoush. Mix in the food processor until the mixture is homogeneous and smooth. If the mixture is too dry, add chickpea juice spoon by spoon and blend until fully combined.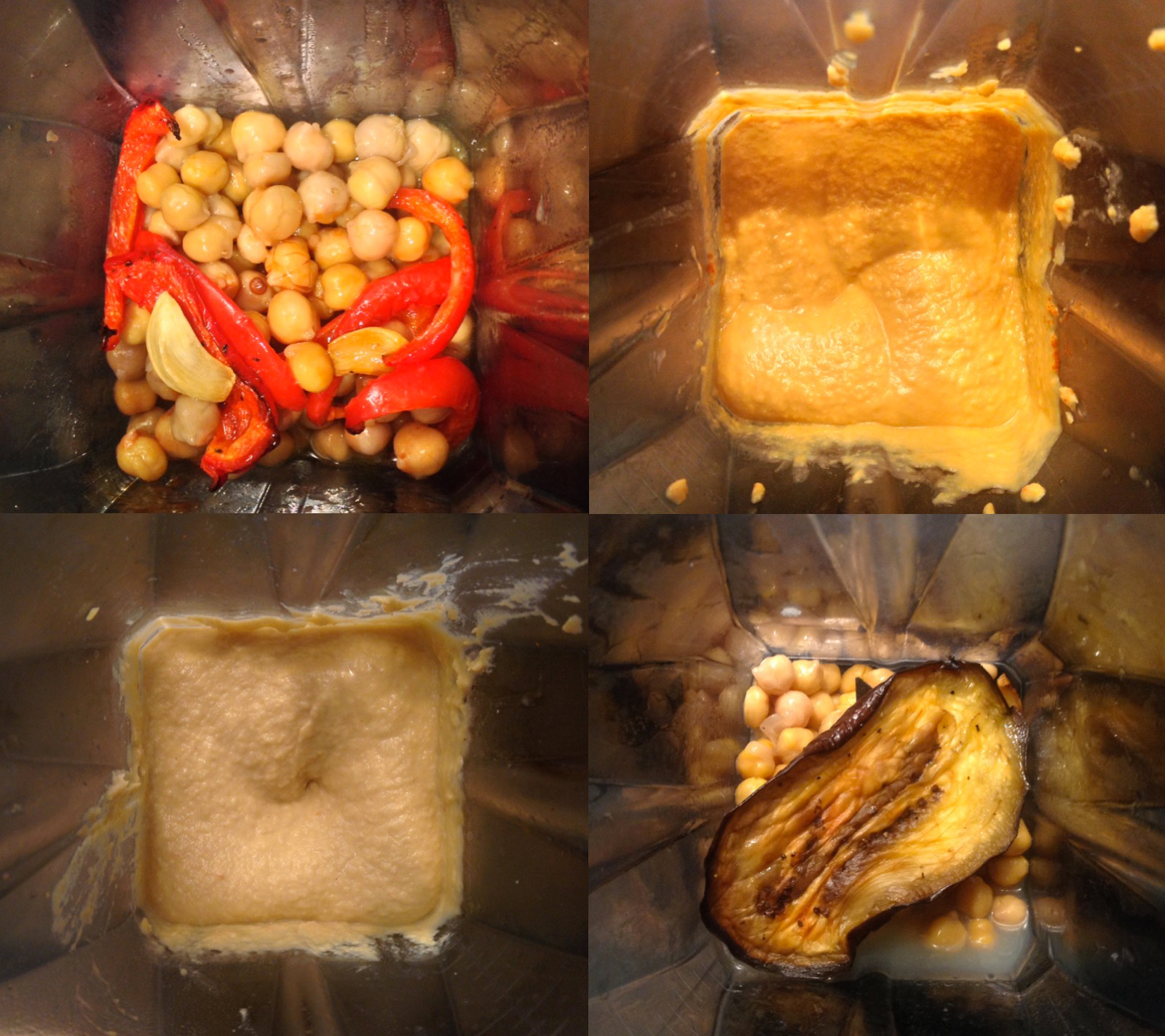 Yummy! We're all set for lunch!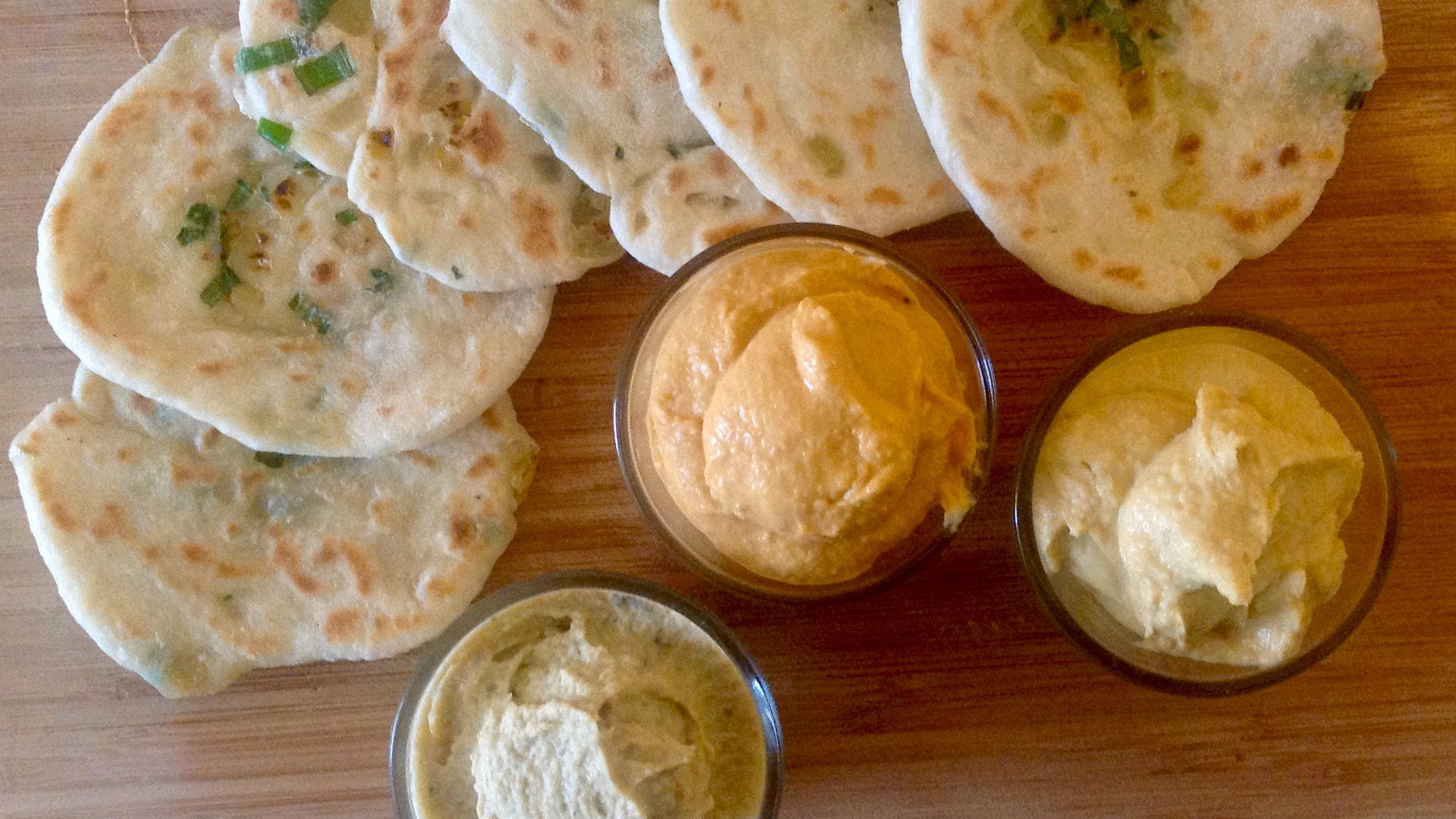 References
1. Wallace TC, Murray R, Zelman KM.The Nutritional Value and Health Benefits of Chickpeas and Hummus2016 Nov 29;8(12):766. doi: 10.3390/nu8120766. PMID: 27916819; PMCID: PMC5188421.
2. Danuta Rachwa-Rosiak, Ewa Nebesny, Grażyna BudrynChickpeas—Composition, Nutritional Value, Health Benefits, Application to Bread and Snacks: A Review1. Critical Reviews in Food Science and Nutrition, 55:8, 1137-1145DOI: 10.1080/10408398.2012.687418
---
Related posts :
---