Blog & News
Newsroom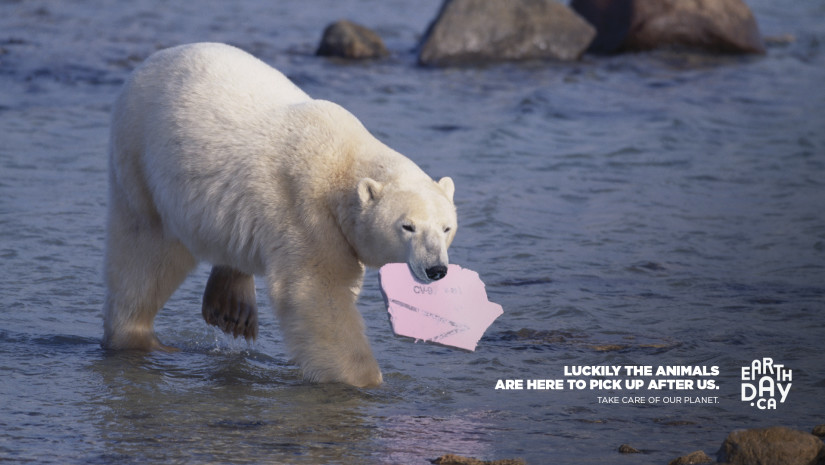 Montreal, April 7, 2021 – Earth Day Canada has launched its 2021 campaign that will run until April 22, the global celebration of Earth Day. This year's campaign theme is "Let's take care of the planet" which includes an advertising campaign that plays on irony, featuring animals cleaning up their own polluted environments. The campaign will be broadcast across in the country to raise awareness about the urgency of taking action for the environment. This campaign is accompanied by an invitation to all Canadians to take concrete action and demonstrate their commitment to the planet. For a second year, Earth Day Canada will also support municipalities in the promotion of environmental activities in their own communities as part of the Engaged Municipalities initiative.
A full program is also planned for April 22, including the launch of a tree-planting relay and the broadcasting of "Earth Day Canada".
"Through this media campaign, we want to raise awareness of the urgency of the ecological crisis and encourage citizens to take action. It is high time to take care of our planet. And the solutions exist! This new campaign will highlight citizens who are taking action in their communities to protect our environment, pandemic or not.  We thank our major partners, TD Bank Group and the IGA Eco Fund, for making this campaign possible," said Pierre Lussier, President of Earth Day Canada.
"We are pleased to announce that the Engaged Municipalities initiative is continuing for a second edition. Cities are real catalysts of change and are the best venue for citizen action. It is by taking action in our communities that we will lead the ecological transition in Canada," said Thomas Mulcair, Chair of the Earth Day Board of Directors.
Citizen Action in the Spotlight
Beginning today, citizens are invited to share with Earth Day Canada, video testimonials (in the form of stories) of what they are doing to take care of the planet. Stories can be shared on social networks, by using #TakeCareOfThePlanet. On April 22, some of these inspiring Earth Day stories from across the country, and the citizens who take them, will be highlighted on Earth Day Canada's social media channels.
Earth Day Canada's Instagram here.
Earth Day Canada Facebook here.
"Despite the pandemic, we can take individual and collective action for the good of our planet. Share your personal initiatives to provide a dose of inspiration for the benefit of all and encourage your loved ones to join the movement! "says Edith Cochrane, actress and spokesperson for the Earth Day 2021 campaign.
Municipalities Mobilizing and Tree Planting Relay Initiative
Municipalities are at the forefront of the ecological transition. Earth Day Canada is proud to support them for a second year as part of the Municipalities Mobilizing Initiative, launched in 2020. Municipalities that organize activities as part of the Earth Day festivities will receive a communication kit, and their events will be shared on Earth Day Canada's web platforms. Nearly 80 municipalities have already partnered in the 2021 edition of the initiative.
Many of these municipalities will be participating in Earth Day Canada's second tree planting relay, which will begin on April 22 and run throughout the year.
"The City of Mississauga is committed to reducing our carbon footprint and preserving our environment for the benefit of families and future generations. We have taken the lead in declaring a climate emergency, and adopting our own climate action plan that will invest significant resources over the next 10 years. This plan will help us achieve our goal of reducing emissions by 40% over the next decade and 80% by 2050, with the ambition of becoming a zero-emissions community. This is an ambitious plan, but we know that climate change is happening and we must take action. I would like to invite all Canadian municipalities to get involved this Earth Day and make a difference by joining us in creating a healthier future," said Bonnie Crombie, Mayor of Mississauga and municipal spokesperson for the Earth Day 2021 campaign.
For more information on the Municipalities Mobilizing initiative: https://earthday.ca/april-22/campaign/municipalities-mobilizing/
-30-
About Earth Day Canada
Earth Day Canada is a charitable organization that helps individuals and organizations reduce their impact on the environment by taking action on Earth Day and every day. In August 2019, the organization Tous les Jours, initially active in Quebec and in the French-speaking world, became Jour de la Terre/Earth Day Canada in order to expand its environmental support programs across Canada.
Media contact :
Andréanne Gagnon
COPTICOM, Strategy and Public Relations
418 806-2559
agagnon@copticom.ca
Related posts :
---