Blog & News
Press release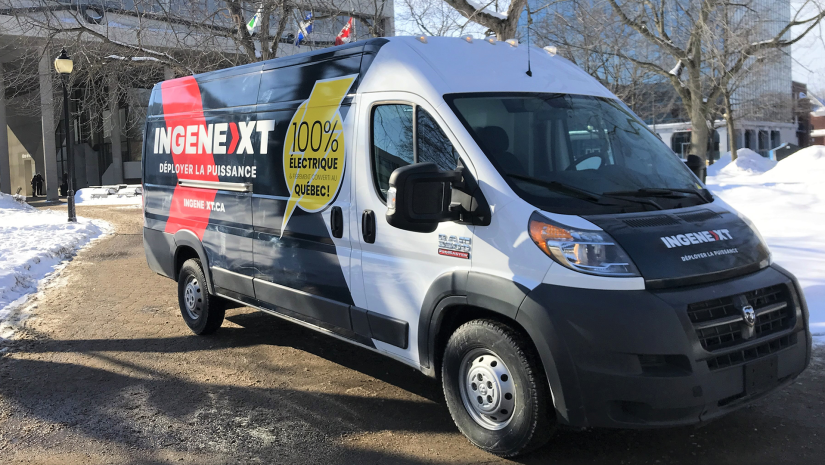 Montréal, January 20, 2022—Ingenext and Earth Day Canada sign a partnership to accelerate the deployment of electromobility in Québec. The innovative company will use its electric conversion technology for light-duty trucks to support the Transition Wow program, which helps organizations move towards sustainable mobility.
Based in Trois-Rivières, Ingenext has developed a unique technology to convert light trucks into 100% electric vehicles approved by the SAAQ. This expertise makes it possible to transform existing thermal vehicles into electric equivalents, thus limiting GHG emissions on our roads.
The delivery agreement signed between the two organizations is another step forward for the Transition Wow program, launched by Earth Day in 2019. This program aims to support Québec organizations in the electrification of their vehicle fleet, through the purchase of new models or the conversion of existing light thermal trucks.
The project is already proving to be popular with municipalities as it allows them to convert their vehicles as of this year, while the new electric light truck industry anticipates supply difficulties until 2024. The offer, which is unique to Canada, provides simplified procedures and complementary services tailored to the needs of each municipality.
"The signing of this partnership is excellent news for accelerating the development of electromobility in Québec. The conversion kit developed by Ingenext will enable the Transition Wow project to deliver 100% electric light trucks as early as April this year." – Pierre Lussier, President of Earth Day
"It is a pleasure to be associated with a trusted partner like Earth Day, who shares our desire to actively participate in the reduction of transportation-related emissions. We hope that many municipalities and organizations will get involved in the very promising world of electromobility."
Guillaume André, Executive Director of Ingenext
– 30 –
 About Earth Day Canada
Earth Day Canada is a charitable organization that helps individuals and organizations reduce their impact on the environment by taking concrete action on Earth Day and every day. In August 2019, Tous les Jours became Jour de la Terre/Earth Day Canada to roll out its environmental coaching programs across Canada. In transportation electrification, we have two programs in place: Transition Wow and EcoCharge.
Transition Wow is supported by the Government of Québec, notably through the Metropolitan Initiative and Outreach Fund (Fonds d'initiative et de rayonnement de la metropole – FIRM) of the Metropolitan Area Secretariat (Secrétariat à la région métropolitaine) of the Ministry of Municipal Affairs and Housing (Ministère des Affaires municipales et de l'Habitation).
For all inquiries:
Ingenext: Marie-Pier Forget
Director of Business Development and Communications – Ingenext
Email: mpforget@ingenext.ca
Telephone: (819) 840-2214 #322
Jour de la Terre: Myriam Charconnet
Communication Officer – Sustainable Mobility
Email: mcharconnet@jourdelaterre.org
Telephone: 514 728-0116 #224 | Cell: 438 233-5173
Related posts :
---