Blog & News
Press release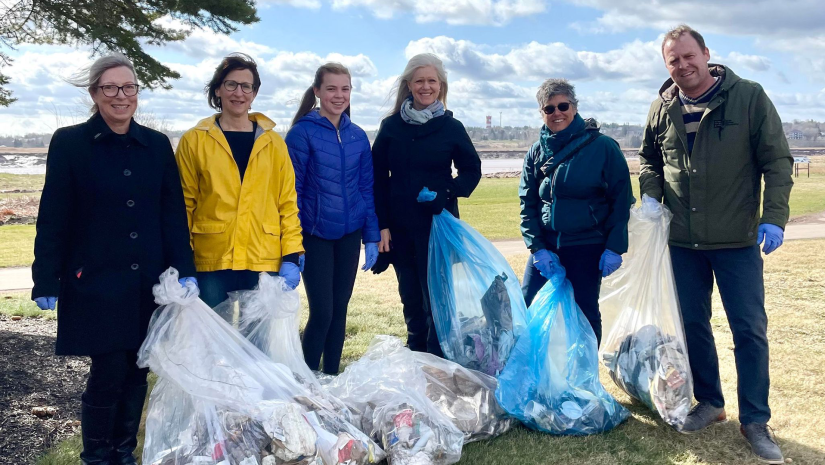 Moncton, April 22nd 2022 — Earth Day Canada invites all Canadians to take action for the planet! This year's theme, "Remedy together", sheds light on eco-anxiety, a mental health issue affecting many citizens. According to a recent survey, 47% of Atlantic provinces residents have declared living with it. On April 22nd, Earth Day Canada encourages Canadians to take care of themselves and the planet by taking action together.
"Today, Earth Day is celebrated across Canada. Hundreds of thousands of citizens, with the support of hundreds of municipalities, are taking action that respond to environmental challenges. It is by bringing together our ideas and taking positive collective action that we can address the climate emergency while taking care of ourselves and our loved ones." said Valerie Mallamo, Executive Director of Earth Day Canada.
Canadian municipalities are mobilizing
An increasing number of municipalities have joined Earth Day Canada's movement Municipalities mobilizing. Local governments, through action, are the drivers of the environmental transition. For the 3rd edition of the annual campaign, more than 240 Canadian cities have signed up, double the number from last year.
"Around the world, we are seeing the increasing effects of climate change and the urgency to address the impacts that it has on our communities and on ourselves as citizens. At the municipal level, we are feeling the pressure to address climate change and see the urgency to act. In Moncton, we are proud to be a leader in climate adaptation and environmental leadership. This Earth Day, we will be re-launching our annual Earth Day Cleanup and will be making transit free to encourage residents to
get involved in our climate change adaptation efforts. On Earth Day and everyday, let's celebrate the beauty of our Cities and remember that we can all change our habits for a brighter, more sustainable future." highlights Dawn Arnold, Mayor of Moncton and municipal spokesperson for the 2022 Earth Day campaign.
 A special program on this day of mobilization
Remedy eco-anxiety by action and there will be no shortage of it this April 22nd. Several activities are on the program in municipalities across Canada, including the traditional tree planting relay, uniting hundreds of cities from coast to coast.
●9 AM ADT (8 AM EDT) : Launch of Earth Day 2022 on Facebook live in front of Moncton City Hall
The mayor hops on a bus
●9-11AM ADT, Earth Day Moncton Cleanup
●1 PM ADT (12 PM EDT) : Conference on eco-anxiety, organized by Earth Day Canada
 "Initiatives are deployed in cities across the country! Municipalities are at the heart of the ecological transition, and we are delighted to see the commitment of so many cities on this Earth Day! said Thomas Mulcair, Chairman of the Board of Directors of Earth Day Canada.
It is also possible to consult the calendar of activities organized near you and across the country, on the Earth Day Canada website.
– 30 –
About Earth Day Canada
Earth Day Canada is an environmental organization that helps individuals, municipalities and organizations reduce their impact on the environment by taking concrete action on Earth Day and every day. In addition to a large-scale awareness campaign on April 22nd, Earth Day Canada continues to roll out environmental programs and projects with proven positive impacts in areas such as waste management, food waste and sustainable mobility.
Information
Maxime Perrault
COPTICOM, Strategy and Public Relations
(819) 208-0989
mperrault@copticom.ca
Related posts :
---