Blog & News
Press release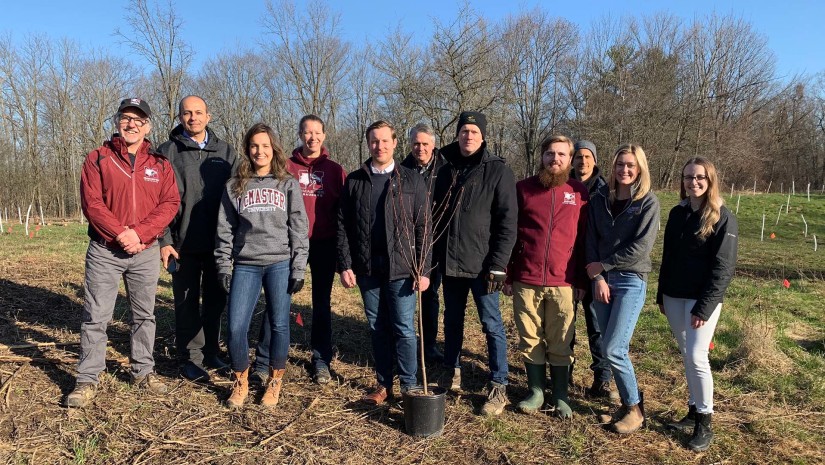 Hamilton, April 22nd 2022 — Earth Day celebrations official 2022 kick-off is taking place at the McMaster Carbon Sink Forest in Hamilton, Ontario. The traditional Earth Day tree-planting ceremony is back, in person.
"McMaster University is proud to lead off Earth Day celebrations across Canada," said Maureen MacDonald, Dean of the Faculty of Science. "The tree we are planting with Earth Day Canada is one of a thousand trees to be planted in our Carbon Sink Forest. Faculty and students with the McMaster Centre for Climate Change will be tracking the growth and health of each and every tree for years to come and sharing that data with other researchers who are looking to grow carbon sink forests across Canada and around the world."
Feel positive, act for the planet
In Hamilton and everywhere in the country, Earth Day Canada invites all Canadians to take action for the planet! This year's theme sheds light on eco-anxiety, a mental health issue affecting 45% of Canadians. "Remedy together", created in collaboration with the creative agency Sid Lee invites those Canadians affected to publicly recognize their emotions on April 22nd. It's possible to take care of oneself and each other and remedy eco-anxiety. Rallying around positive collective action for the planet is one solution.
"Today, Earth Day is celebrated across Canada. Hundreds of thousands of citizens, with the support of hundreds of municipalities, are taking action inspired by environmental challenges. These actions act as a powerful cure for eco-anxiety. It is by bringing together our ideas and taking positive collective action that we can address the climate emergency while taking care of ourselves and our loved ones." said Valerie Mallamo, Executive Director of Earth Day Canada.
Canadian municipalities are mobilizing
Local governments, through action, are the drivers of the environmental transition. Municipalities joining Earth Day Canada's movement Municipalities mobilizing doubled since 2021. For the 3rd edition of the annual campaign, more than 240 Canadian cities have signed up to undertake environmental actions on Earth Day and throughout the year.
Moreover, the Municipal tree-planting relay continues this year.  Across the country, cities pledge to plant at least 50 trees in honor of Earth Day. These cities, committed to taking action and making their regions greener, will then hand off the relay baton to other Canadian cities for the following month! Three cities will launch the 3rd edition of the relay in April: Nanaimo (BC), Summerland (BC) and Boisbriand (Qc).
"Initiatives are deployed in cities across the country! Municipalities are driving the ecological transition and we are delighted to see the commitment of a growing number of cities on this Earth Day! said Thomas Mulcair, Chairman of the Board of Directors of Earth Day Canada.
A special program on this day of mobilization
Eco-anxiety is relieved by action and there will be no shortage of it this April 22nd. Several activities are on the program in municipalities across Canada, uniting hundreds of cities from coast to coast.
●8 AM EDT : Ceremonial tree planting on the campus of McMaster University
●12 PM EDT : Virtual workshop on eco-anxiety, organized in partnership with London Public Library and Jennifer Chestnut
●3:30 PM to 7 PM EDT : Earth Day Canada's seeds distribution at London Earth Fest
It is also possible to consult the calendar of activities organized near you and across the country, on the Earth Day Canada website. The hashtag #RemedyTogether will give visibility to every healing action on or around April 22nd.
– 30 –
About Earth Day Canada
Earth Day Canada is an environmental organization that helps individuals, municipalities and organizations reduce their impact on the environment by taking concrete action on Earth Day and every day. In addition to a large-scale awareness campaign on April 22nd, Earth Day Canada continues to roll out environmental programs and projects with proven positive impacts in areas such as waste management, food waste and sustainable mobility.
About McMaster University

McMaster University is Canada's most research-intensive university and is consistently ranked as one of the world's Top 100 universities. Together, our researchers, students and staff advance human and societal health and well-being, creating a Brighter World.
Information
Maxime Perrault
COPTICOM, Strategy and Public Relations
(819) 208-0989 (call or text)
mperrault@copticom.ca
Related posts :
---