Blog & News
Food fight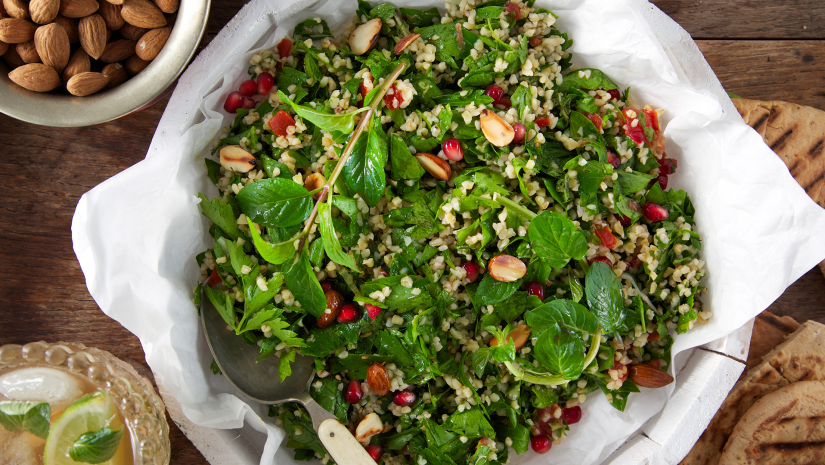 Spring is such a reinvigorating season with the return of long sunny days and the abundance of brightly coloured seasonal fruits and vegetables filling our supermarkets. These fresh and tasty new arrivals are so eagerly awaited that they sometimes cause us to get a little carried away with our purchases… and waste.
To make sure you get the most out of May's vegetables without wasting money, I've come up with some simple and tasty recipes that feature many of our spring favourites, from roots to leaves!
The leftovers salad: a must!
As summer approaches, salad is a classic way to salvage just about any spring vegetable sitting in the fridge: hot, warm or cold, served as an appetizer, main dish or side. I always have a nice crisp head of lettuce on hand, ready to complete my menu. However, what do I do when I end up with too many of them? Lettuce is a delicate vegetable that gets soft and gross pretty quickly.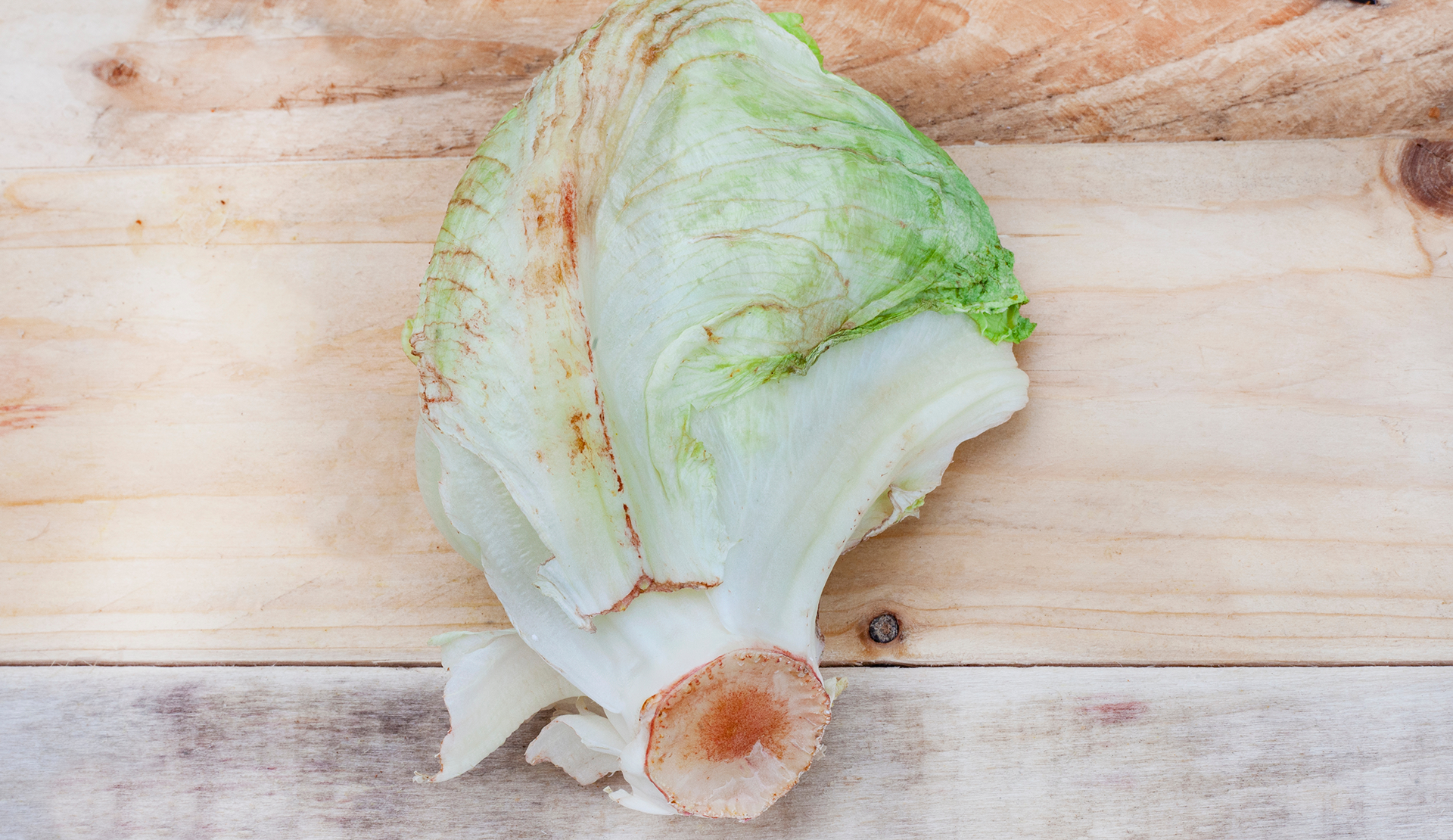 Storage tip: the first thing to do to make your lettuce crunchy again is to plunge it into a bowl of cold water for about 30 minutes. This should be enough to rehydrate it so you can enjoy it as is.
However, if you have a good amount of lettuce that needs to be eaten quickly and are sick of salads, don't fret: the internet is full of lettuce soup recipes!
Skeptical? I tested it for you!
My opinion?
FAN.TAS.TIC
Leftover lettuce soup
This soup recipe is a real gem because it lets you use all the lettuce you have left lying around in the fridge (romaine, boston, etc.); plus you have several options for ingredient substitution. You can bet that you'll be able to make this recipe without having to make a trip to the grocery store!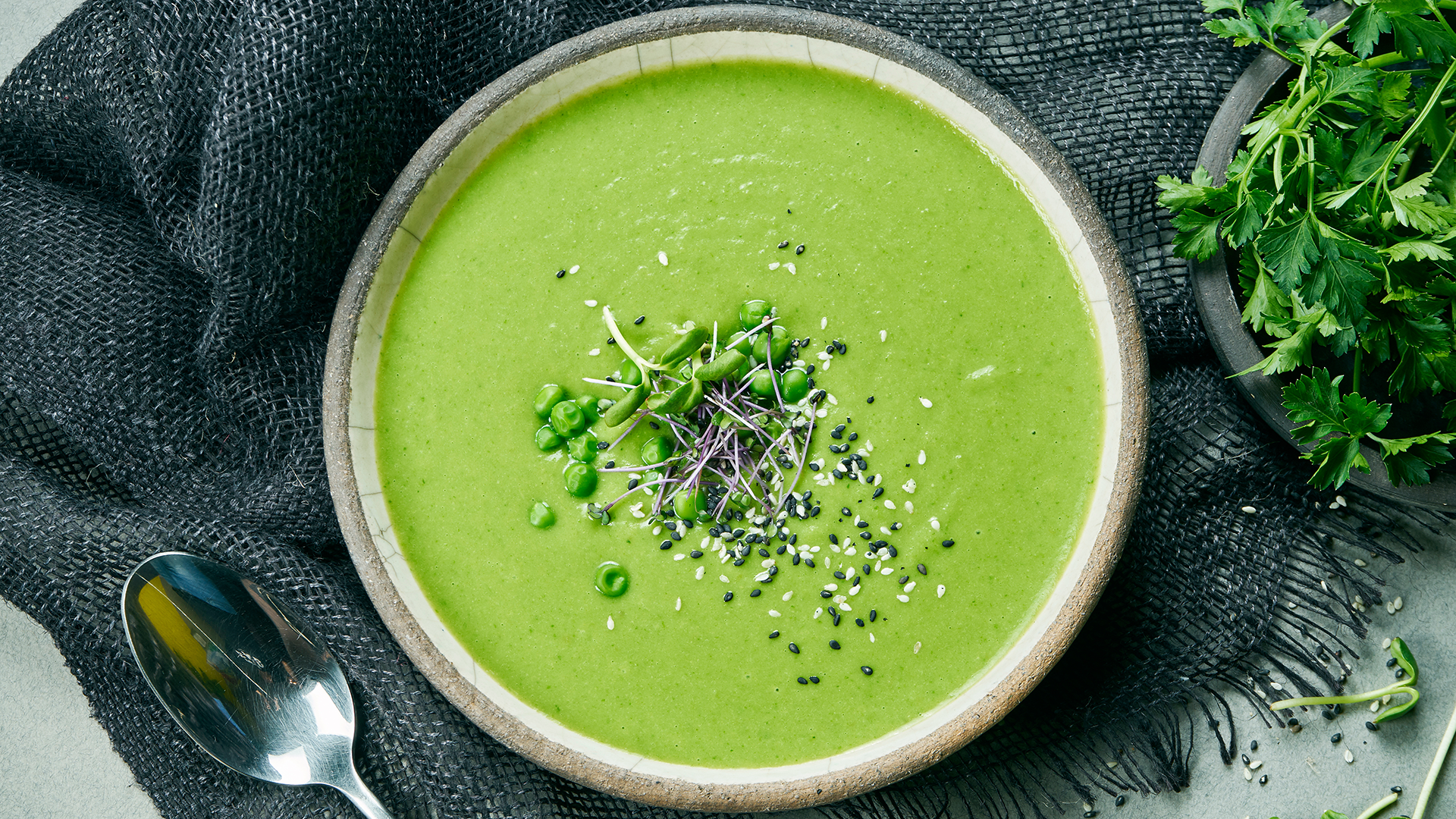 • 2 tbsp. oil (of your choice)
• 2 cloves of garlic
• 1 onion (red or white) OR 2 cups of green onions OR 4 French shallots, chopped
• 3 cups broth (chicken or vegetable)
• ½ cup rice OR 1 medium potato, diced
• 1 head of lettuce (of your choice: romaine, iceberg, boston, frisée, or other)
1. In a saucepan, soften the onion/scallion and rice/potato in oil for a few minutes.
2. Add all other ingredients and bring to a boil. Simmer for about 20 minutes.
3. Blend in a blender until smooth. Add a little hot broth, if necessary, if the soup is too thick for your taste.
Vegetable carpaccio
To switch it up from my salads, I often concoct a very simple recipe that I call my "vegetable carpaccio". This recipe consists of thinly slicing zucchini and radishes with a mandolin (when there is an abundance, and I don't know what to do with them!) and arranging them like a carpaccio on a plate. Then I drizzle one of my favourite vinaigrettes (I use a Greek dressing), a bit of crumbled feta, a dash of lemon juice and freshly ground pepper: it's delightful!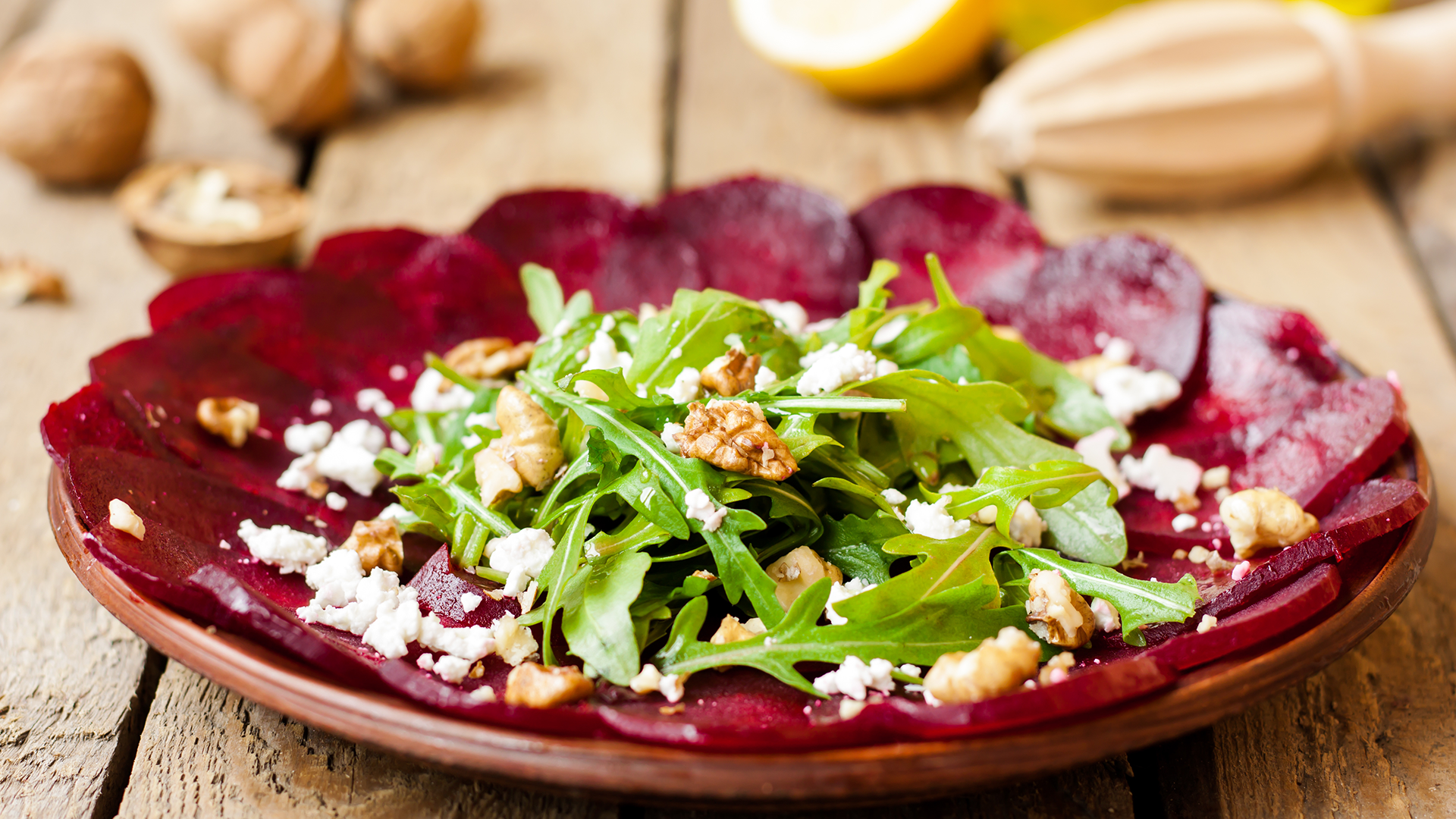 This refreshingly simple recipe may seem ordinary—but trust me: to try it is to love it! It adds colour and freshness to any meal and is a great side dish for any BBQ. Of course, you can add carrots, beets, or any other vegetable you have on hand; let your imagination run wild.
A versatile and multi-purpose pesto recipe!
Starting in early May, radishes with their leaves begin to appear in our supermarkets. However, the leaves of the radish are an unloved part of the vegetable and most of the time they end up in the compost. Yet, this edible greenery reveals a delicate yet slightly pungent flavour, reminiscent of the radish itself. My advice: use it like spinach, sautéed in a pan, in a salad, in a soup, or in pesto!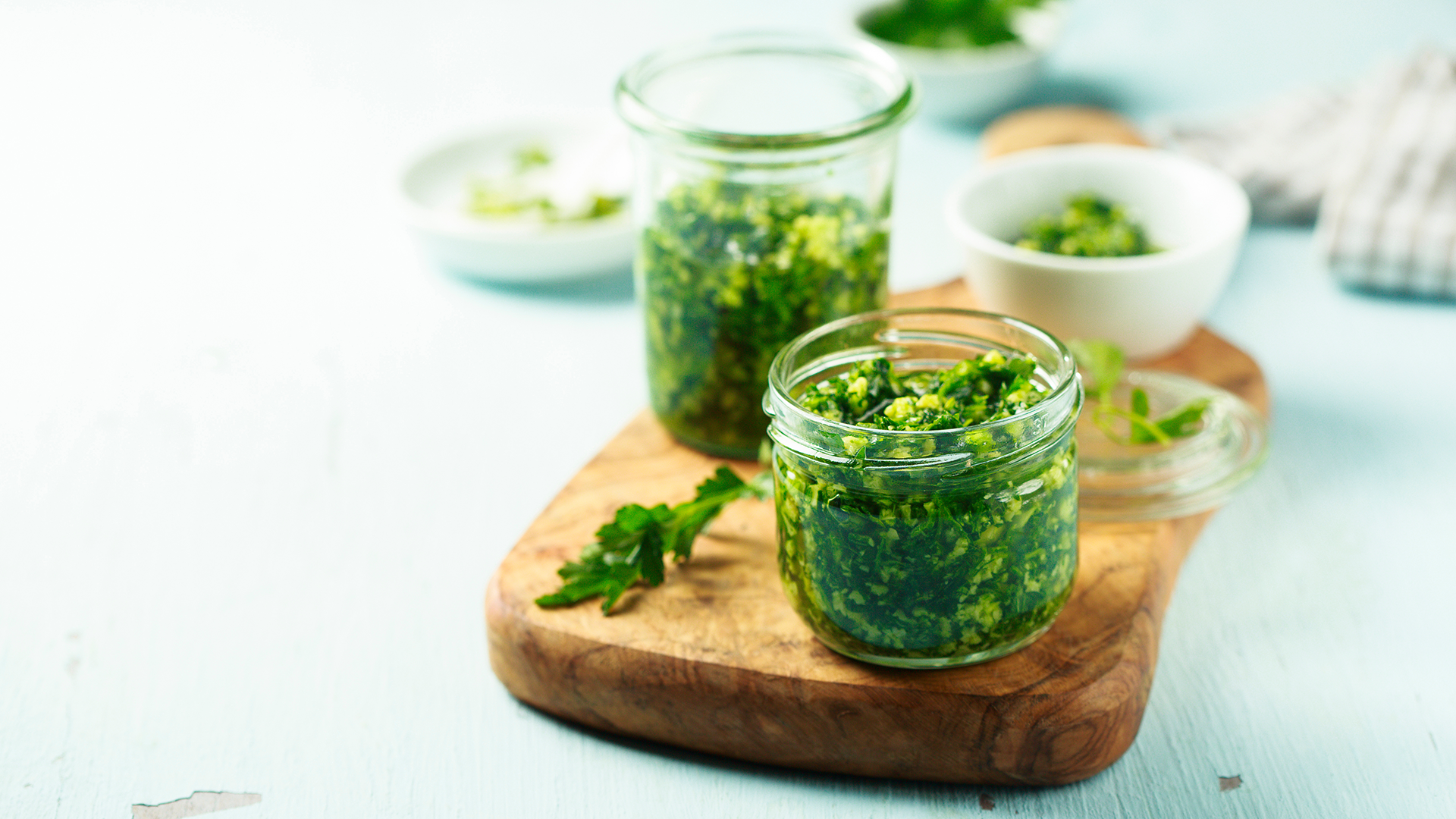 The pesto avoids wasting these precious leaves, and can even be made with asparagus, another vegetable that appears in our markets in spring!
• 1 bunch radish tops, cleaned, stems cut off OR 1 bunch asparagus, trimmed (about 2 cups) and boiled
• 1 clove of garlic
• 1–2 tbsp. lemon juice
• ½ tsp. salt
• 2/3 cup oil of your choice (olive, canola, sunflower, avocado, etc.)
• ¼ cup nuts of your choice (cashews, pine nuts, almonds, sunflower, pumpkin, walnuts)
Just throw them all into the blender until you get a smooth texture. This delicious pesto will keep for 2 to 3 days in the refrigerator, and several months in the freezer.
Storage tip: freeze your pesto in ice cube trays, this will allow you to remove and transfer the pesto cubes to a storage container in the freezer and thaw the exact amount you want!
Don't hesitate to share these spring recipes with your friends and family and serve them to your guests, they'll certainly appreciate the addition of local and seasonal vegetables to your menu and will be amazed by these colourful and creative anti-waste recipes!
---
Related posts :
---