Blog & News
Press release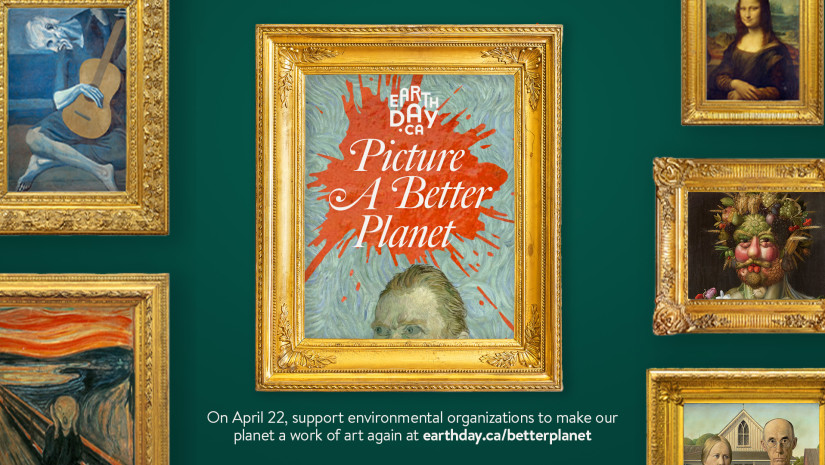 Join the excitement by participating in the wide array of environmental engagement activities to better our planet.
---
Toronto, on April 6 – Earth Day Canada is inviting communities and organizations to mobilize during the month of April and get ready to celebrate our planet on Earth Day, April 22nd. While many Canadians want to help better the planet, it can be daunting to know where to start. Earth Day Canada's mission is to guide people towards action through easy access to local activities available in their event calendar and educating them on how to reduce their environmental impact.
To help draw attention to this year's call to action, Earth Day Canada launches Picture a Better Planet campaign in collaboration with creative agency Sid Lee. Recently, young activists have garnered the media's attention to the pressing environmental issues impacting everyone by throwing soup at famous art that resonate with every generation. Building on this tension, the campaign uses the famous artworks themselves as spokespersons in the quirky campaign to encourage everyone of all generations to join in environmental engagement activities and support environmental organizations by joining their actions or donating to them.
"With this campaign, we are inviting Canadians to reengage in the important environmental movement. We want people to know that Earth Day Canada is a facilitator for companies, communities, and individuals looking to participate in green initiatives to connect with organizations nationwide that are doing work that benefit our shared planet and home", says Valérie Mallamo, Executive Director at Earth Day Canada. "We welcome everyone to join an event listed on our calendar and also register their own event on our website. When people are informed on the various ways they can create a positive environmental impact, it becomes easier for them to mobilize others to better their local communities and beyond."
To view Picture a Better Planet and to see the full calendar of events visit www.earthday.ca/betterplanet. The campaign is also on Earth Day Canada's social media platforms.
-30-
About Earth Day Canada
Earth Day Canada is a charitable organization that helps individuals, municipalities and organizations reduce their impact on the environment. In addition to organizing a large-scale awareness campaign on April 22, Earth Day Canada deploys environmental programs and projects with a proven positive impact in various areas such as waste management, the fight against food waste and sustainable mobility.
About Sid Lee
Sid Lee is a multidisciplinary creative collective striving to make a difference and celebrate culture with bold ideas. Its 700 professionals work as one team from offices in Montreal, Toronto, New York, Paris, London, Los Angeles and Seattle. Their mission is to create what matters through brand building, brand expression and brand experience. Its creative community also includes Yard, Digital Kitchen, BIMM and Haigo.
Alongside progressive clients, Sid Lee draws on its rich collection of disciplines, from design to data and experiential communication and technology to advertising and architecture, empowering its clients to outperform their competitors, earn the trust of their customers and increase their influence on culture.
Sid Lee is a member of kyu, a collective of top-tier global creative companies established by Hakuhodo DY Holdings. Sid Lee also imagined C2 Montréal, one of the largest creative-business conferences in the world.
For all press inquiries, please contact:
Linda Chen: lchen@sidlee.com
Related posts :
---