Blog & News
Food fight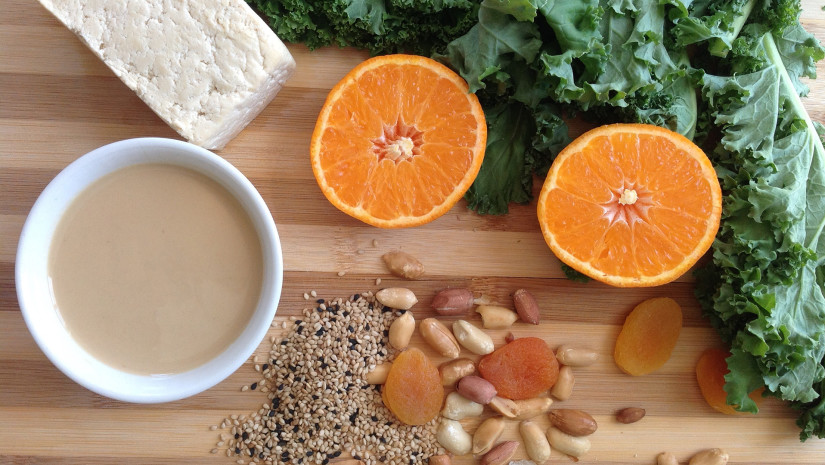 This time, we'll spoil ourselves with contrasting textures and intense flavours. Many of my friends have asked me how to prepare plates with tofu, therefore I chose to share this recipe with you. A common source of food waste derives from lack of ideas about how to cook the ingredients we already have. We buy food and after a few days it starts to rot, or we simply don't enjoy it as much as imagined before. This recipe is meant to enjoy that "don't know what to do with" tofu, and that kale left in the fridge, before it looks like a yellow shrub. Besides, we will also delight ourselves another culinary wonder, which can be mixed with endless ingredients to make sauces, dips and dreamlike desserts: tahini.
Sesame and tahini constitute a veritable cultural and historical testimony; the first archaeological evidence of sesame harvesting dates from 3500 BC., and these grains were used by different cultures as money, medicine and food1. Even in literature we find references to sesame seeds, we know well that "open up, sesame", pronounced in Ali Baba and the forty thieves to open a cave full of treasures2. Tahini is nothing more than intensively grinded sesame seeds, which by the way own some very interesting properties. They contain two molecules that have antioxidant and anti-inflammatory properties: sesamin and sesamolin, which can act as a protective agent for both the heart and the brain3.
If this is your first-time using tahini, keep it well stored after preparing this dish, because soon we'll be cooking some other plates with it.
So, let's start!
Ingredients (for four servings)
For the sauce
½ cup of tahini
½ cup of tangerine / orange juice and its zest
¼ cup of white vinegar (rice, apple or grape)
2 tbsp. Sambal Oelek or Sriracha hot sauce (or your favourite red spicy sauce)
½ – 1 cup of water
Tofu and kale chips
250 g firm tofu
½ cup unsalted peanuts *
5 tbsp. of olive oil
5-8 cups of fresh kale leaves
1 tsp. sesame seeds
Garlic powder
Crushed chili
Salt and pepper
The sauce
In a bowl, whisk the ingredients until achieving a homogeneous and creamy texture. If the sauce is too thick for your taste, add some water until you get the desired consistency. The amount of hot sauce is up to you. I use either a spoon of Sriracha or two of Sambal Oelek, if you prefer a different one, don't hesitate to try it or just to skip it.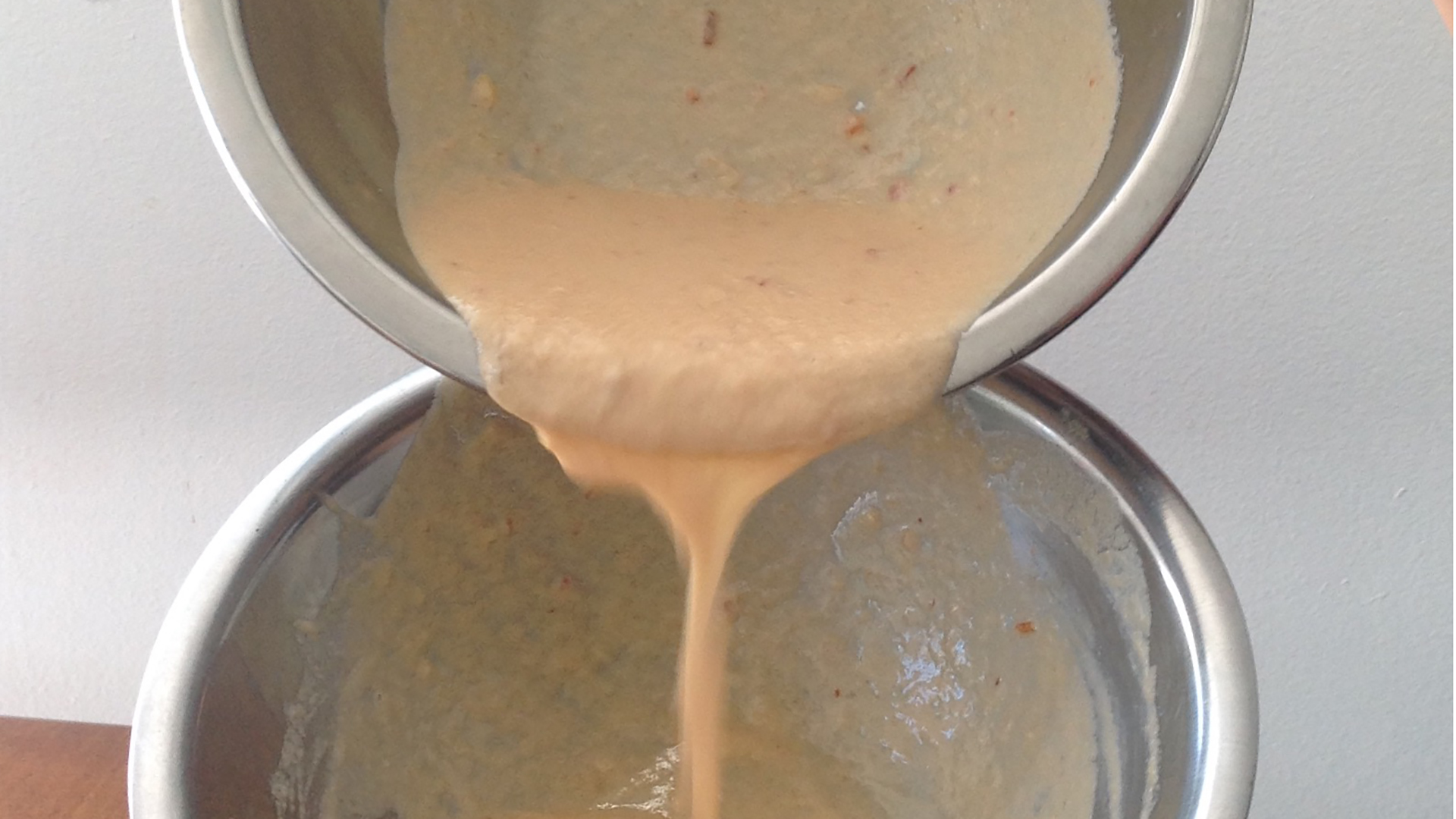 Tofu
Cut the tofu into cubes, of small size so that the flavour of the sauce predominates, or larger if you want to taste the tofu. In a skillet, fry over medium-high heat for 4 minutes, then add the peanuts and continue to cook until the tofu turns golden brown. Add the sauce, turn off the heat, and cook for a few seconds, paying attention to the heat and the time of cooking, as the sauce can become too thick. In this case, add a little water and stir until the consistency desirable.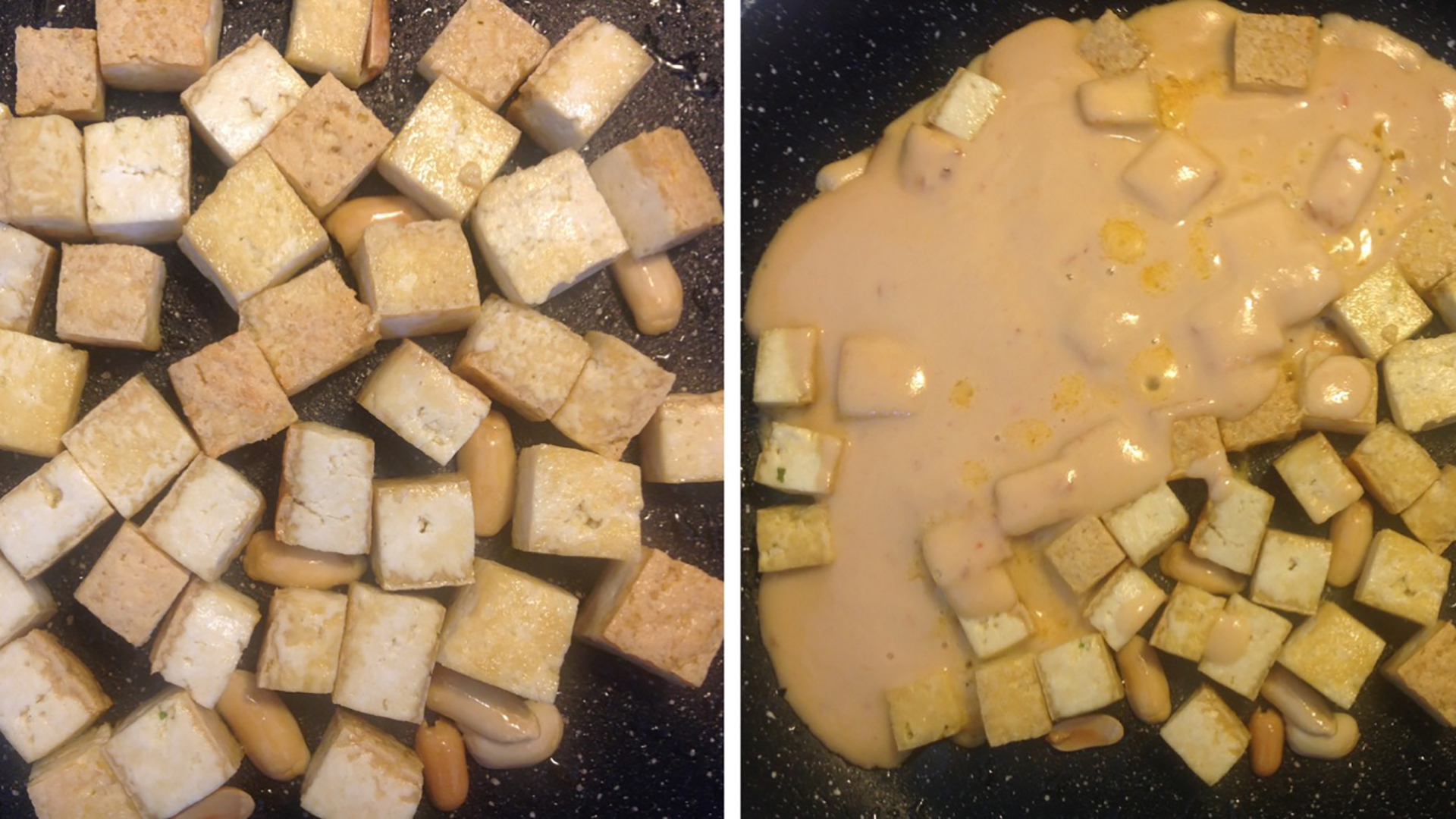 Kale chips
Preheat the oven to 175 ° C. Rinse and separate the kale leaves and cut them into medium pieces. In a bowl, add a tablespoon of olive oil for every 2 cups of kale, half a teaspoon of garlic powder, a pinch of salt and pepper, and crushed chili (optional).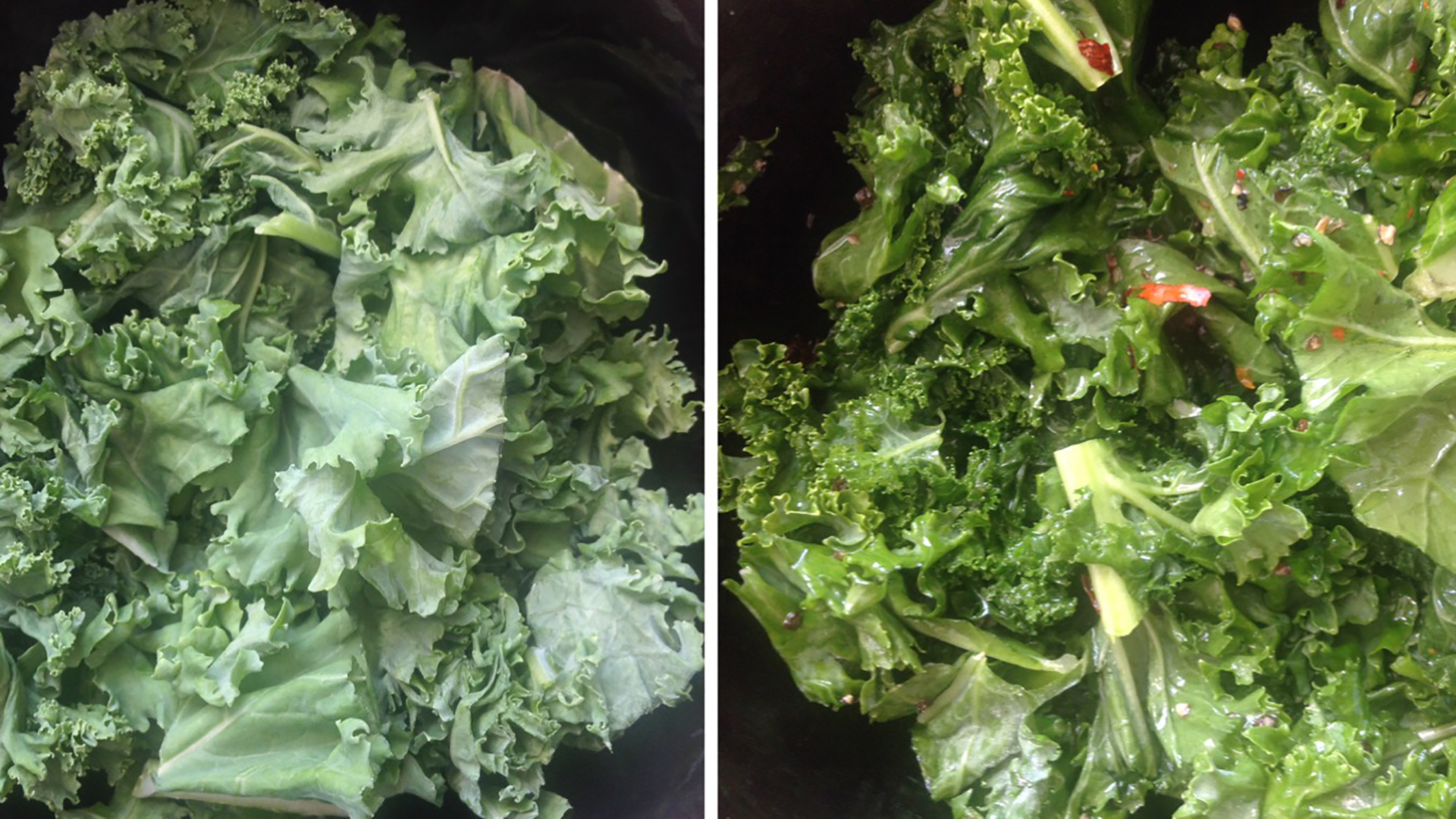 Bake for 10 min. Watch the change of colour after about 7 min and stir, since the leaves can change very fast from a beautiful and crisp green to a dull black in seconds.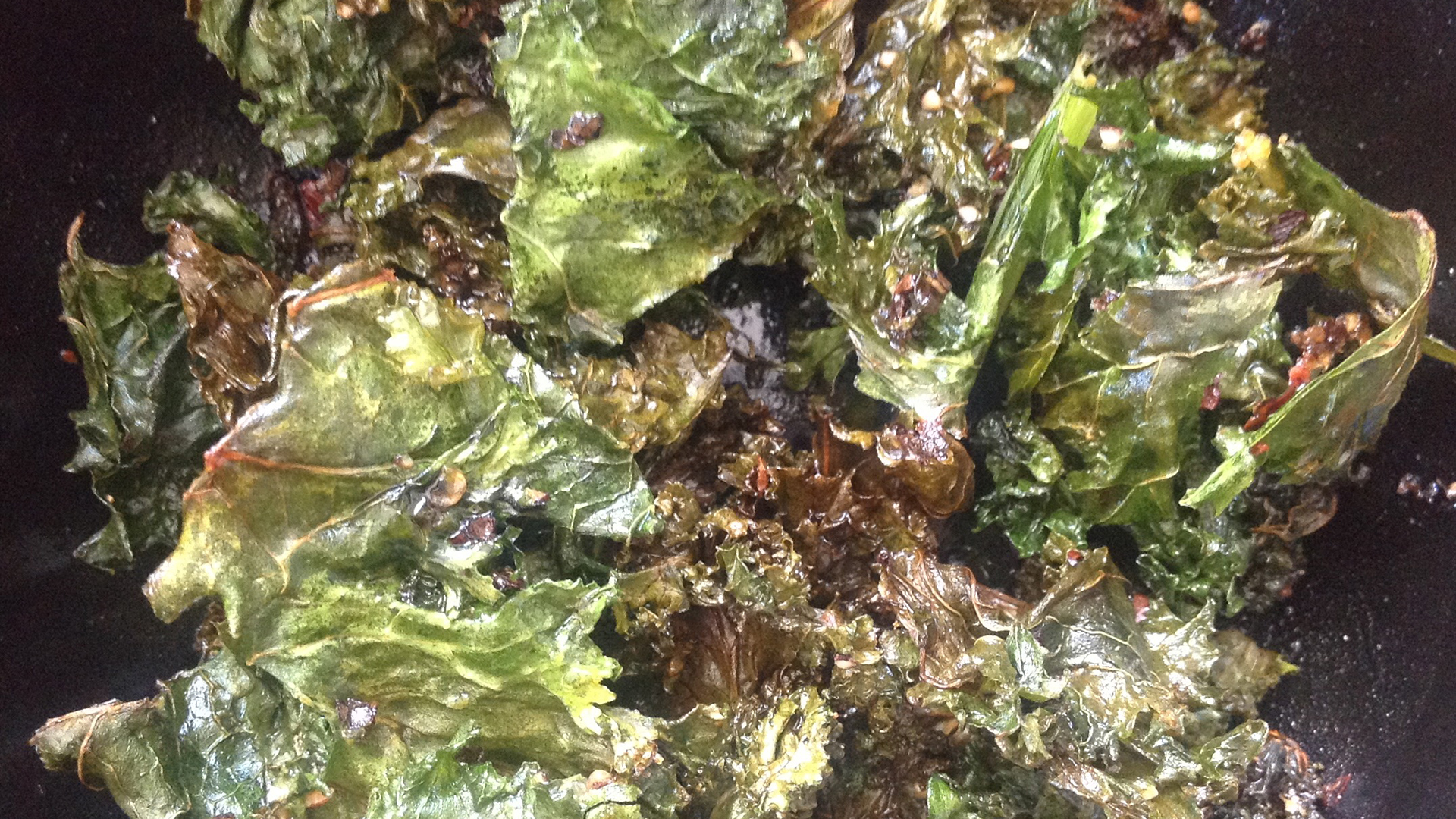 Serve the tofu covered with citrus zest and sesame seeds, and the chips aside.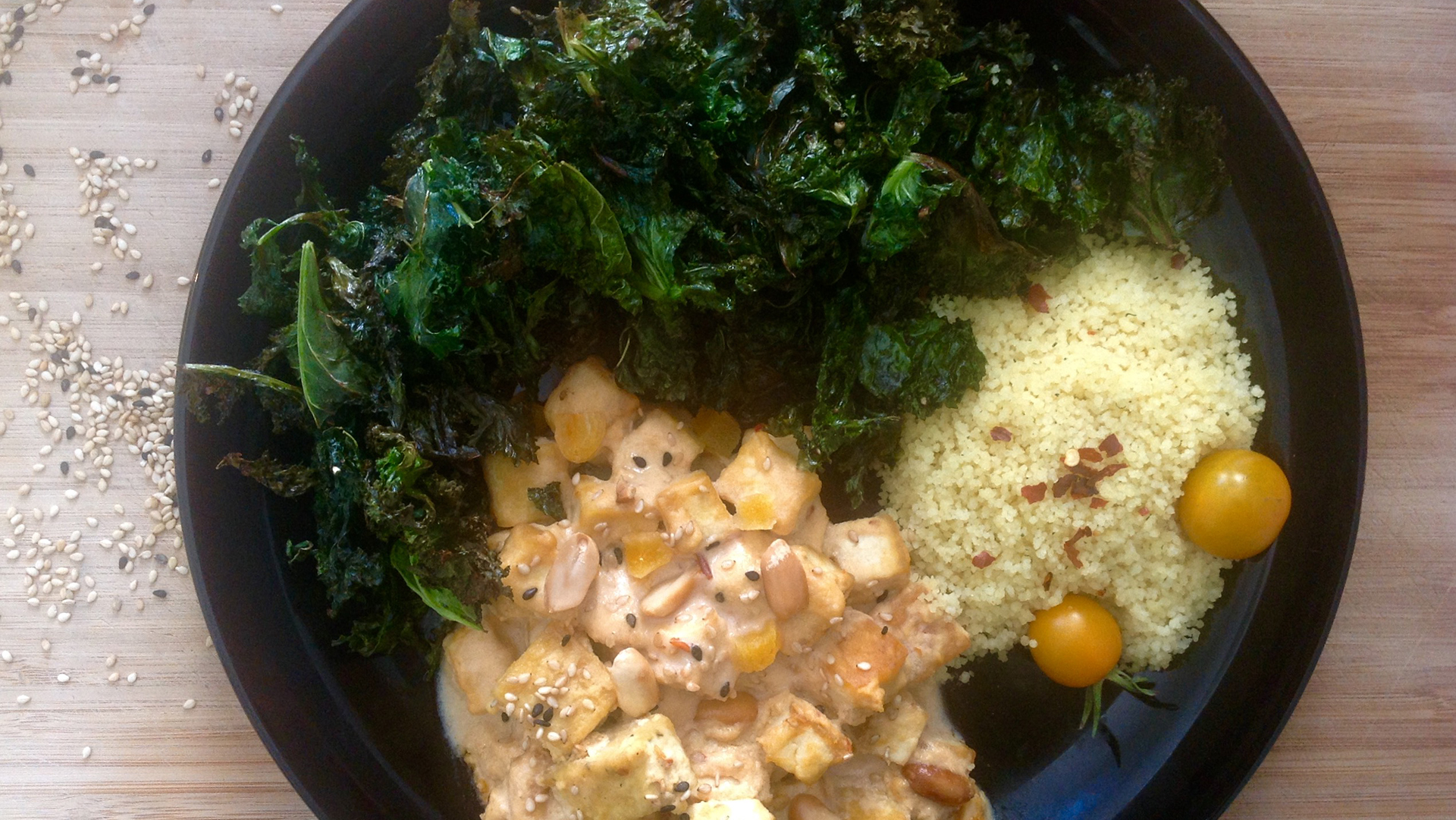 Just for fun and to use some ingredients I had hidden on the cupboard, I used dried apricots to decorate the tofu, and served it with semolina cooked in vegetable broth, olive oil, dill and black pepper. Another good side option could be basmati rice or soba noodles.
Enjoy this mixture of colours and textures, we'll meet for the next plate!
References
1. Dorothea Bedigian and Jack R. Harlan. Evidence for Cultivation of Sesame in the Ancient World. Economic Botany Vol. 40, No. 2 (Apr. – Jun., 1986), pp. 137-154 (18 pages).
2. Oregon State University. Linus Pauling Institute. Micronutrient Information Center. 15-08-2020 https://lpi.oregonstate.edu/mic/dietary-factors/phytochemicals/lignans#disease-prevention.
---
Related posts :
---