Blog & News
Energy wise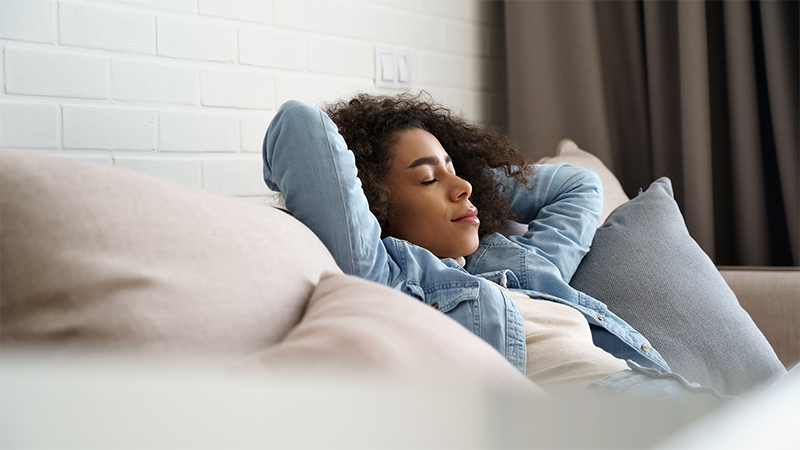 We're almost a month into summer and the temperatures just keep rising! As a new homeowner (and a recent renter with no air conditioning), I'm always looking for the best ways to use energy more efficiently and keep our home cool. No matter when your home was built, there are easy ways to make it more energy efficient (and there are definitely ways that you can adopt more energy-conscious habits)!
Energy efficient homes are both environmentally friendly and cost effective. By reducing the energy you use, you're reducing your greenhouse gas emissions and thus the effects of climate change. You're also helping save yourself money in both the short and long term.
Whether you rent or own, there are ways that you can save on energy (and on your utility bills) this summer!
Plant trees on your property
We all know that the best place to take a break from the summer sun is beneath a tree, but did you know that the same applies for your house? Trees can be used as energy savers in neighbourhoods by providing shade in the summer (and, if placed properly, blocking wind in the winter). Not only that, but trees actually directly cool the air through evaporation from their leaves!
While the benefits of planting a tree don't occur immediately, by planting trees on your property you're contributing to a healthier and more climate-friendly neighbourhood. To provide shade in the summer, make sure you plant deciduous trees (which means they lose their leaves in the fall) on the east, south, and west sides of your house! Now, that sounds like a lot of trees, but to truly ensure your house is shaded, you have to account for the movement of the sun throughout the day (and, to be fair, you likely already have trees on your property!).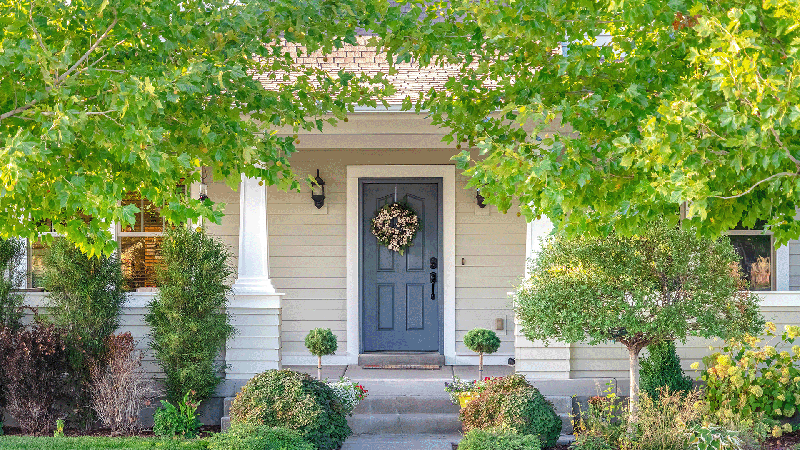 Draft-proof your home
Have you ever sat by a closed window in your house in the summer and felt a breeze from outside? That means your windows are not as sealed as they should be and your house is susceptible to drafts! Weak insulation and drafty doors and windows are some of the biggest ways that your house loses energy and causes you to use your air conditioning (or heating) even more. Updating your attic insulation and weather-proofing your exterior doors and windows will go a long way to keeping you cool this summer.
Use weather stripping on windows and doors
If you're renting or can't make any renovations, try weather stripping! The material can be purchased at your local hardware store, and you can find ones that are easily removable and won't leave any damage. In the summer this will keep the hot air out and the cool air in, and vice versa in the winter!
Use curtains
This is an easy one – limit the amount of sun that enters your home! By using shades and blackout curtains in the summer to block direct sunlight, you're ensuring your home stays cooler, longer.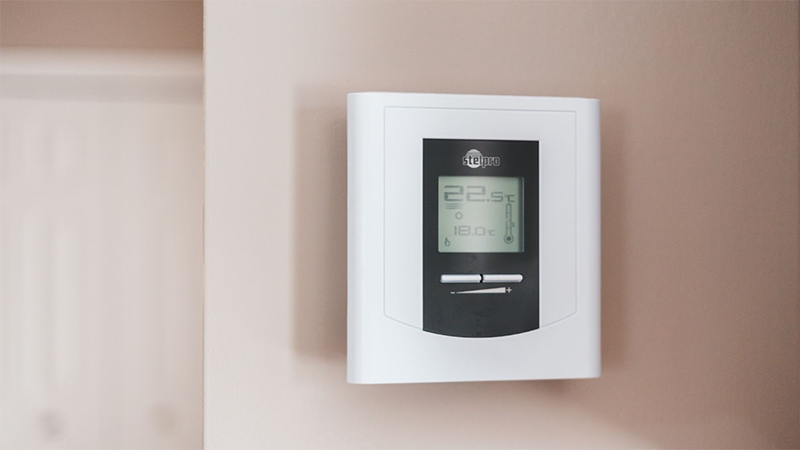 Use your thermostat efficiently
Using your thermostat effectively is an easy way to ensure you have total control over your home's temperature! Setting schedules for when you're away and when you're sleeping, and turning your air conditioning off if it's cool outside, will ensure you aren't wasting energy.
Switch the direction of your ceiling fans
Did you know that the direction that your ceiling fans turn can impact the temperature of a room? Yep, staying cool can be that simple! To stay cool in the summer, ensure your ceiling fans are rotating in the counterclockwise direction. This will allow the fan to pull hot air up and push the cold air down. Remember, though, the fans aren't cooling the room, they're just cooling you by pushing cold air down! So make sure you conserve energy and turn the fans off when you leave.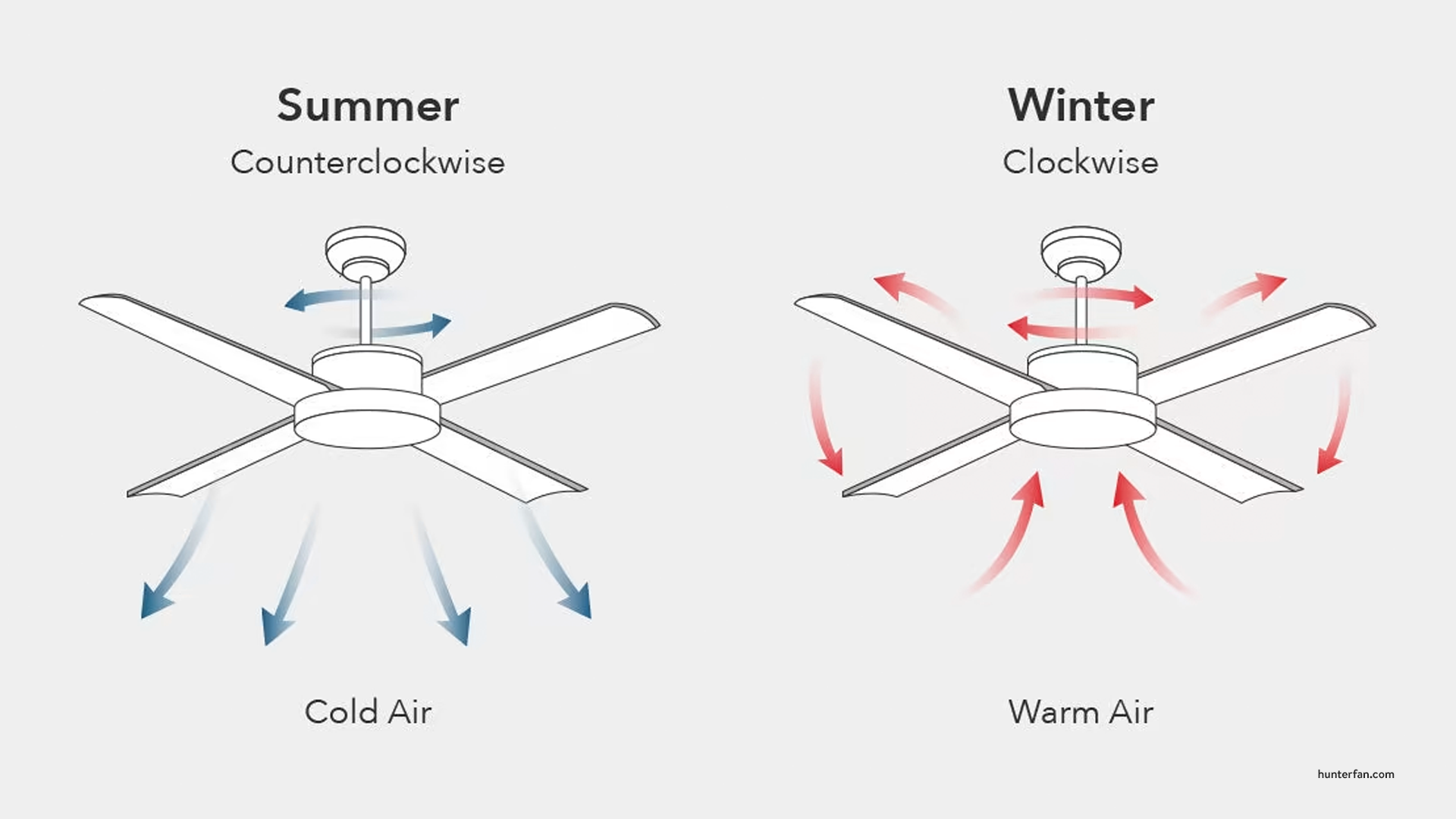 Clear the way for the vents
If you have a radiator or vents in your apartment or  home, make sure nothing is blocking them! The energy used will be more efficient if they don't have to try to push air from beneath a couch or a pile of clothes.
If you're struggling to keep your energy bills down AND stay cool in the summer, try out some of these tips and let us know how it goes! Remember, an energy efficient home is environmentally friendly AND cost-effective!
---
Related posts :
---