Blog & News
Reduction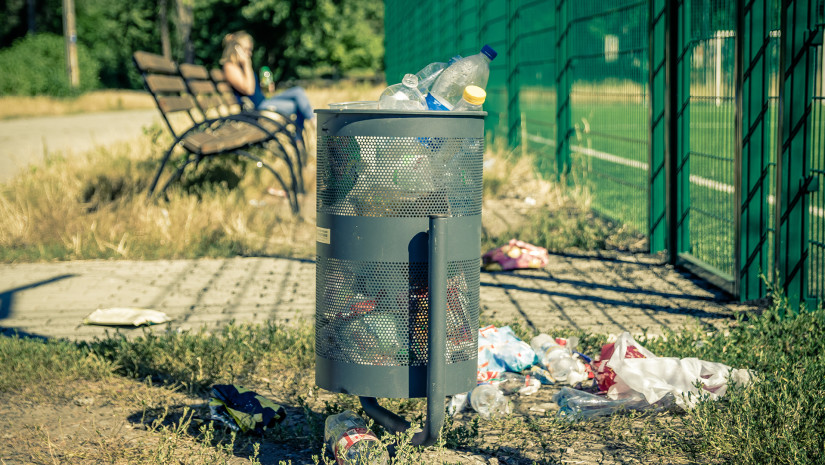 For several years now, Canadians have been using the blue bin at home for waste that can be collected via curbside recycling. The brown bin also is slowly making its way into homes, and home composting, particularly in the outskirts, is becoming increasingly popular.
Most of us are a little stuck in our ways when it comes to recycling, even though there's still a lot of work that can be done to improve it. Reusing is also becoming more popular with services such as La Tasse in Québec, Reego or Muuse in Ontario and CUPPY or Return-It in Vancouver, and we would like to see them expand beyond the big cities. The way seems to be paved for a better waste management all around, and yet it would be putting the cart before the horse!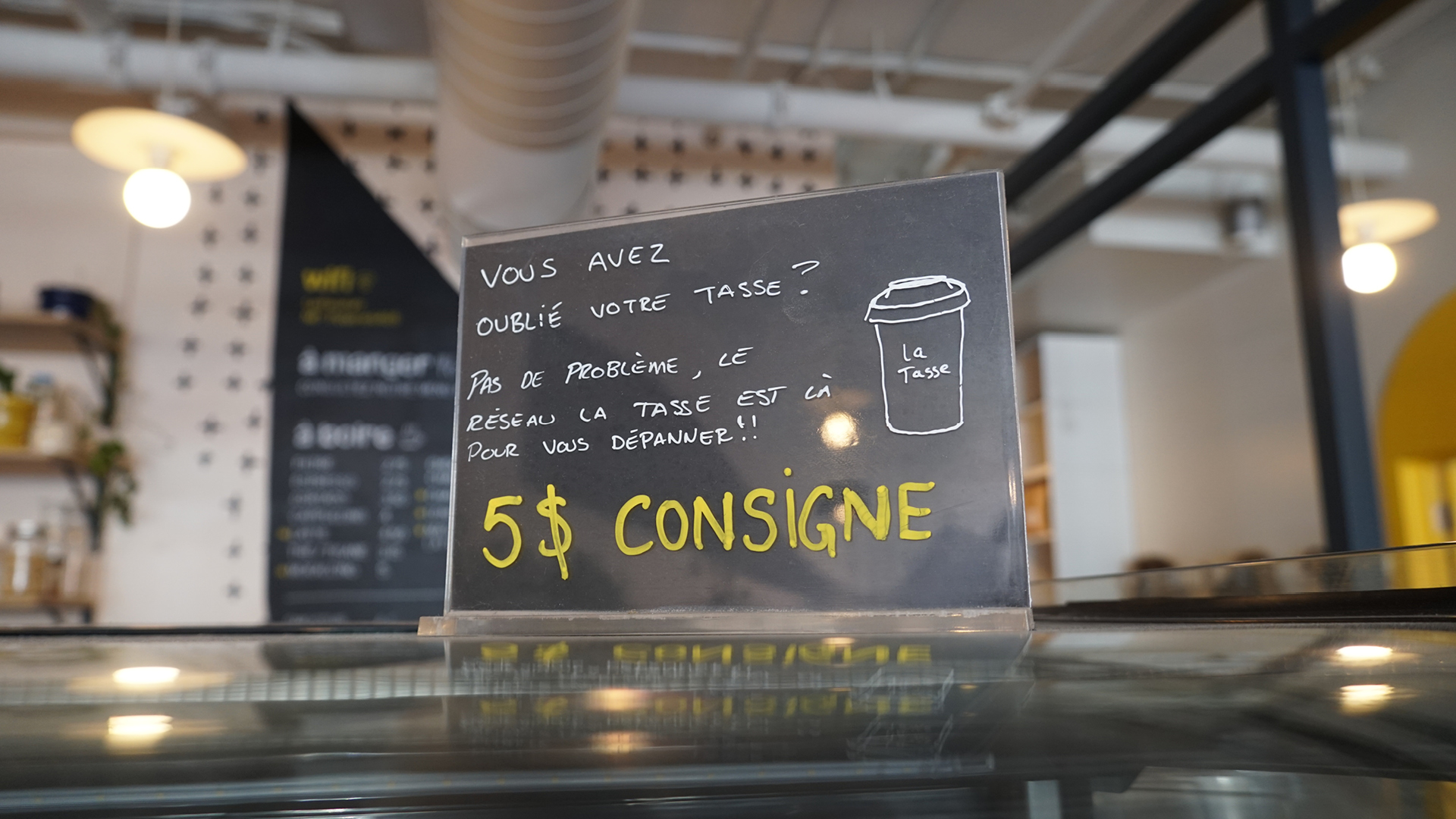 Do you know the 5Rs? They're the priorities to adopt in terms of waste management. The 5Rs stand for Refuse, Reduce, Reuse, Recycle and Return to the Earth (composting organic waste). The order of these rules must be taken into account: the recycling solution is no longer a top priority; it's the 4th in the chain of decisions—and the brown bin is last! We're proud that our blue bin is full, but we must also reduce the amount of material we put in it, otherwise we're missing the mark.
Always keep in mind that the best waste is the one we don't produce! So more than ever, we all have a role to play at our level to incorporate reduction into our best practices. And it doesn't stop at our doorstep! Outside the house is where our actions are most significant and it's sometimes where we tend to forget the basics. We're taking you with us to look at some initiatives that remind us of this.
Act for the cause but not for this cause alone!
Did you know that Earth Day Canada is a partner of the CIBC Tour and the Charles-Bruneau Cup, two events organized each year to fund research on pediatric cancer?
This collaboration was made possible by the Fonds Éco IGA, the same fund that helps us work on a daily basis with stores in Quebec and New Brunswick to reduce and manage their waste. We bring the expertise we have acquired in the stores to the events of the Charles-Bruneau Foundation.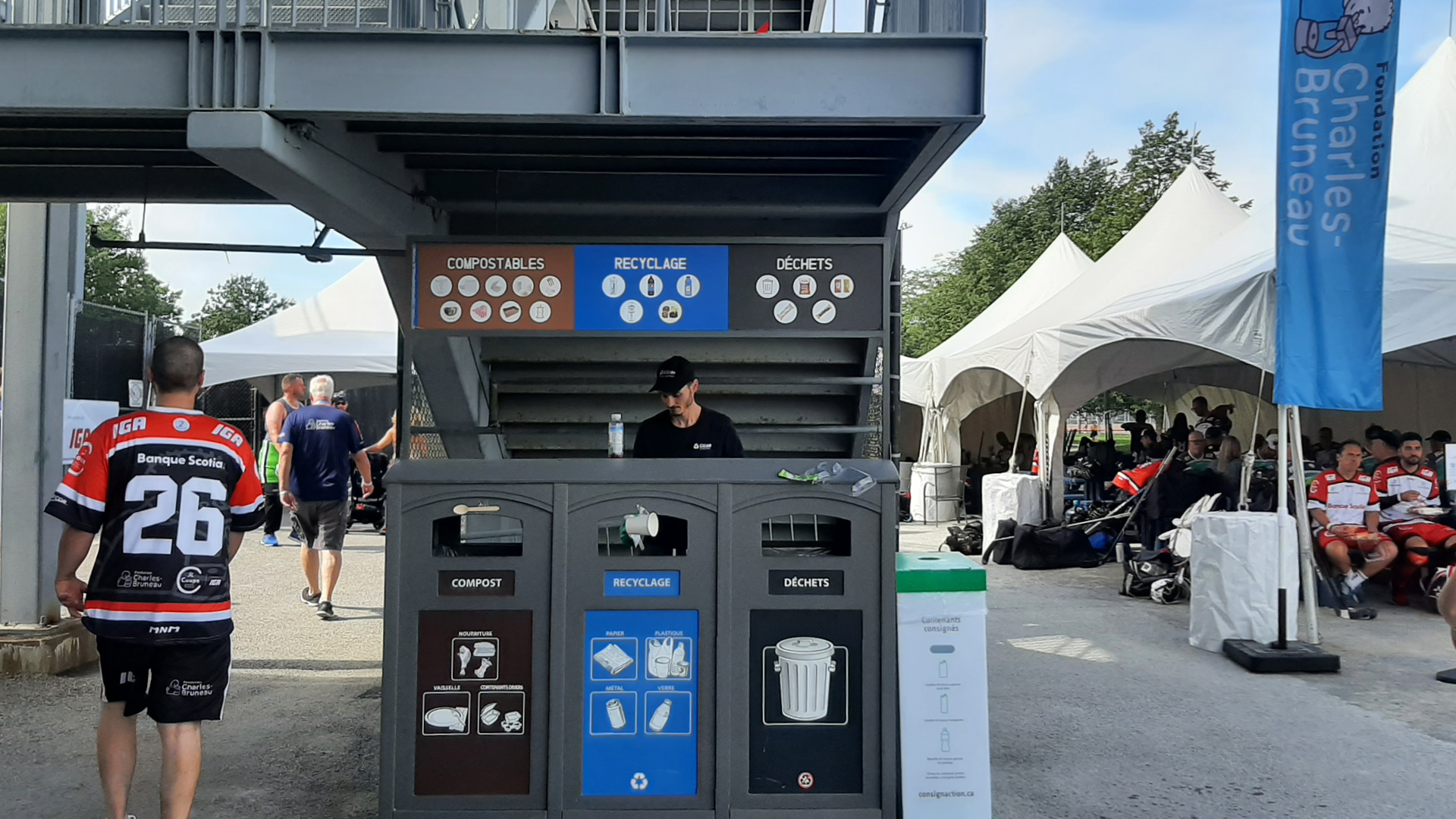 And yes, you may have seen our green squad there! Our role on site: to ensure better waste management on location and to make participants aware of the rules of sorting. It's often an opportunity to remind people of the basics that we think we have nailed down and to mobilize them to manage their own waste, a sporting challenge in itself!
But we don't stop there! We hope to make the event more eco-responsible by guiding the organizers to reduce waste for future editions. Our ultimate dream is to have an event where we have no waste to manage, and this will require all of us to get involved!
Bring your garbage home!
You may have noticed them while strolling around the parks on the Island of Montreal! Several boroughs have started putting stickers on their neighbourhood's public garbage and recycling containers to encourage citizens to take their garbage home when they notice that the bins are full. The signal: waste management is everyone's job!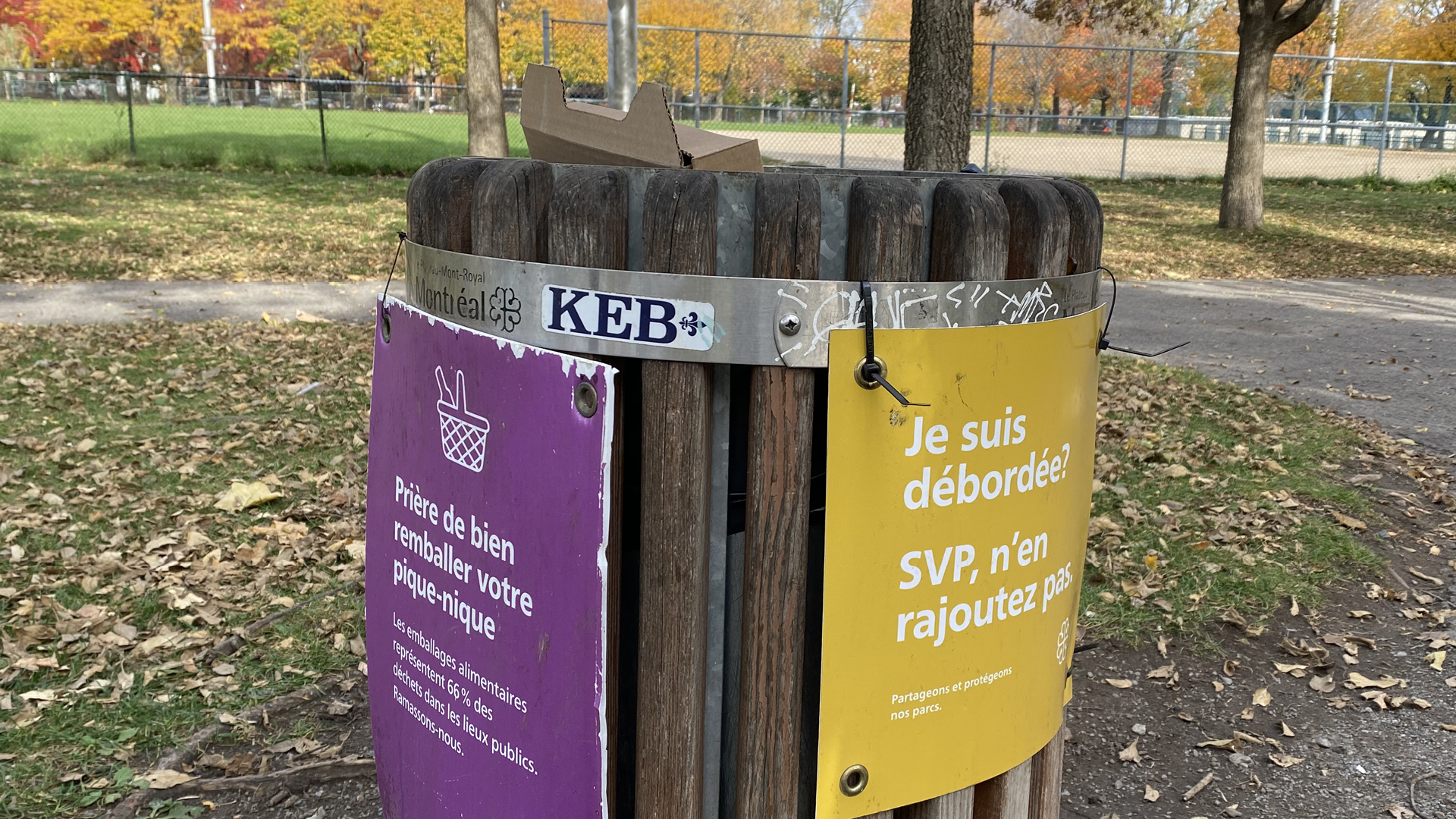 And yes! The principles of "Leave No Trace" don't just apply to natural parks but also to the one down the street! Having a party? Bring bags accordingly to sort and take home the material thereby avoiding filling the city's bins. Municipal collections are not designed for this (witness the deplorable photos of the parks in summer) and an occasion like a small gathering shouldn't be all it takes to let recycling slip our minds!
Parallel to this campaign designed for the general public, some boroughs go beyond themselves to promote waste reduction. This is the case for Rosemont-La Petite-Patrie, which is committing itself to professionals as part of the Zero-Waste Challenge—Businesses, conducted in collaboration with Earth Day Canada since 2020. In addition to implementing best practices in restaurants, grocery stores, cafés and other food service providers in the borough, the goal is to raise awareness and mobilize consumers; for example, by setting up incentives for reusable products.
Goodbye plastic!
In other good news, as of September 27, Montreal has joined the ranks of forward-thinking cities by banning the distribution of plastic bags on the island. Not far away, Terrebonne and Mascouche are joining forces to ban single-use plastics in the area, by allowing businesses to join Earth Day Canada as part of our Action/Reduction program.
The goal: to accelerate the transition to reusable materials and to aim for source reduction for waste which has been recognized as problematic for many years.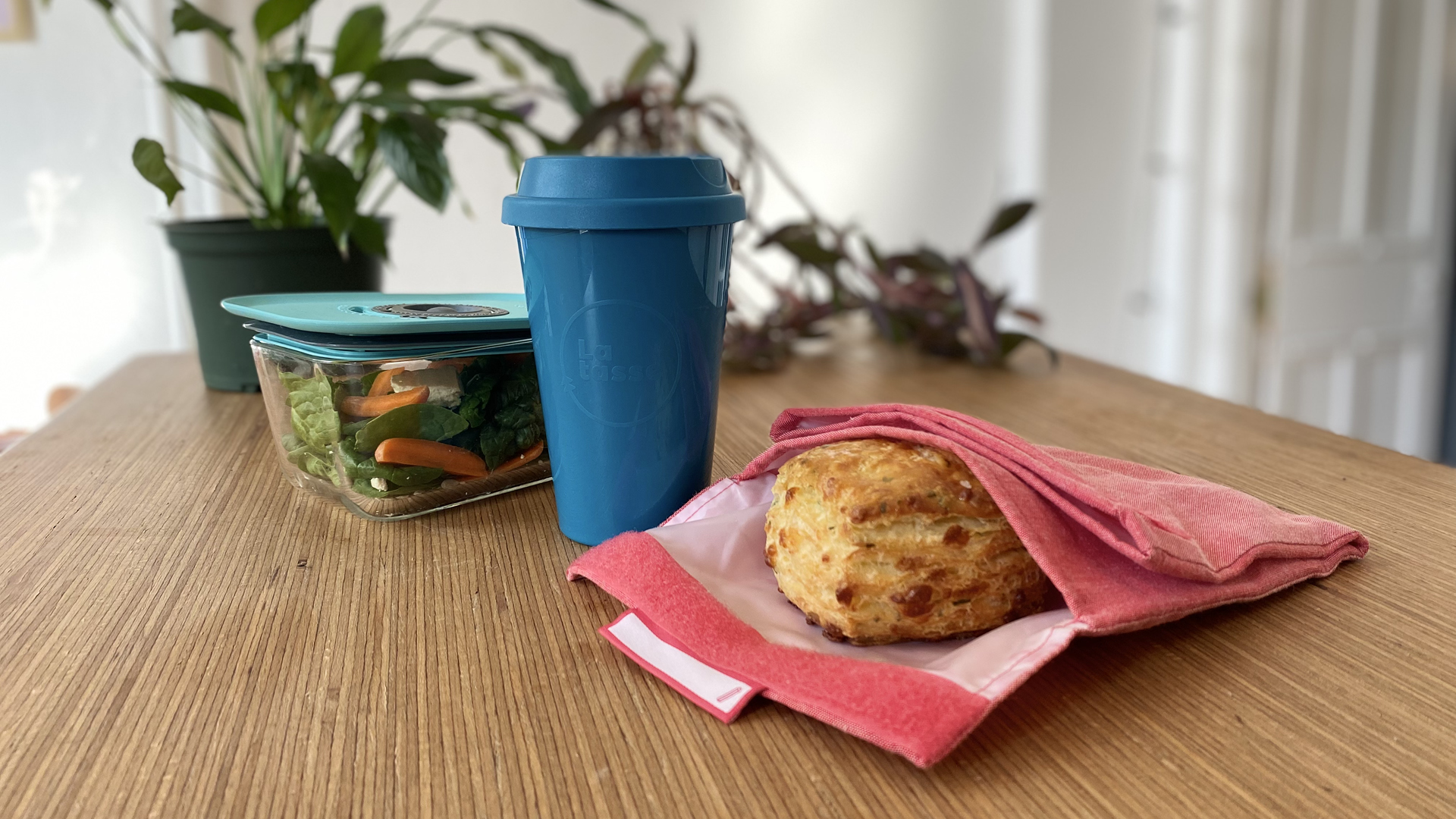 Waste management and reduction at source is a great collective challenge in which municipalities, businesses and organizations have been involved for many years. Would you like to join the movement? Waste Reduction Week in Canada was held last week (and will continue to be in the news for the next few months). Check out their website, it's packed with information on a whole range of topics!
---
Related posts :
---