Blog & News
EcoCharge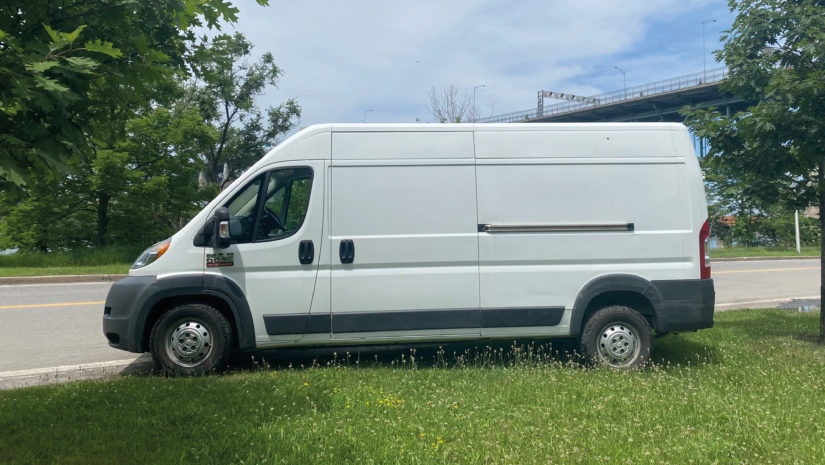 The Canadian federal government announces the creation of a 1400 km charging station corridor stretching all the way to the United States, meanwhile, across the pond, the European Union is announcing legislative measures to make truck transport greener.
Electric vehicles are on a roll, so why not make the switch?
The 1001 advantages of electric vehicles
The best way to be convinced is to remember the advantages of an EV versus a gas car:
• They're more environmentally friendly, as they produce no polluting emissions during use.
• To the delight of our eardrums, electric cars are also quieter, which means less noise pollution in urban areas.
• They require less maintenance thanks to the simplicity of the electric motor, so you can say goodbye to oil changes and spark plug replacements.
• Financially, EVs are often eligible for tax benefits and government subsidies, making them more affordable to buy, not to mention the savings on fuel each time you recharge! Read more.
Charging infrastructures are evolving rapidly, and EV owners have more and more options for charging their vehicles quickly and conveniently.
It's also the goal of our EcoCharge network, which is sprouting stations in IGA parking lots across Quebec and New Brunswick!
No need to worry about running out of battery power in the middle of Kamouraska, there's a charging station nearby waiting for you!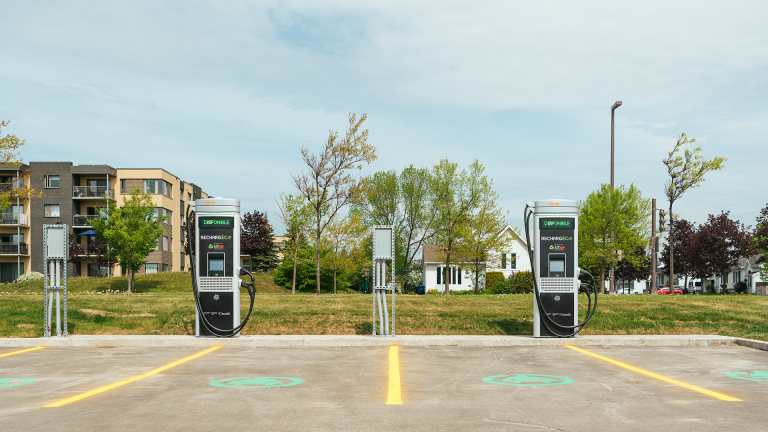 Want to give your car a makeover?
You're willing to make the switch to an EV, but you love your "Hyundai Kona" too much to part with it? Retrofitting is the perfect solution for you.
Electrical retrofitting is the operation whereby a petrol or diesel vehicle is transformed by an approved company into a model powered by an electric motor.
In concrete terms, they remove all unnecessary parts from the vehicle: the engine, exhaust, cooling system, etc. and give it a makeover with a new build consisting of an electric motor, a battery and the electronics that enable them to function.
Retrofitting will give your vehicle a greener 2nd life.
Retrofit success story
A good example of Retrofit is the Quebec company Ingenext, based in Trois-Rivières.
The company is killing two birds with one stone, by offering to reuse electrical components from accident-damaged Tesla 3s. Instead of being completely destroyed, the wrecked vehicles are dismantled and the components (which are still in Olympic shape) are taken out to be placed in a gas vehicle.
Their unique conversion kit replaces three components of a gas truck (Promaster 2500 or 3500): the battery, the motor and the transmission, with the same parts from Tesla 3 technology.
It's one of the most environmentally friendly conversions available, and fully in line with the circular economy. Ingenext is the ideal partner for any company wishing to electrify part of its fleet.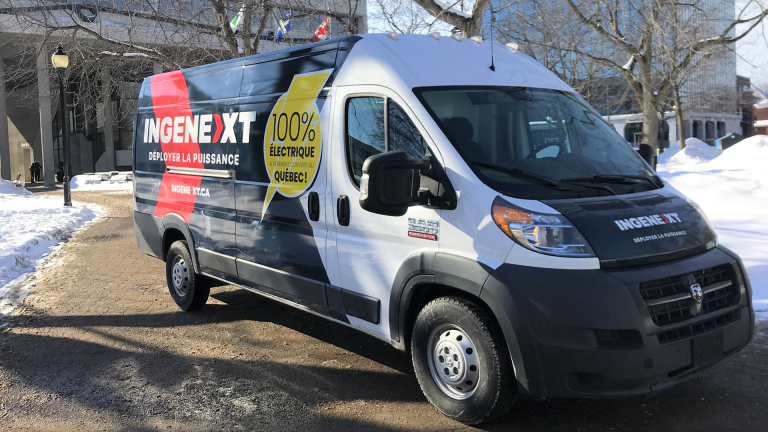 Our most reliable vehicle
We were fortunate to work with Ingenext as partners in our Transition WoW light-duty gasoline truck conversion program. Earth Day Canada acquired a Promaster 2500 converted by Ingenext, which was used as a demonstrator for municipalities and organizations to help them discover the benefits of conversion and join the program.
As our Transition WoW program comes to an end, we want to give it a 2nd life, so we're putting it up for sale.
The perfect opportunity for any company or individual looking to speed up their energy transition.
Here are the features:
Type: Pre-owned
Year: 2016
Make: RAM
Model: 2500
Colour: White
Body type: Minivan, van
Nb. of doors: 4
Nb. of seats: 2
Transmission: Automatic
Fuel type: Electric
Kilometres: 158,254
Cost of the vehicle before conversion: $36,500
Conversion cost: $75,000
Selling price: $80,000
Review the CARFAX Canada
If you are interested in the vehicle, please contact us at this address:  info@jourdelaterre.org.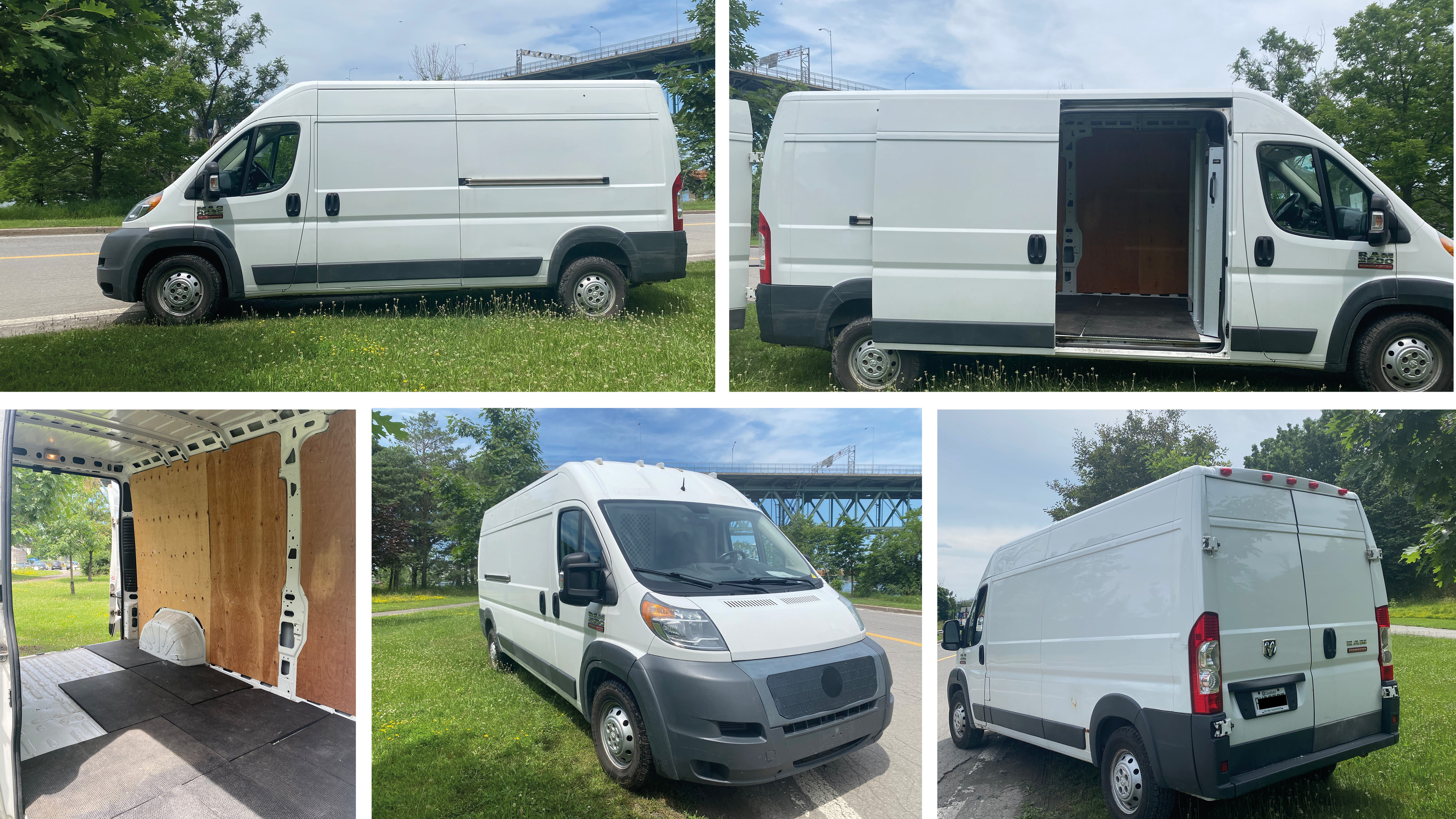 ---
Related posts :
---